The Sony NXCAM HXR-NX80 offers all the features you want and need out of a camcorder. From hybrid autofocus to Hybrid Log-Gamma, the NX80 is feature-rich. Shooting up to 960 frames per second in Slow and Quick mode and up to 120 frames per second in HD, it shoots up to 100 Megabits per second in UHD 4K and offers SLog3/S-Gamut3 picture profiles. With its one-inch Exmor CMOS sensor, you get a 12-times optical zoom that captures to dual SD card slots.
The number of features offered in this camcorder should peak the interest of many. Sony says it's been designed for corporate video, promotional video and film school students' work, just to name a few. They state that because of XAVC S, the NX80 will work in just about any workflow for various applications.
When we were first introduced to the NX80, we learned that it's just one of three camcorders released by Sony at the same time. Each model is built off the last, including more features the more money you spend. The NX80 sits in the middle of the lineup and we feel it is the most attractive camera for the price out of the three. Starting from the bottom, the Handycam FDR-AX700 is 1,900 dollars and is the least expensive of the three. The NX80 costs 2,300 dollars and lastly the XDCAM PXW-Z90 is 2,800 dollars. Check out the sidebar to read more about the differences between the three cameras.
Hands-on
If you are used to camcorders with a large form factor, the NX80 is going to seem small. The cool thing is that, although it's small, it's built well and doesn't feel cheap. Include the long list of features and the NX80 is actually pretty impressive.
One of the first things we do in any camera review is to go into the menu to see how to execute the different functions. This is the first place where we saw an issue with the NX80. It was easy to find the menu button on the front left side of the camera, however the scroll wheel next to that button is not how you navigate through the menu. We have a new camera come through Videomaker every month, so we aren't new to learning how to make a camera work. However, finding out how to control the menu was a real head scratcher. Placed where you'd expect navigation control, the scroll wheel on the left side of the camera is actually for the exposure control. After pressing every button on the camera, we finally stumbled across the joystick to control navigation on the right side of the camera where it can be operated by your thumb. Once we found it, it worked well.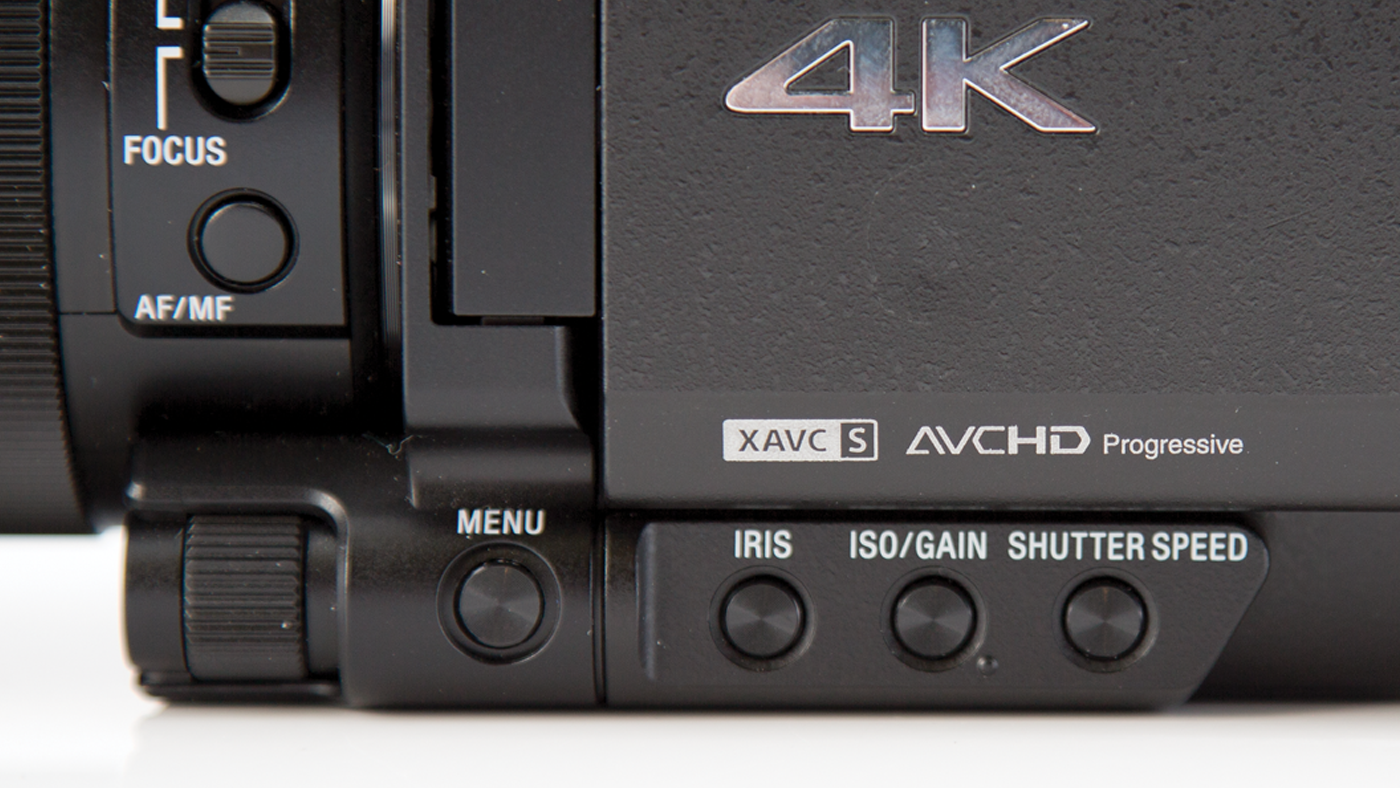 Although this camera is full-featured and ready for daily use in the field, Sony made a few questionable choices. The monitor works well and is enough to get the job done, but it is on the smaller side. The questionable part is that this monitor also functions as the camera's on/off switch. When you flip out the monitor, it automatically turns the camera on. Within the controls behind the monitor there is an on/off button, but if you turn off the camera, close the monitor and then open it again, the camera will turn on again. Additionally, if you want to use the electronic viewfinder (EVF), when telescope it out and close the monitor, the camera will stay on. However, if you lean in and accidently push the EVF in, the camera will turn off. If you are in the middle of recording, it will continue to record, but the EVF will go black. So far, the issues we have experienced with the menu navigation and powering are not issues that should prevent you from buying the camera. They are just design flaws for usability; your viewer experience change.
Outside of those issues, nothing else about the usability of this camera is a problem. Instead, what's left is strong and very utilitarian. The handle is a good size and is detachable if its not needed. It comes off with two thumb screws. Built-in to the handle are two XLR inputs with input select, phantom power, low cut filter, gain control and attenuation. The audio inputs and controls have no external cables to connect to the camera. Instead, there is a built in hot shoe connection in the handle. Also found on the handle is a variable controlled zoom where you can have it set to a fixed speed or make it pressure sensitive. Lastly, you'll find a record button that can be locked on or off, a shoe to replace the one the handle occupies and mounting threads for other accessories.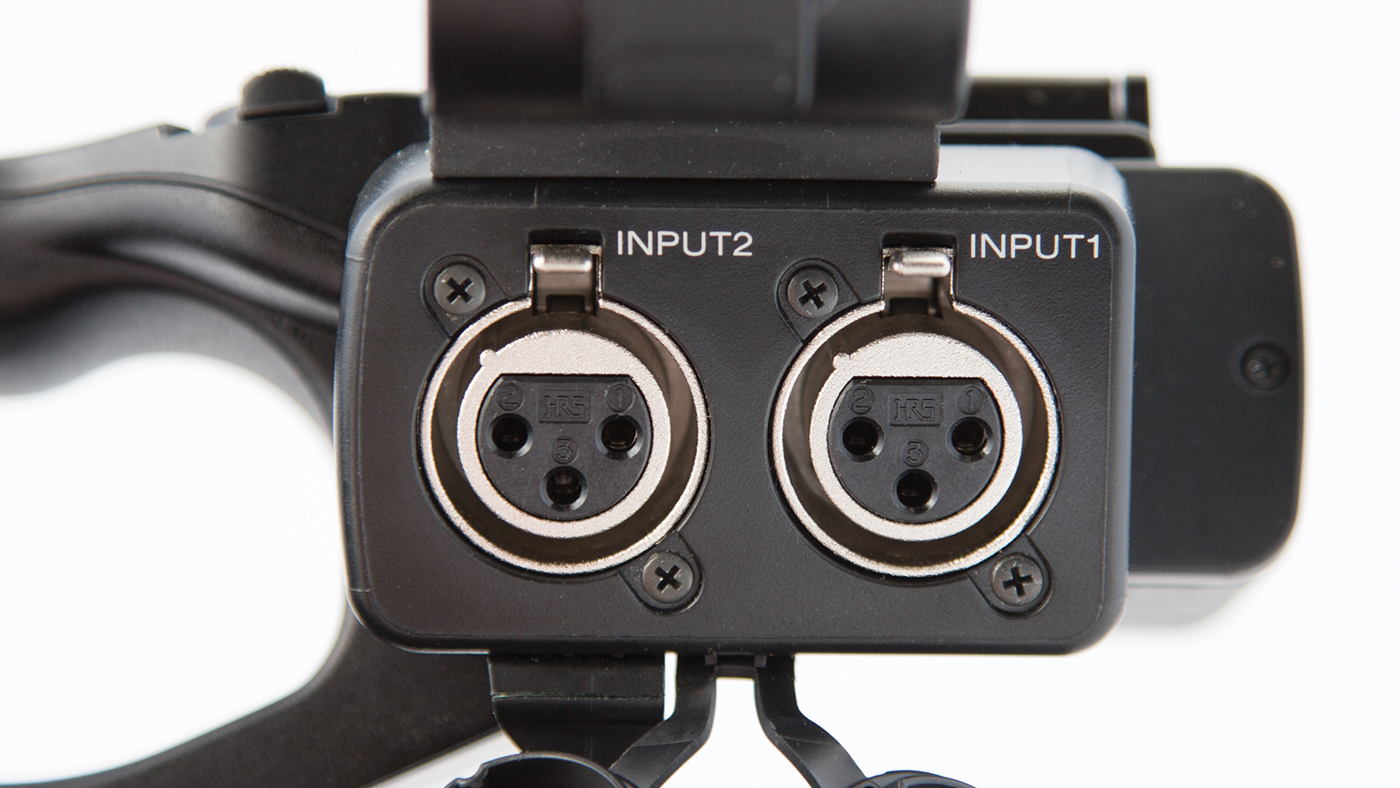 The NX80 has dual SD card slots that you are able to use to either extend your record time or record proxies simultaneously. Another function connected to the dual card slots is the ability to arm the two record buttons to record to different card slots. Consider shooting an event. You can use one button for capturing the moments and documenting the experience. Then, use the other button to capture all of your b-roll. When you are done, you will have your footage separated for you for easier organization when editing. You could use this function to meet many different needs — to put all of your different picture profile clips onto one card or maybe to separate footage shot at different frame rates. This was a function we stumbled upon when poking around in the menu. It goes to show you not all cool functions are used to market a given product; a bit of digging could get you more than you paid for.
The NX80 has built-in neutral density (ND) filters preset at 1/4, 1/16 and 1/64. If you have ever struggled to get the shot without ND, having them built-in will be a godsend. It is a four way ND with the fourth being clear, so you can shoot without any ND on.
Sony is forward thinking with the NX80, giving you the option to shoot in SLog3 and Hybrid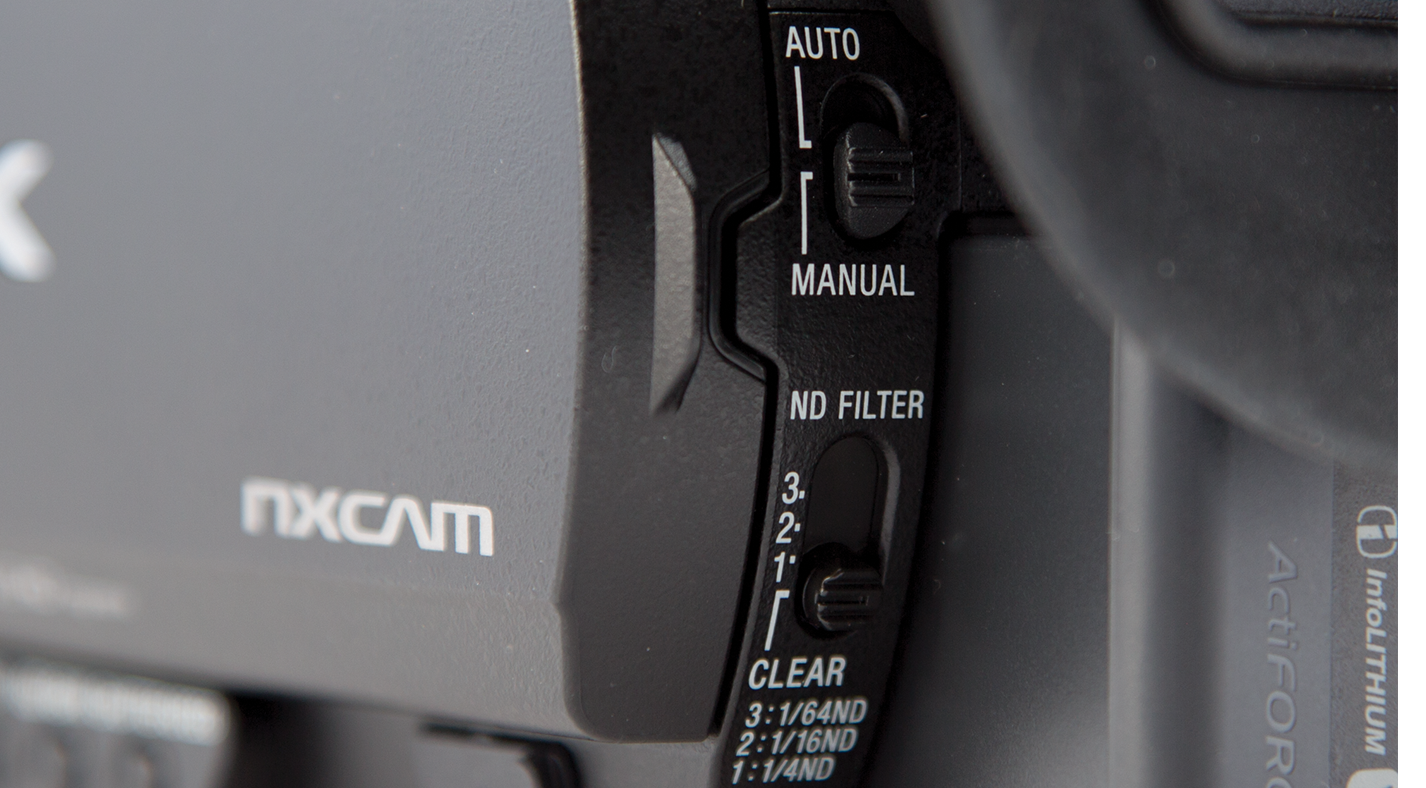 Log Gamma (HLG). Both log and HLG will produce images with a better dynamic range and better color when graded in post. When shooting in SLog3, the NX80 has a minimum ISO of 1250, and when shooting HLG, it has a minimum ISO of 250. As a quick reference, to shoot in HLG use picture profile 10 and for S-Log3 use picture profile 7.
The NX80 offers Slow and Quick (S&Q) mode that allows for slow and quick capture from one frame per second (fps) up to 960 fps, played back at your desired frame rate. Say you choose 960 fps; it can play back at 24 fps, giving you 40 times slow motion. On the other side of that, you are able to choose one fps and capture one second of video for every 24 seconds of record time. When played back, it will be quick motion timelapse. The best part of S&Q mode is the ability to see your shot played back at the desired playback rate in-camera. You can preview your slow-mo shots as they are when conformed to a given frame rate. You are able to shoot up to 120 fps at 100 megabits per second (Mbps) in HD without S&Q mode, but you will have to change the frame rate in post to get slow-mo playback. When using higher frame rates in S&Q, you lose picture quality to gain higher frames. And when it comes to 960 fps, you also get a significant crop in your viewable area. When it comes to high frame rates, consider how slow you need it to be because a two second capture at 960 fps will be 80 seconds long when slowed to 24 fps. You might not need it to be that slow. Additionally, before using S&Q mode consider that it has a maximum bitrate of 50Mbps.
If you wanted to use the AF to do a rack focus, you can choose how long it takes to go from focus point to focus point.
The NX80 has Hybrid autofocus (AF), which combines contrast and phase detection autofocus. Contrast autofocus is fast and phase detection autofocus is accurate. When combined you get the best of both worlds. On top of that, you can adjust the speed of any focus change. If you wanted to use the AF to do a rack focus, you can choose how long it takes to go from focus point to focus point. When using the autofocus in the field, we found it to be quite useful depending on what type of shooting you're doing.
Because of the fixed lens form factor, you get a 12 times optical zoom with a good maximum aperture of f/2.8. However, when zoomed all the way in, the maximum aperture is f/4. The 35mm equivalent focal range is 29mm to 348mm. The best part of a fixed-lens camera is the amount of zoom you have at your fingertips —o need to worry about changing lenses.
Picture Quality
It's easy to get wrapped up in what large sensors can do, but with a fixed lens, the glass and sensor are designed for each other, optimizing what you can get from a small sensor. Picture quality is a subjective feature. However, we can speak to what we see and what we don't see. For having a fixed lens, getting a shallow depth of field (DOF) isn't terribly difficult. To get the most out of the shallow DOF the NX80 captures, combine it with space compression to get a more noticeable blur. When zoomed in, the space between the background, the subject and the foreground will be compressed, exaggerating any shallow DOF being captured.
When it comes to color, this camera looks great. Shoot without a picture profile and get a solid picture with vibrant colors. If you want to get the most dynamic range, shooting in SLog3 will be key, but it will require applying a LUT and color grading in post-production. The last thing to consider is Hybrid Log Gamma (HLG). HLG is Sony's high dynamic range (HDR) profile and is the only backwards compatible HDR format. Unlike true HDR, HLG will benefit your video regardless of what it's being viewed on. On standard dynamic range (SDR) monitors, HLG will appear normal, whereas HDR won't look right. That means HLG isn't going to give you the best HDR experience when producing for such, but it will be better than shooting SDR.
Tests
To test the low light performance of the NX80, we pointed it at a DSC color chart starting at its lowest ISO of 160, doubling it till we reached it maximum ISO of 10,000. We saw noise right out of the gate. Not terrible, but it would benefit from light denoising. The interesting part of the noise of this camera is that it doesn't change significantly from ISO 160 all the way up to ISO 2500. By ISO 5000, the noise is bad enough not to use for professional purposes. We used Red Giant Denoiser III and were able to simply remove the noise from everything ISO 2500 and below.
Like with any rolling shutter camera, rolling shutter will be experienced when either quickly panning the camera or when the camera is moving, like when mounted on a car, and when what is in frame is moving quickly past the camera. The NX80 does not suffer from bad rolling shutter; in fact it's barely noticeable.
The last test we did was for moiré. We looked at the image from the NX80 when panning and tilting and when locked down. The moiré on the NX80 isn't considerable. If looking at fine line details, noise in the picture will be more noticeable than the moiré.
Marketplace
Sony set up the three cameras so that no matter what your needs, you can pay up for more features or go with the budget model for only the basics. With that said, let's take a look at what brands other than Sony are offering in this space. Let's look at Panasonic, JVC and Canon.
First up is the Panasonic AG-UX90 at 2,300 dollars. It also has a one-inch CMOS sensor and shoots up to UHD 4K at 30 fps. Its highest frame rate is 60 in HD. It's more substantial in size, but with that comes three separate control rings for the aperture, zoom and focus.
Next is the JVC Y-HM170UA for 1,750 dollars. Its CMOS sensor is smaller at 1/2.33 inches, and it shoots up to UHD 4K at 30 fps. It will capture up to 4:2:2 in HD at 60 fps and has dual SDXC SD card slots. It has a two position ND filter and a 12-times optical zoom.
Last up is the Canon XC15 for 2,200 dollars. It's a bit of a different form factor, but it's still a fixed-lens camera. With its one-inch sensor, it can shoot up to UHD 4K at 30 fps. It has the C-Log picture profile and XLR input via its MA-400 mic adapter. Lastly, it has a built-in waveform monitor.
Final Thoughts and Recommendations
The Sony NX80 has more usable features than most other camcorders. We experienced a few strange design choices that caused some confusion, but once we were accustomed to using the camera, they became just little quirks. With its ability to shoot up to 960fps, SLog3 and HLG, its overall usability is strong, delivering good quality images. We really like the ability to assign the different record buttons to capture to different SD cards. The NX80 is a solid camera that gives lots of value for its cost.
Sidebar – What camera does what?
The XDCAM PXW-Z90, NXCAM HXR-NX80 and Handycam FDR-AX700 differ in price by $900 dollars across the line. However, they are all essentially the same camera with more features the more money you spend. That means the $1,900-dollar FDR-AX700 is the base model, so to speak, in the line. All three cameras are built off the FDR-AX700. There is only one difference between the FDR-AX700 and the HXR-NX80: the grip. With the grip comes XLR inputs and mic preamps. So, if you require them, you'll pay $400 to get them in the NX80. Moving upward to the PXW-Z90, you gain 5GHz Wi-Fi and SDI output. Additionally, you'll gain XAVC (HD 4:2:2 10bit, QFHD 4:2:0 8bit), and the camera can be optioned with MPEG2 HD for an additional cost for the license. To get those features, minus the extra license, you'll pay $500 dollars more than the cost of the NX80.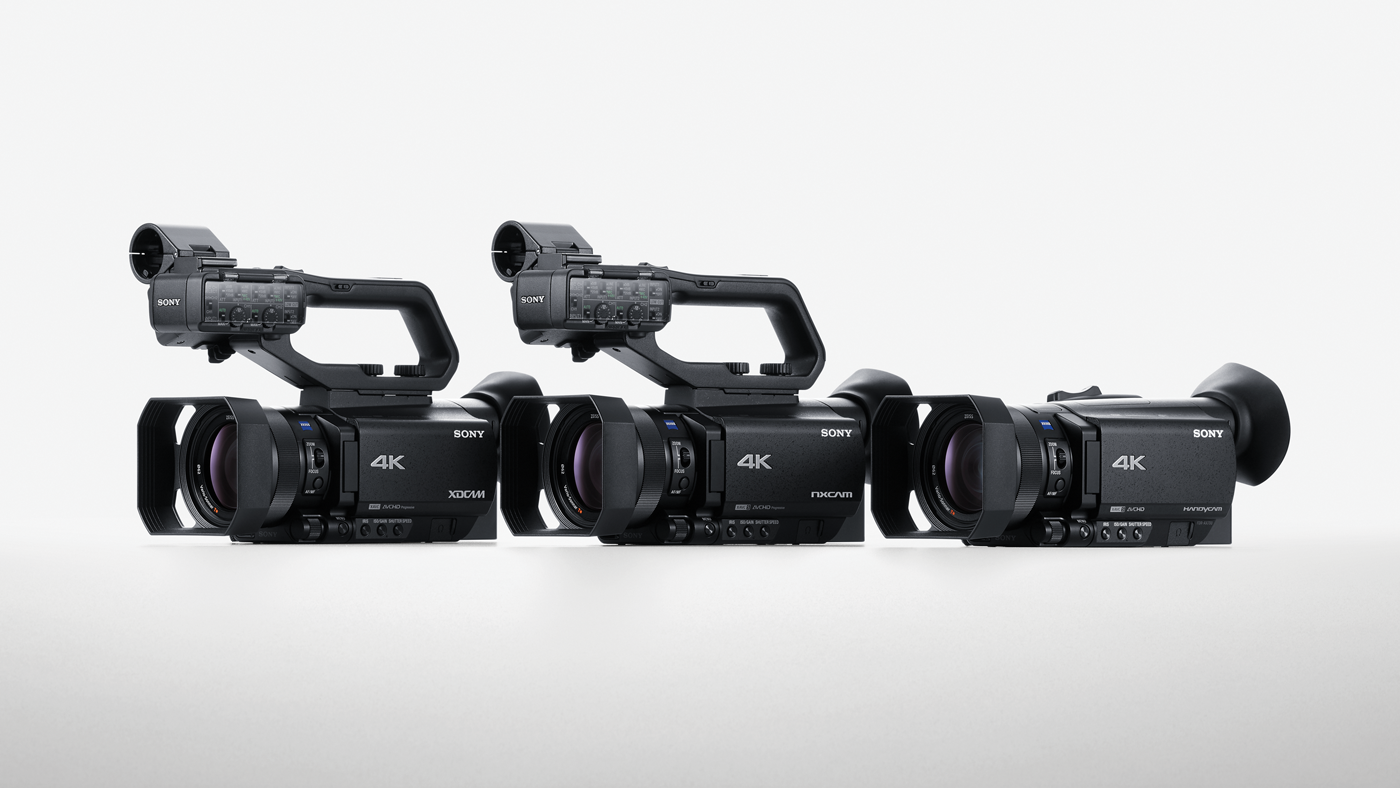 Sony
www.Sony.com
STRENGTHS:
XLR Inputs
Detachable Handle
WEAKNESSES:
No Dedicated Power Switch
Menu Navigation Joystick Difficult to Find
SUMMARY:
The Sony NX80 is a solid camcorder with loads of features. Get up to 960fps in HD and shoot in SLog3 for the best dynamic range. Sony packs a lot of camera in to the NX80 for the money.
RECOMMENDED USERS:
Home video & Enthusiast filmmakers
Event Videographers
YouTubers
Commercial & Corporate filmmakers
Journalists & Travel videographers
Educators
TECH SPECS:
Sensor: 1.0″-type (13.2 mm x 8.8 mm), back-illuminated Exmor RS CMOS sensor
Resolution and recording formats: XAVC S 4K, HD @LPCM 2ch 100 Mbps, 60 Mbps; XAVC S HD @LPCM 2ch 50 Mbps, 25 Mbps; XAVC S HD @LPCM 2ch 16 Mbps; AVCHD @LPCM 2ch PS Mode, FX Mode, FH Mode, HQ Mode, LP Mode
Built-In ND Filters: Clear, 1/4, 1/16, 1/64
Effective Pixels: (16:9): 14.2 MP (approximate), (3:2): 12.0 MP (approximate)
Gain: -3, 0, 3, 6, 9, 12, 15, 18, 21, 24, 27, 30, 33 dB, AGC
Shutter Speed: 60i: 1/8 – 1/10,000, 24p: 1/6 – 1/10,000, 120p: 1/125 – 1/10,000, 50i: 1/6 -1/10,000, 100p: 1/100 – 1/10,000
Slow & Quick Motion Function: 60i 2160p: 1,2,4,8,15,30 fps, 50i 2160p: 1,2,3,6,12,25 fps, 60i 1080p: 1,2,4,8,15,30,60,120 fps, 50i 1080p: 1,2,3,6,12,25,50,100 fps
Zoom Ratio: Optical: 12x
Clear Image Zoom: 18x (4K) / 24x (HD)
Digital Extender: 48x (HD)
Lens Wide Angle: 29mm (35mm equivalent)
Audio Input: 2 x 3-pin XLRF, line/mic/mic +48 V selectable
Wi-Fi: Yes 2.4 GHz
Media Type: 1 x SD/SDHC/SDXC & Memory Stick PRO Duo, 1 x SD/SDHC/SDXC
LCD Monitor: 3.5″ (8.9 cm), 1.56 M dots
Viewfinder: 0.39″ (1 cm) (2.36 M dots) OLED
Power Consumption: 5.7 W (recording with EVF and XAVC S 4K 2160p30 @ 60 Mbps), 6.1 W (recording with LCD and XAVC S 4K 2160p30 @ 60 Mbps)
Power Requirements: DC In: 8.4 V
Battery: 7.4 V
Dimensions: (W x H x D): 5.1 x 7.1 x 11.3″ (130 x 181.5 x 287 mm)
Weight: 2.2 lb (1.02 kg)
Chris Monlux loves Dr.Pepper. He is also Videomaker's Multimedia Editor.