Some say the video industry has moved on from the DSLR form factor for video. That may be true to some extent. Mirrorless cameras, particularly those made by Sony, are in high demand among video shooters for a variety of reasons. Most notably, they have lead the way in 4K adoption. Today, however, DLSRs have largely caught up on this front, and in doing so, are giving videographers a compelling reason to return to the form factor.
On paper, the D850 checks a lot of boxes for videographers. It's 4K. It's full frame, even when shooting 4K. It shoots 120 frames per second in full HD. Its record time is a full 30 minutes. It has mic and headphone inputs. There's nothing ground-breaking here, but that's enough to be able to say the D850 is at least competent video camera.
It's kind of sad, actually; until recently, finding a fully capable 4K camera was a bit of a pain. Mainly, cameras had short record times, cropped the sensors or both. In fact, even now, there are some features we've come to expect as standards in other cameras over the years that we still don't have in DSLRs. In the case of the D850, we still don't have any kind of focus assist or zebras in 4K.
That said, the D850 is a great camera for the right kind of user; specifically hybrid shooters who need their video camera to also shoot great stills, or vice-versa. It's not a perfect video camera, but it's pretty good. And it might be one of the best still cameras on the market.
Body
Thankfully, the D850 has a tiltable screen, already giving it points over its key competition, the Canon 5D Mark IV. The body feels hefty and the grip is deep. Controls are generally right where you need them.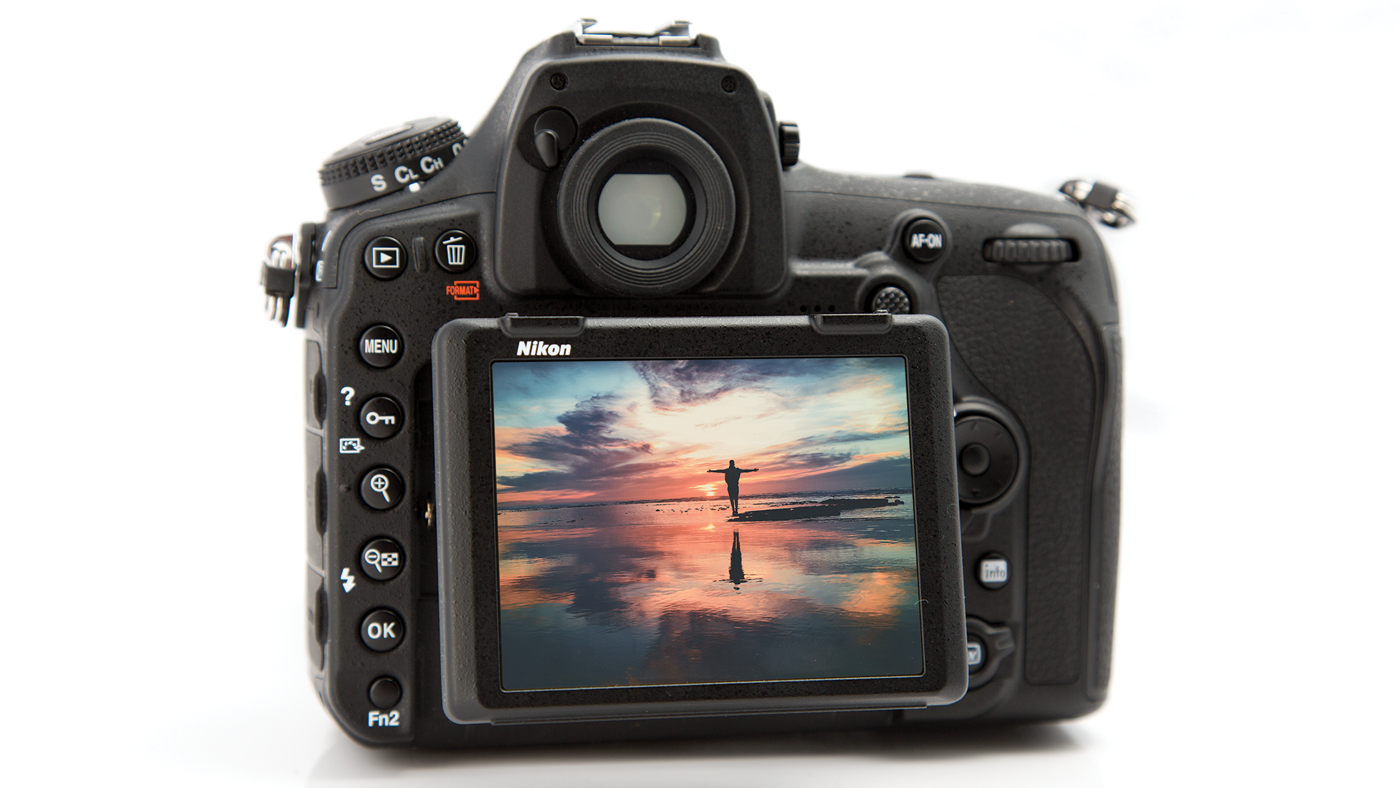 However, despite having several function buttons, Nikon puts some frustrating limitations on what you can use them for. For example, we wanted to program the Fn2 button to bring up the microphone menu, but no luck. You're offered a handful of functions to assign to that button, but most are unavailable.
Fit and Finish
The D850 is built like a truck, as we'd expect in a DSLR at its price. The LCD isn't terrible, but in direct sunlight, it's difficult to see. Like most DSLRs, if you do a lot of shooting in direct sunlight, you'll need an external monitor or something like a Z-Finder or Hoodman. The optical viewfinder, on the other hand, is spectacular. It's very large and easy to use, even with glasses.
Video Features
Perhaps the most impressive aspect of the D850 for video shooters is that it shoots 4K video without cropping the sensor. True, Sony's been doing this for a while, but until now, no DSLR has. Hybrid shooters that want the DSLR form-factor for photography while also having access to full-frame 4K currently have this as their only choice.
Perhaps the most impressive aspect of the D850 for video shooters is that it shoots 4K video without cropping the sensor.
It also shoots 120 frames per second at full HD resolution. This isn't uncommon these days. In fact, the D850, along with pretty much all DSLRs for that matter, can't seem to keep up in the frame rate department. At $500 dollars, the GoPro HERO6 Black will shoot twice the framerate as the Nikon D850 in both 4K and full HD. On top of that, we found the full HD 120 frames per second footage on the Nikon D850 to turn out a bit softer than 30 frames per second in the same resolution. We can't prove it, but we suspect the camera is capturing video at a lower resolution and upscaling to full HD.
The bit rate comes in at just under 150 megabits per second (Mbps) in 4K, which is a far cry from the 500 Mbps 4K of the Canon 5D Mark IV. It shows, but not by much. The Canon does have a better look, but the file sizes can be unmanageable. It's personal preference, but given the negligible difference in image quality, we'll take the more efficient codec Nikon uses. With a 128GB card, we shot all day on the Nikon without having to dump footage. That's a luxury we never have with the Canon.
Autofocus in video mode is terrible. Even if you want to do something simple as tap the screen to focus on a specific point, you can't rely on it. It's slow and inaccurate. For video, this is perhaps the weakest aspect of the D850.
Adding to focus frustration is the fact that while the D850 has focus peaking, it doesn't work when shooting 4K. Our conclusion is that if you're shooting any kind of run-and-gun videos where you'll need to adjust focus in the middle of a shot, you'll absolutely need an external monitor with focus peaking.
Video Quality
Slow motion mode aside, we were generally impressed with the 4K video quality of the D850. Sharpness was particularly impressive. When shooting closeups during a fashion shoot, we could very clearly make out the peach fuzz on the models' faces. It doesn't compete with cinema cameras like the Blackmagic URSA Mini or Canon C200, but it was impressive nonetheless, especially considering the low bitrate.
Unfortunately, the D850 doesn't come with a Log profile pre-installed, nor is Nikon offering a Log profile as an optional firmware upgrade. As such, dynamic range struggles to keep up with the Canon 5D Mark IV with the optional C-Log upgrade installed. Similarly, Sony is offering S-Log and Panasonic offers V-Log. Nikon is clearly behind the eight ball on this one.
That said, the dynamic range is pretty good, all things considered. Anyone who typically doesn't take a lot of time color grading their footage will have plenty to work with. With the exception of shots where the sun was reflecting directly off the water, we generally didn't have issues with crushed blacks or clipped whites. Shooting in the flat color profile, our footage took a little bit of work to get the color looking right, but that's par for the course when using a flat profile.
There is no anti-aliasing filter on the D850. Typically, this results in sharper images but with the occasionally jaggy aliased edges. These issues present themselves in tight stripes patterns. In normal use, we didn't experience aliasing beyond what we'd expect from a professional DSLR.
We did find, however, that the D850 has pretty noticeable rolling shutter distortion. While this is unfortunate, most video shooters have learned how to avoid shots that highlight rolling shutter distortion, since most cameras have it to some degree or another. We don't consider this a deal-breaker.
The D850's low light noise starts to become noticeable at around ISO 1,600 but is usable to 6,400. Unlike some cameras, the D850's noise isn't that ugly, despite being obviously noisy. It's fairly uniform and doesn't really feature the classic RGB blotches until ISO 12,800.
Photos
While the video capabilities of the D850 are competent, the photo capabilities are truly world-class. If you're a professional hybrid shooter, capturing both video and still images, the D850 is worth a very hard look.
Obviously the 46 megapixel sensor is the standout feature. At this resolution, the D850 is like a mini medium format camera. Composing photographs is a whole lot easier when you know you can crop out half your shot and still have 23 megapixels to play with.
Unlike with video, autofocus for stills is incredible, as long as you're not using live view. Staring down the optical viewfinder, you can expect to rapid fire still photos and reliably track sharp focus. We typically left it in 3D focus tracking mode.
Low-light noise on the D850 for stills is spectacular. Even up to ISO 25,600 the noise looks natural and, in this philistine's opinion, is no more offensive than film grain.
Of course, as you zoom in to examine a 100% crop, the noise at high ISO is quite present, and isn't something you'd want to hang on your wall, but thanks to the extremely high resolution, low-light artifacts are no big deal once images are scaled down or printed.
Marketplace
There are several cameras around this price range that are great at shooting video, but the only one you should really consider against the D850 is the Canon 5D Mark IV.
The D850 isn't the best video camera you can get for the money. For most shooters who are solely interested in video, we'd recommend the Panasonic GH5 for more than a $1,000 less. Rather, the D850 is best suited for the hybrid shooter who's either already a professional photographer or a professional videographer with photographic aspirations.
It's in that light that the D850 offers a compelling value proposition against its primary competition from Canon.
Both cameras are very strong for stills, but for different reasons. The Nikon has the edge in its resolution and speed. The 46 megapixel sensor is incredible, and it can buffer up to 51 100MB raw files when shooting in continuous mode. Canon has the edge in auto-focus technology, due to their dual pixel AF, and the 5D is a bit better in low light thanks to the larger pixels. The Nikon, however, has a better battery life and a nice, tiltable LCD. Generally, speaking, we believe hybrid shooters will be happy with the photographic capabilities of either camera.
Video features, on the other hand, are a different story. The Nikon doesn't crop the sensor in 4K and the codec is much more efficient than the Canon's. But the Canon has autofocus that's actually usable and the image quality in 4K is better. We like the tiltable LCD on the Nikon, but prefer that the Canon uses SD and CF cards instead of SD and XQD, as with the Nikon. The Canon has a log profile, but it'll cost you $100 dollars to have it installed. The prices of each are effectively the same before adding the C-log z upgrade.
Again, both cameras have their strengths, but we give the edge to the Nikon for two reasons. We prefer the lower bitrate codec, which yields an image that isn't as good as the Canon's, but which doesn't eat SD cards for lunch. Additionally, the 1.7x crop on the Canon can be frustrating after you spend more than $3,000 on a full-frame camera. Our assessment is subjective, however. We expect pixel-peepers will happily take the superior image quality of the Canon in exchange for bigger files and a cropped sensor, and can't argue with the reasoning.
The Bottom Line
The Nikon D850 is an incredible camera. As a video camera, it's good enough, but as a still camera, it might be as good as it gets until Canon or Nikon update their flagship offerings. That makes the D850 currently one of the best cameras available for hybrid shooters.
Run-and-gun video shooters will find a pretty immediate need for some kind of focus assist, which is a frustrating expense to endure right after buying a professional camera. After that, however, the D850 will be a joy to shoot video with.
The D850's greatest strength is that a stellar camera for hybrid shooters. Anyone who takes photography seriously will love it, while video shooters will find it checks most of the boxes it needs to check, and those it doesn't can be resolved with a couple accessories.
Nikon
www.nikonusa.com
PRICE: $3,300
STRENGTHS:
High-resolution photos
No 4K Crop
Good low-light performance
WEAKNESSES:
No focus peaking in 4K
Ineffective video autofocus
SUMMARY:
The D850 is an incredible camera for camera for hybrid shooters that need full-frame 4K and world-class still capabilities.
RECOMMENDED U​SERS:
Event Videographers
Corporate filmmakers
Generalists
Travel videographers
Journalists
TECH SPECS:
Effective Pixels (Megapixels): 45.7 million
Sensor Size: 35.9 mm x 23.9 mm
Image Sensor Format: FX
Storage Media
1 XQD card and 1 Secure Digital (SD) card
SD
SDHC (UHS-II compliant)
SDXC (UHS-II compliant)
XQD Type Memory
Top Continuous Shooting Speed at full resolution: 7 frames per second
ISO Sensitivity: 64 – 25,600, expandable to ISO 102,400 equivalent
Movie
4K UHD 3,840×2,160 / 30 fps
4K UHD 3,840×2,160 / 25 fps
4K UHD 3,840×2,160 / 24 fps
Full HD 1,920×1,080 / 60 fps
Full HD 1,920×1,080 / 50 fps
Full HD 1,920×1,080 / 30 fps
Full HD 1,920×1,080 / 25 fps
Full HD 1,920×1,080 / 24 fps
HD 1,280×720 / 60 fps
HD 1,280×720 / 50 fps
Slow-motion: Full HD 1,920×1,080 30p (x4)
Slow-motion: Full HD 1,920×1,080 25p (x4)
Slow-motion: Full HD 1,920×1,080 24p (x5)
Actual frame rates for 60p, 50p, 30p, 25p, and 24p are 59.94, 50, 29.97, 25, and 23.976 fps respectively
Quality selection available at all sizes except 3,840 x 2,160 (when quality is fixed at high) and 1,920 x 1,080 slow-motion (when quality is fixed at normal)
Monitor Size: 3.2 in. diagonal
Monitor Type: Tilting TFT touch-sensitive LCD
Movie Audio: Built-in microphone, stereo, External stereo microphone
Movie File Format: MOV, MP4: H.264/MPEG-4 Advanced Video Coding
Battery / Batteries: EN-EL15a Rechargeable Li-ion Battery
Approx. Dimensions: 5.8 in. (146 mm) x 4.9 in. (124 mm) x 3.1 in. (78.5 mm)
Approx. Weight: 32.3 oz. (915 g)
Mike Wilhelm is not as funny as Chris Monlux, but he is Videomaker's Director of Content.