Putting a lot of effort into a shot only to have it need digital stabilization in post is a real bummer. Shootools looks to alleviate the struggle with AutoPan. AutoPan is a robotic panning tool that can be adapted to a tripod for simple pans or added to a slider for a more dynamic shot.
Shootools says that AutoPan will work with any slider, motorized or not, regardless of brand. Plus, it's also universal to any tripod. With a simple design, AutoPan is a motorized pan tool that you attach your camera or tripod head. It has a wire that connects to one side of a slider, and as the slider moves, the wire either retracts or extends to trigger a predesigned pan.
AutoPan you say?
Setting up AutoPan is very simple. Choose an in point, move the pan to where you want it and set a keyframe. Move the camera to the out point of your slide move, pan the camera to its final resting place and set another keyframe. Every time you set a keyframe, it adds one blink to the light on the control screen of the unit. In this case, there are just two. Once the move is designed, press end key frame and it's ready to go. Slide back and forth and the pan will move as you move your camera along the slider.
Setting up AutoPan is very simple.
At a cost of $750, the Shootools AutoPan is not cheap. It arrived in a hard plastic case, ready to protect AutoPan and, we hope, extend its lifespan. Once out of its case, it attaches to your slider or tripod via a ?-16 attachment point. If you need ¼-20, an adapter is included. On top, a camera or tripod head is mounted via a ¼-20 mount. The wire that controls the pan has a keychain loop on one side. Attach this wire, and the setup is ready to go.
Testing
Within five minutes of unboxing, we had AutoPan installed and operating. We connected it to a Rhino EVO 24-inch slider with Rhino Motion connected. The feet of the slider made an ideal connection point for the wire. We first used it shooting some B-Roll for a few of our review videos. Right away, the more complex slider move with a pan upped the production value of each shot we used it with. Prior to updating the firmware, we noticed that the pan was a bit sluggish when starting off, not always starting and ending where we had designated. However, Shootools resolved the issue with the firmware update. We were amazed at how quickly it was able to get beautiful smooth shoots that only took a take or two at most. Next, we took the motion controler off of the slider and added the flywheel for manual slides with automatic pans. We couldn't even feel the resistance from the wire and the move was smooth as butter. A shoot that could have been tedious went very quickly and gave us shots far better than we could execute on our own.
Moving Autopan on to another slider was easy as well. Mounting it onto a 48'-inch manual Glidecam slider, was just like with the Rhino slider– it went on easy and worked great. Although we were not able to test it with a slider longer than 48 inches, we suspect it would work on an even longer slider.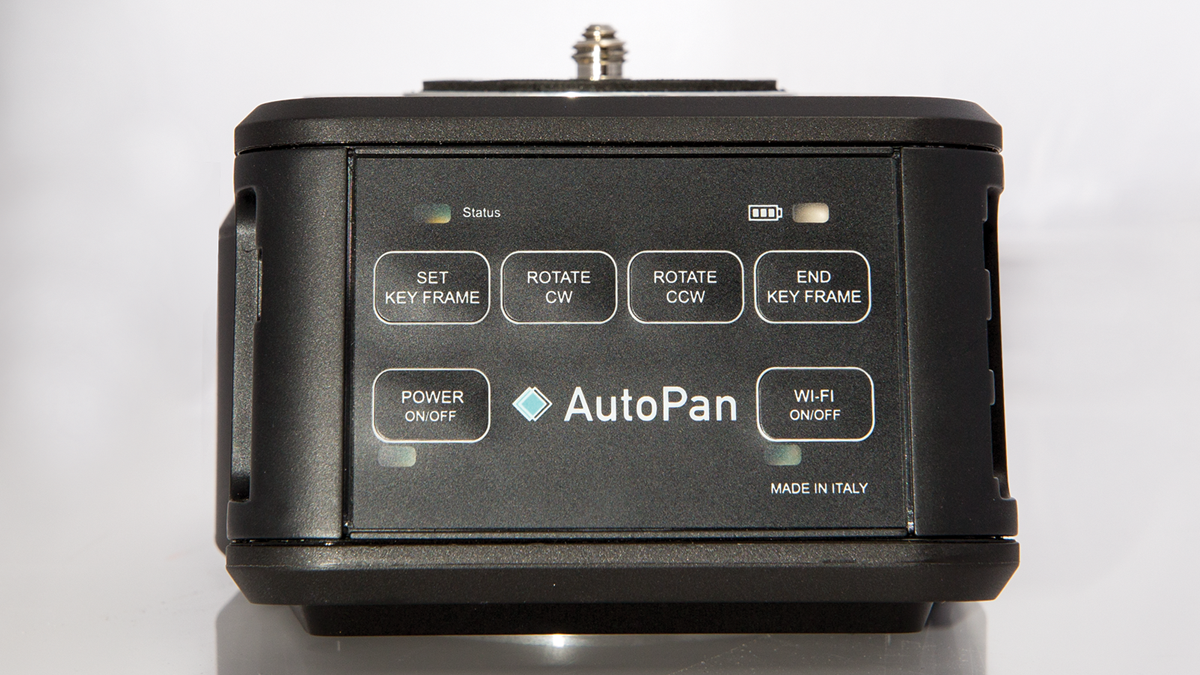 A great use case for the AutoPan is our weekly Facebook Live broadcasts. We start off each show with a shot of equipment. We have found that we get more views if the first shot is a shot of pretty gear. Throughout the 30 minute broadcast, we switch between a shot of the hosts and the equipment shot. We set up the Rhino Motion for a looped slider move, and for the whole show, the camera pans and slides back and forth like we had a camera operator getting a fantastic shot. In reality, it's all motorized and programed. Again, the addition of the AutoPan was a wonderful step-up in production value with a simple and easy execution. It does make some noise, but never enough to be a problem during our broadcasts. If it were closer to the subject, it could bleed onto a mic if you aren't careful.
One issue we had with the AutoPan was the firmware update process. Like we have mentioned before, the firmware update was the improvement AutoPan needed to work as we expected it to. However, the update process itself is neither easy nor intuitive. After a few failed attempts at trying to install the firmware and bricking the unit, we successfully updated the firmware. The takeaway from the difficulty we had is that the instructions are not very clear and the process is a bit convoluted. We hope that no firmware updates are needed in the future or if there are, that the process is streamlined and made easier.
Marketplace
Pan heads can be found in all shapes, sizes and prices. There are many stand alone options that can work with many or all sliders out there, but they lack the analog control that the AutoPan offers via its guide wire. Starting at under 100 dollars, all the way up to the tens of thousands of dollars, automated panning can be cheap or expensive, depending on what you need to control and how precise you need to be. We're going to take a look at two products that are similar to the AutoPan, though they aren't perfect stand-ins.
First, lets look at the Syrp Genie at 790 dollars. Just like with AuotPan, the Genie uses a wire to adjust the automated control of the pan head. Though the Genie is less sophisticated in its control, unlike the AutoPan, it will also automate your slider move. Connect a string on both sides of your slider and the Genie will pull itself along that string, telling the pan head to move along with it. Syrp does a good job of making it simple to use and giving it strength to work with many if not all sliders. The biggest contrast between the Genie and the Autopan is that the Genie is not nearly as precise.
Secondly, we looked to the Rhino Arc Motorized Pan Head at 400 dollars for a more affordable option. The Rhino is more proprietary than the Syrp or Shootools. It's supposed to be used with the Rhino Motion and Rhino Slider. It works seamlessly with the Rhino ecosystem, doing what the AutoPan does, but doesn't have the universal capabilities that the Shootools Autopan has.
Final Thoughts and Recommendation
Shootools made an easy-to-use and precise pan tool. It's a great pairing with any slider, even those with a longer length. It was an instant improvement in production value of any shot we used it with. It's not cheap, but for how well it functions, it's a good value.
ShooTools
ShooTools.com
PRICE: $750
STRENGTHS:
Easy to use
Easy to set up
WEAKNESSES:
Difficult firmware update
SUMMARY:
Shootools AutoPan is a motorized panning tool that works with a slider or tripod. It is very precise and is easy to use. We found the firmware update to be more difficult that it should be, but for how well it adapts and functions, it's a good value overall.
RECOMMENDED USERS:
Event Videographers
Indy filmmakers
Documentarians
Corporate filmmakers
Commercial producers
Travel videographers
TECH SPECS:
Set-up: Any Distance & Position from the subject
Travel Length: 0 to 39" (3 mt)
Horizontal Load: 26 lb (12 Kg)
Max Speed: 17 sec / round
Battery Life: 8 hour
AutoPan Mounting Thread: 1/4" and 3/8" adapter on the to top side.
Slider Mounting Thread: 3/8"-16 thread
In the box
AutoPan
HPRC CASE
Battery Charger
Adapter 3/8" > 1/4"
Chris Monlux loves automated motion, because it takes out human error. He is also Videomaker's Multimedia Editor.