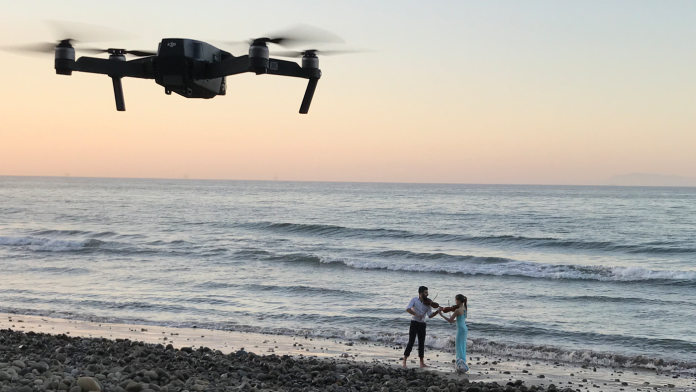 Testing Origins
Primarily shot with drones, the production of Claudio Miranda's breathtaking music video of his daughter's Sofia's violin duet would span almost two years. Miranda jokes that he uses his children for all his camera tests, which makes for some great home videos.
"I've used F55s, F65s, cranes … because I test everything," notes Miranda. "I have a hard time shooting things that don't look good. So when my wife says, 'hey can you shoot something,' it can get elaborate because that's when I decide it's a good time to test new gear."
Sofia and her violin instructor, Dr. Volkan Can Canbolat, who teaches at the prestigious Colburn School of Music in Los Angeles, volunteered to be the subjects for Miranda since he needed to test a drone for use in the soon-to-be released feature film Only the Brave. Claudio notes that he doesn't like shooting camera test charts and prefers to use real world situations because he feels it gives him a better idea of what the camera will actually do. For this camera test, Miranda shot on DJI's Inspire 1 Pro with X5R RAW, capturing Sofia and her teacher on the dunes and rocks of some truly beautiful landscapes.
Do Your Tests
How do you test new gear? If you are fortunate enough to live in a big city with high-end camera stores, perhaps you can test some there. You can also find one day rentals for many camera models. The annual National Association of Broadcasters (NAB) Show in Las Vegas has a vast exhibit hall with cameras, lights, audio, and post production gear. Many of the cameras are focused on staged sets, but you do have the ability to try out different controls and settings on the cameras. If you're looking for new gear, it might be worth the trip.
Motivation
"I wanted to be my own drone person," comments Miranda. "I did a couple of commercials where we couldn't get a helicopter in because of weather and I thought, 'it would be great if we had a drone.'"
Miranda notes that there are a lot of fantastic drone pilots, but frequently on-set he'd just want a simple, singular drone shot for an aerial view; because of that, Miranda felt it was easier if he could do it all himself. Since then, Claudio has become a pilot and is 107 licensed so he can legally fly drones in movies and commercials.
Get Focused
Before a shoot, ask yourself, "Why am I shooting this?" Is this a paying gig or are you doing a friend a favor? Are you trying to build a portfolio or just mastering some new skills? Maybe you're conducting your own camera test for an upcoming shoot, or you're creating a piece for a film fest or YouTube. If you have clear goals of what you want to do on each of your projects, it's much more likely that you will achieve those objectives.
If you have clear goals of what you want to do on each of your projects, it's much more likely that you will achieve those objectives.
Re-purposing Footage
As previously mentioned, the dunes and rock footage was material Miranda had shot for a camera test. In the finished video, there is also other footage of Sofia and her teacher playing and having fun at other locations, which Miranda also liked and tried to include in the edit.
Work With What You Have
When thinking about creating your own music video, do you just plan to use static shots of the band playing? Maybe you have existing footage you can incorporate into the edit to help spice things up? Do you have nature footage you shot on your own personal vacations that would make great establishing shots or montages? How about practice footage, concert footage, or party footage of the band? Home movies of band members when they were kids can also create a unique flavor. Any footage you can use to make your music video more dynamic and visual will increase its production value.
Location, Light, Composition and Drones
"On my last movie, I used my drone to scout locations," remembers Claudio. "They wanted us to climb this massive mountain, and I said, 'Why don't we just send the drone up there and take a look. That will save us a lot of work.' So we just launched the drone and then said, 'Okay. We don't need to go there,' so that saved us two hours of climbing this mountain. These things are incredible; some drones have a four mile range so it's real easy for me to launch it and say, 'Hey, what does it look like over there? What does it look like from this vantage point?'"
Miranda notes that he usually brings his DJI Mavic Pro when professionally shooting movies or commercials. He also uses it to scout locations to get a bird's eye view. Miranda's initial Inspire 1 Pro test for Only the Brave included several southern California locations including Dumont Dunes and the El Mirage dry lake bed in the Mojave Desert.
"There's a lot of controversy about flying drones," explains Miranda. "I did initially think of shooting in Joshua Tree, but there's a no drone fly zone there because it's a National Park. Dumont Dunes is a place where they do dune buggies all the time so I figured noise pollution would be a problem there. The other location, El Mirage, is a dry lake bed so they have a lot of dirt bike riders who drive around there as well."
"I have a really good sense of composition so a lot of it was just doing shots that I love to do," says Claudio. "On my pre-shoot, I took a smaller drone, a Phantom 4, and did some scouting with that. I used that to determine where I wanted Sofia and her teacher to be. Shooting was on the fly so I would say, 'Run to that rock or go up that hill.'"
Claudio jokes that his daughter has a two hour attention span, so it was important for him to scout each location a day in advance even though he'd shot at many of these locations in the past. He used this information to determine what time they should arrive at the location to get the lighting effect that he wanted.
"I wanted to time everything for the last light," recalls Miranda who took advantage of natural lighting with the setting sun for the footage shot on the Inspire. "If I get personal with the footage, I get a better idea of where the exposure sits."
Claudio felt that in addition to the Inspire footage, they needed one more outdoor location to complete the video. Everyone wanted the ocean so Miranda also scouted a beach the day before. He knew it was important that the beach be vacant so he decided sunrise would be the best light since fewer people would be there.
"The only location that I was skeptical about was the beach location. That's why I went with a smaller drone, the Mavic, that's less obtrusive," explains Claudio.
Miranda is quick to note that he wasn't getting paid for any of this; this was just another family video and not a professional piece. He's quick to remind me that if you're getting paid, you're doing "professional" work.
Fix It In Pre-Production
Pre-production is vital for a successful project. Actors or crew who volunteer to work on an indie production often have short attention spans, as well as unrealistic expectations for how long it takes just to shoot a single scene. Scouting your locations in advance, doing camera tests there to determine the best natural light, or finding out exactly what gear is included in a studio rental are all tasks that should be done before your cast and crew arrive on-set.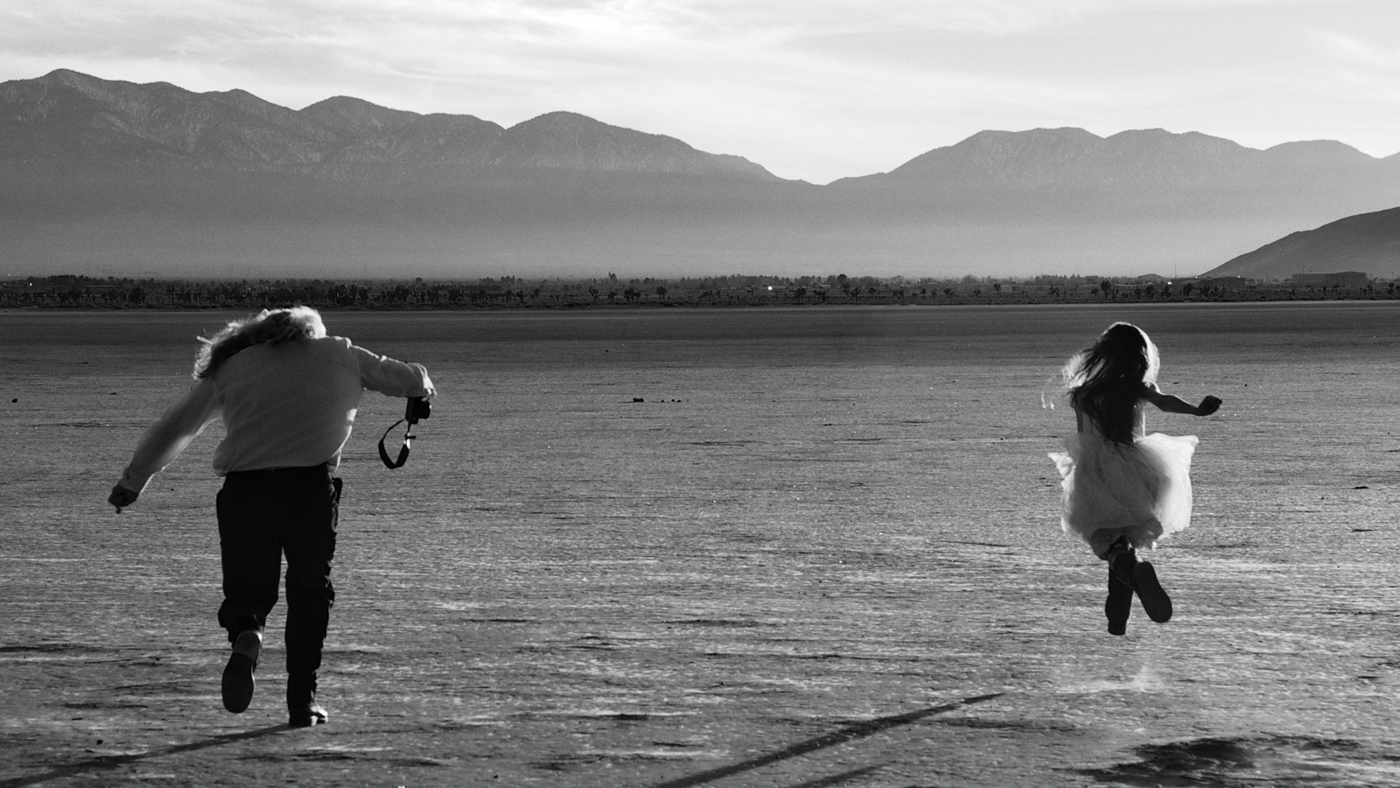 Unless you're directing or shooting for free on a project that you never expect to make money on like home movies or casual Facebook videos, permits and insurance are usually required. Additionally, FAA regulations state that professional drone pilots need to be licensed. With all of this in mind, it's important to note that in addition to adding aerial shots to increase production value on your next project, drones can also be used for scouting.
Compression and Color
Claudio wasn't incredibly concerned about getting the Inspire and Mavic cameras to match because he felt each location had its own look. With that said, color and compression were significant concerns for him.
"The Inspire records in RAW and the Mavic records in H.264 format, which is a little more compressed," explains Miranda. "There's a way to shoot in V-log on the Mavic, but it's only an 8-bit signal, so I was a little worried to compress that … so I used a setting which was like a cinema look on the Mavic. I thought it was kind of flattering; it was a little bit softer and not as hard as the other looks. I remember that I liked it better than me trying to (color) grade it back in. Normally, a log would be great at 10 or 12-bit, but I thought I might get a little bit of banding in a compressed 8-bit signal. H.264 doesn't let you record in ProRes so I thought it would just be better to bake that look into the camera rather than try to create it later on. So on this one, I knew I just had to be on the nose with exposure to retain highlight details with the sun. I feel like it looks pretty good and like it held the range of the sun … It's a little bit silhouette, but that's kind of natural anyway."
Claudio continues, "I'm not a professional editor, but I do have the full version of DaVinci at my house. When I do camera tests, I have a full professional calibrated Sony monitor for when I bring footage in as well as other monitors to do my timeline on. Mainly, I like testing new cameras before I use them and looking at the footage and seeing what the [camera's] range is."
Keep Your Color
Compression can really affect your footage especially when it comes to highlights, details, and color. It's important to understand what format your camera records to and how that will affect your footage. If you haven't purchased a camera or you're looking to rent one, you should keep this in mind. Sometimes, you can find skillful or creative ways to deal with this compression like Claudio did on this piece; the key to finding a good solution is to do extensive camera tests before you shoot and view that footage on a professional calibrated monitor when you're done, specifically a monitor that is the same resolution as the specs for your project's deliverables. Don't have editing software to test this with? DaVinci Resolve has a free version with a large set of color tools.
Timelines, Workflow, and Editing
"The first thing I shot was the rocks and then two months later I shot the dunes," recalls Miranda, "so the rocks and the dunes were the proof of concept for the movie [Only the Brave]. I just edited a little short version, and it played to some other music. Then Sofia's teacher wanted to go into the studio to arrange a better version of the track of the Bach Double. I then had to align that version to the tracks [of the rocks and dune footage]. A year later, I shot the beach. By then I had the final track so I gave Sofia and Can those little Apple EarPods so they could at least be in sync with the music."
Miranda did not record audio for the beach location since they were trying to keep the crew size small, and drones don't really record audio well anyway. Claudio notes that in certain sections he put time markers in because he could see what they were doing. He also always started the song at the beginning so it was much easier to match. Miranda suspects that may be why he used so much of the beach footage.
Claudio explains, "I wouldn't call myself an editor at all. I have to listen to the piece (of music) a little bit when I'm editing. I'm not really trained, and I don't really work with editors. When I do see them work, they work so fast that even if I was watching, I can't really see what they're doing. The thing about DaVinci is that it does have an editing function in it so I can just put things in the timeline and move them around."
"I laid out all three pieces on the timeline and synced them as best as I could. I marked the hero pieces as well. And then I started cutting…I slid the timeline in between each one (of the hero shots), and I just kind of chopped out the parts that weren't working," recalls Miranda. "Maybe this isn't the best way or the seasoned way of doing it, but it's my way of doing it."
"They're playing the Bach Double in all of the footage," continues Claudio. "It's just that the cadence is different…In the beginning (early footage), sometimes they're in sync, but sometimes they're playing slower or faster. Sometimes I borrowed a section deeper in the piece just to make it line up as best I could, but it's not totally perfect. I'd just chop off little bits; sometimes it's not even close. That's why it's a little 'cutty'. If you play it (the footage) too long it gets a little behind (the score). There's just practical limitations."
"In a way, I think you have the most exciting moments all around. There was a shot I really loved but it happened at the wrong time (of day) so I wondered how I could jam it into the edit. It's not perfectly synced, but I did it so there's a little bit of that in there too. There was a point in the video that I thought; let's break away from the song and have them run up the dunes and just play. There's also a shot I really loved that's a little bit soft in focus, but it's the one of them lying down in the sand. I really liked that moment. It's not in sync to anything, but I just kept it long enough that it doesn't break," says Miranda.
Find Your Rhythm
You don't have to be an experienced editor to create a great video. Identify your hero shots, your favorite shots, and all the material you really like. Remove the rest of the footage. Then, experiment by moving things around on the timeline. Fast, frequent cuts in the edit can also camouflage footage issues or help bridge footage that might not necessarily be related.
It All Comes Down to the Story
It was Sofia's teacher, Can, who thought the film needed a more finished feel. The concert and backstage footage was that solution. A staged mockup, it was shot after all the drone footage . Miranda shot it with a Sony a7S recording onto an Atomos recorder; the black and white footage was from the Sony and was altered in post.
Sofia's mom, Kelli Bean-Miranda who is a producer on the video, came up with the opening dialogue which really forms the story and visual narrative of the video. Sofia, who claims she never gets nervous, agreed to the dialogue because it served as a lead-in to the aerial footage.
Build Your Story
A quick setup and a few lines of dialogue turned a random music video into a meaningful, visual exposition of how a musician can handle nervousness before performing. Think about your favorite music video; does it tell a story? What type of setup can you use to elevate your music video from aimless shots of the band playing to a cohesive story?
Final Words of Wisdom From Sofia Miranda
Of course, violin prodigy Sofia Miranda has her own thoughts about what makes a good music video. That's no surprise considering the twelve-year-old composes pop music and has completed BabyStar, her first album. Currently, she is working on follow up album. Also, having such an accomplished cinematographer as Claudio Miranda as a father has its advantages; Sofia often pitches him music video ideas. Together, they discuss budgets, production elements, storylines and more. Below, Sofia lists her top 5 suggestions on making a great music video:
1. "The most important aspect of the video should be the music!"
2. "The music video should be something creative, something they've never seen before. I think most people have never seen someone on top of a mountain playing the violin."
3. "I know that lighting is important. It's something my father really cares about. Shooting in the afternoon is not really good but sunrise and sunset is good light; that's why we had to get up at five in the morning to go shoot at the beach."
3. "We had to make costumes for me, stuff that allowed me to move and not in black or white. The costumes had color that would look good with locations…For the ocean I picked a blue-ish maxi dress so I could just morph into the ocean with it. It was really cool."
3. "It was really fun doing the whole thing!"
The Top Three
Sofia makes some great points here. The technical note of not having black or white costumes is important. Cameras traditionally have had limited dynamic range. They don't produce both highlight and shadow values accurately. In costuming to ensure that the detail of garments can be seen on camera, very dark shadows and very bright highlight colors are avoided so, essentially, avoid black or white clothing.
Of course, I think the first and last items on Sofia's list are perhaps, the most important and are definitely worth repeating. A music video should, first and foremost, always be about the music, and you should always try to have fun creating your projects!
Technical aspects of the video:
Beach footage shot with a DJI Mavic Pro
Other aerial footage shot with a DJI Inspire 1 Pro with the X5R camera shooting in RAW format
Concert and backstage footage shot with the Sony A7s and the Atomos recorder
Edited and colored in DaVinci Resolve
Microphone used was the MXL 4000
Preamp was the Avelon-737
Piano was Native Instrument's New York Grand Piano
Music edited in Avid Pro Tools
W. H. Bourne is an award-winning documentary filmmaker.