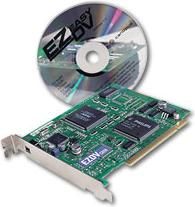 DV Gets EZ



EZDV Capture Card

($249)

Canopus Corporation

711 Charcot Avenue

San Jose, CA 95131

(408) 954-4500

www.canopuscorp.com




A flurry of new low-cost IEEE 1394 cards has been hitting the market lately. One of them is from Canopus, whos DVRex and DVRaptor cards are already favorites in the Windows world of digital video editing. Canopus latest effort is the EZDV. This $249 IEEE 1394 card comes bundled with a proprietary editing package called EZEdit. Lets take a look to see how they run.



Stick in the Card


Installing the EZDV is as simple as installing an internal card can be. All you need to do is turn off your computer, open the case, locate a free PCI slot, ground yourself, stick in the card, fasten the screw in the card and close the case. Then reboot and install the drivers. The only bump in the road for EZDV bliss was the fact that we had to hit "browse" and specify a path on the driver CD when looking for the driver. Canopus should be commended for making the installation as easy as the name implies.

This card does require a pretty beefy computer system to run though. It requires a minimum of a Pentium II 400MHz (or Celeron 466mHz) with 64MB RAM, and a hard drive that can do transfers of 4.5MB/second. We tested this card on our test bay: a Pentium III 550MHz, 192MB RAM, and the ever-speedy IBM UltraStar 9GB SCSI-2 hard drive.



Load up the Software


After getting the driver going, the installer package prompts you to install the EZVideo capture software, the EZEdit editing software, the SoftXplode transition package, the EZNavi file organizer, the EZAudio sound software. The package also includes SmartSound for making your own royalty-free music.

Installing the editing software is as easy as installing the hardware. No hidden surprises. Just click through the defaults and reboot the machine and youre ready to go.



Capture Some Footage


After youve installed your card, drivers and software, youre ready to get capturing. To capture video with the EZDV, you use EZVideo. This utility has options for capture on-the-fly and batch capture. It makes reference AVIs if you want to do captures that are over 2GB in size.

Using EZ Video wont be difficult for anyone. It has full deck control for almost every major camcorder. If you want to see the complete list of compatible decks, camcorders, motherboards and other hardware visit Canopus Web site at http://www.canopuscorp.com/pages/compatibility.php3.

One thing about the EZDV though, if youre planning to use this software with Adobe Premiere or Ulead MediaStudio Pro, youre going to be out of luck. Like the similar low-cost IEEE 1394 cards on the market, this card captures AVIs in a format that Premiere and MSP cannot work with. Until Adobe and Ulead decide to support Microsofts new formats, users will have to edit with the EZEdit program.



Make Some Cuts


Once youve captured your video, youre ready to cut it together with Canopus EZEdit software. EZEdit is a good application for beginning videographers. It is simple and straightforward, yet it maintains enough editing power that it will be able to do almost anything that novice editors would want their software to do.

Capture those video clips and place them on the timeline. If you want one clip to end a little bit sooner, just grab the border between the two clips, and EZEdit will make a ripple edit faster than you can say "EZ". It also has easy-to-use handles for audio editing.

To insert a transition, simply enter the length you want your transition to have. EZEdit will drop a little placemarker on the timeline, and you can double click it to choose what type of transition you want to use. Canopus included a version of their Xplode effects for EZDV called SoftXplode, and beginning videographers will have a field day playing with the crazy 3D transitions in SoftXplode.



SoftXplosion


The SoftXplode 3D effects package was a nice surprise in this low-cost IEEE 1394 bundle. It has transitions that will drive audiences crazy the first time you use them, and will literally drive them crazy when you continue to use them throughout your productions. The transition package lets you use key frames to customize the transitions.

One of the best parts of the SoftXplode transitions is that you can get real-time previews of the effects. Thats a nice touch that some more pricey models dont offer. We were worried that we would be rendering for an eternity, but the transitions rendered quickly, without cause for concern. Once youve done your editing, youre ready to go back out to tape. The EZ Video package does this easily. We did the whole process in a couple of mouse clicks.



In the End


Canopus delivers what they promise with the EZDV. Though the card doesnt work with all of the editing software on the market, the included software is adequate and approachable for the beginner. If you have a Mini DV or Digital8 camcorder, the right computer and want to test the waters of editing video, this could be a good choice for you. For $249, you almost cant go wrong with Canopus EZDV.

TECH SPECS

Canopus EZDV

Capture Card
Platform PC

Codec Canopus DV Blue Book compliant

DV CODEC (5:1 DV compression)

Interface PCI
Minimum System Requirements

Operating system Windows NT4/98/2000

Processor Pentium II 400MHz (Celeron 466MHz)

RAM 64MB

Hard Drive 4.5MB/sec sustained throughput minimum (SCSI or Ultra DMA)
Recommended System

Processor Pentium III 500MHz

RAM 128MB
TEST RESULTS

strengths
Easy installation
Easy-to-use
EZEdit is easy

weaknesses
Somewhat intensive system requirements
Only one IEEE 1394 port
Wont work with Premiere

summary
A great first choice for the videographer looking for an entry-level IEEE 1394 card.