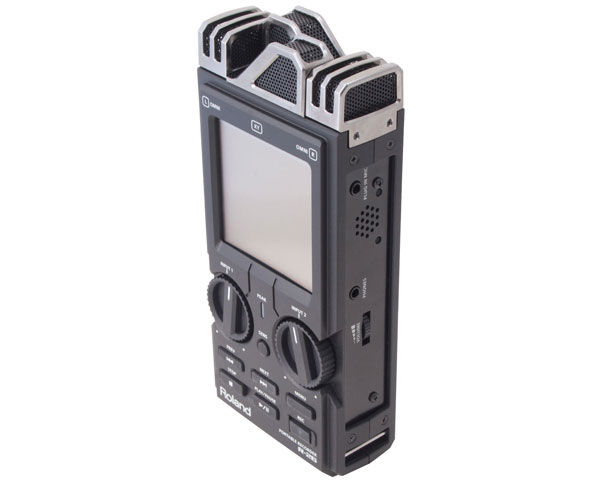 Today's emphasis on small video recording devices, such as cell phones and ultracompact camcorders, has resulted in a great deal of disappointment for those individuals seeking quality audio to accompany their stellar video creations. Particularly, with professional Digital Single Lens Reflex cameras, which audio quality is notoriously poor, producers are constantly on the lookout for devices that offer the portability, convenience and quality they require.
Roland's attempt to come to their rescue with the Roland R-26 portable audio recorder may well be a valiant effort indeed. The R-26 is reasonably priced and has a ton of professional features and delivers admirably on quality.
Checkin' It Out
Right out of the box the R-26 looks as though it would serve as a great sci-fi prop in an indie film; sort of like a sophisticated tricorder or phaser device. It comes with an owner's manual, AC adapter and power cord, mini-B USB cable, foam windscreen, Cakewalk Sonar LE audio editing software for Windows and a 2GB SD card. Now don't get carried away and format the card right off the bat, as it contains the device drivers needed to link the R-26 to your computer.
The build quality seems very good, which is constructed primarily of black plastic and it appears to be quite solid, with no excessive play around the dials or buttons. The four microphones do exhibit a bit of side-to-side flex and would sustain damage if dropped. The left side of the unit has a hinged rubber cover to protect the card slot and USB port. Near this are the dual-purpose Hold/Power button and DC-in port. The right side of the device has a built-in speaker, 1/8-inch (3.5mm) headphone jack and volume control for monitoring input, as well as an 1/8-inch stereo microphone jack with plug-in power.
For professional input, the bottom of the R-26 houses two XLR/TRS combo-type inputs while four internal mics adorn the opposite end of the unit. This is a pair of X and Y mics in the center, positioned along the same axis to minimize phase problems and deliver clear, directional, stereo recordings. The omnidirectional microphones are positioned on the outside of the X/Y microphones for greater distance between the two, in order to achieve a broader stereo feel. These microphones pick up sound from all sides.
Sound from these input sources can be recorded simultaneously into three stereo tracks for six channels of quality audio and maximum versatility. This means that you can choose your favorite of the three tracks or custom mix them to taste in post.
The front of the R-26 has a large, grayscale, backlit touchscreen display for viewing input levels and selecting menu options. Below are two large rotary dials for fine-tuning levels. Between them are a peaking indicator and button used to adjust mic sensitivity. Below these are file navigation buttons, Previous, Next, Play/Pause and Stop, as well as Menu and Record.
Pressing Menu reveals a number of setup and management options. Finder lets you browse recorded files then perform various operations such as select, copy, move, delete, edit or rename. You can record a memo along with your files or quickly convert them to MP3. The Recorder Setup menu lets you select the number of channels and source inputs you want to record with, the sample rate (up to 96kHz) and the recording format (16 or 24-bit WAV). The Input Setup menu lets you select Limiter, Low-cut Frequency and power options for the different mic configurations. Low-cut options are 100, 200 and 400Hz. For true low-cut capabilities though, a lower frequency option should be included. Many other menu options and settings are available.
The main viewing screen has tabs for additional control. INFO displays information about the current file. MON turns monitoring on or off and allows for levels adjustments. MARK lets you split the track, add or clear track markers. A-B SPEED enables track looping and playback speed alterations.
Performance
Highly intuitive, the R-26 is both a joy and a breeze to use. Press the Menu button, then Rec Setup to select the number of channels and input sources you wish to record with. Press the Menu button twice to take you back to the main screen. Now push the SENS button to set the microphone sensitivity. Point the mic at the sound source and adjust sensitivity manually or automatically. For manual, use the touchscreen to set the sensitivity slider to Low, Mid or High, then fine-tune using the input dials. The PEAK LED will alert you if you're too hot so you can back it off as needed. AUTO SENS samples the input for highs and lows and displays a recommended level you can then dial in to. All that remains is to record.
Handling noise is definitely an issue with this device. Once you're recording, you'll want to keep your hands and everything else from touching it. Results differ of course depending on the mics used; however, we were quite pleased with the overall depth and quality. While mic noise was present to varying degrees, it wasn't excessive and was better than many other recorders we've tested.
Tech Specs
Tracks: 6 (3 stereo pairs)

Signal Processing: AD/DA conversion: 24 bits, 96/88.2/48/44.1kHz

Recording: [Sample rate, bit depth] WAVE/BWF; 96/88.2/48/44.1kHz, 24/16 bits, MP3 (MPEG-1 Audio Layer 3); 8/44.1kHz, 320/160/128 kbps; WAVE + MP3; 48/44.1kHz, 16 bits, Bit Rates: 128 kbps

Playback: WAVE; 96/88.2/48/44.1kHz, 24/16 bits; MP3 (MPEG-1 Audio Layer 3); 48/44.1kHz, 32-320 kbps or VBR (Variable Bit Rate)

Memory Card: SD Card (SDHC format compatible)

Mic Inputs: Internal Stereo Microphones: L/R Omnidirectional mics; Directional X/Y mic; Analog inputs: XLR/TRS Combo type (2) XLR – phantom powered; 1/4″ TRS phone type – balanced/unbalanced; Plug-in powered mic input 1/8″ (3.5mm stereo)

Audio Output: 1/8″ (3.5mm) stereo headphone jack

USB Interface: Hi-Speed, Mini-B type

Display: 160×160 dots touchscreen

Dimensions (WxDxH): 3 1/4″x7 1/8″x1 5/8″

Weight: 14oz.
Strengths
Intuitive interface
Six-channel recording
Professional inputs and features
SD card included
Weaknesses
Low-cut option below 100Hz should be included
Summary
Six-channels of quality audio, a variety of input types and a reasonable price make the Roland R-26 a strong contender in today's portable audio recorder market.
Roland Systems Group

www.rolandsystemsgroup.com

$599
Contributing Editor Mark Holder is a video producer and trainer.