AsHDSLRs have changed the face of video production, Zacuto's Z-Finder EVF Pro may very well change the face of HDSLR-based video workflows. Too costly for the casual user; the serious enthusiast and HDSLR professional may find it a small price to pay for the many features and enhanced usability it adds to their tool of choice.
Achilles's Heel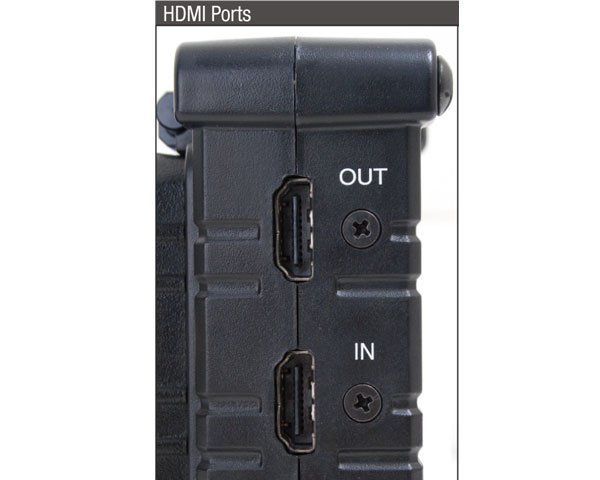 DSLRs have exploded onto the video producing scene in recent years. Unknown to video shooters a short while ago, they are now found everywhere; faithfully recording everything from weddings to television commercials and programs, as well as big screen features. Their light-weight and small size make them ideal for mounting nearly anywhere; interchangeable lenses increase their versatility many times over and their large sensors produce an image quality and depth of field previously unseen in camcorders many times their cost. And, of course, their ability to take incredible still photos is near legendary.
For all their video awesomeness, however, DSLRs do have their deficiencies, poor audio capture and monitoring limitations being the most notable. Typical high-end cameras tend to have teeny little viewfinders with stationary LCD screens. This is fine as long as you're not outdoors and are able to remain glued relatively close to the rear of the camera. As most videographers know, however, LCD screens can be very difficult, if not impossible, to see in daylight and being tethered to the camera constantly is extremely limiting. Some models now have articulating screens, which are an improvement to be sure, but still fall short of allowing the video shooter to achieve maximum creative freedom.
Having the camera locked down on a tripod while the action moves in and out of frame lies at one end of the creative spectrum. For maximum freedom, though, the camera itself often needs to be moving. Knowing this, many video producers are finding ways to attach their HDSLRs to dollies, jibs, vehicles, and so forth. The problem in doing so, however, is that the camera's viewfinder or LCD display is oftentimes taken out of reach, making framing and focusing extremely difficult.
DSLR First Aid
Zacuto may well have the answer with its Z-Finder EVF Pro. This device is a combination of two of their products: the EVF Flip, a 3.2-inch high-resolution monitor (often higher than the camera it's attached to) and the Z-Finder Pro, a 2.5 times magnified, focusable diopter-equipped loupe with eyecup.
The unit attaches to the camera via the included 1/4"-20 hot-shoe mount. Once attached, the video signal passes from camera to monitor via the included 18-inch HDMI to mini HDMI cable. On the monitor side, the full-size HDMI connector swivels on two planes to minimize potential tweaking and possible damage to the cable. The connector on the mini HDMI end is not so equipped and could eventually lead to cable damage due to excessive tweaking.
The build quality is excellent with very sturdy high-impact plastic and aluminum construction throughout. For a bit of fun, go to www.zacuto.com and watch the video entitled "Z-Finder EVF Drop Test Part Two" where the monitor is dropped from a height of 12 feet, not once, but twice, and still performs perfectly.
The Z-Finder Pro attaches to the front of the monitor where it may be lowered over the screen and latched into place for glare-free framing and focusing or flipped up 180 degrees for easy viewing by others. The rear of the monitor is home to the battery, a 7.2v Canon LP-E6 or equivalent. The run time is quite long; seven hours and more in tests. The bottom of the unit features a threaded port for the hot-shoe adapter and a USB port for obtaining firmware upgrades. The right side of the monitor has two full-size HDMI ports; one for receiving the signal from the camera and the other for looping through to a second monitor.
Four round buttons and the square, red, power button adorn the left side of the unit. The uppermost button brings up the main menu while the next three buttons are used for navigating the menus and making selections. Menu options allow you to configure Brightness and Contrast; Chroma for fine-tuning overall saturation and the red, green or blue values individually. Blue Only, Monochrome and Color Bars are professional features for checking and achieving optimal calibration of your monitor. The Scaling feature is used to fit a lower resolution camera signal to the screen, thereby eliminating annoying black bars that would otherwise appear. Scaling options include Auto, Manual and Camera Presets, or you can create and save your own custom presets.
In addition to the enhanced focusing ability inherent in the loupe's 2.5x magnification and light-excluding eyecup, several focus aids are included in the menu settings. Peaking over-sharpens hard edges as they come into focus and Pixel-to-Pixel (Zoom) zooms into the center of the frame for a 100% view and more precise focusing. Exposure assistance includes Zebras where two different levels of zebra stripes may be established. For example, one may be set to expose for skin tones and the other for pure white. Finally, each of the three navigation and selection buttons also pull double duty as assignable function buttons.
Prognosis
The future of the Z-Finder EVF Pro looks very bright indeed. It solves one of the greatest deficiencies in today's DSLRs by providing a small frame, high-resolution remote monitor with a plethora of focusing, exposure and other professional features, while at the same time getting it off the camera where it can be easily used regardless of how and where it is mounted.
Tech Specs
LCD
Size: 3.2" TFT LCD IPS LED
Resolution: 800×480
Color: 16 million colors
Viewing Angle: 170 degrees horizontal; 170 degrees vertical
View Area: 70.6mm (H) x 42.76mm (V)
Power
Battery: 7.2v Canon LP-E6 or equivalent
External: optional 12v power adapter
Video Input/Output
HDMI:480i/480p/576p/720p/1080i
Power Consumption: 2.5w (5.2 hours with 1800mAH battery)
Strengths
Durable construction
Magnified, light-excluding loupe
Focus assist options
Exposure assist options
Puts the viewfinder above the camera
Compatible with all cameras with HDMI output
Weaknesses
Excessive crimping may eventually damage the mini HDMI end of the cable
Summary
For the serious videographer looking for maximum DSLR creativity, the Z-Finder EVF Pro by Zacuto is an investment worth considering.
Zacuto
www.zacuto.com
$1,000
Mark Holder is a video producer and trainer.