After coming up with an original story for a song by the great new band, Leland Sundries, I found out that first thoughts can be deceiving. Upon sitting down with the song's writer and my brilliant DP, I learned something invaluable: When you talk and, more importantly, listen to your collaborators, it's amazing how much better, fuller and more layered your story can be.
Start with the Song
Nick Loss-Eaton, Leland Sundries's leader and main songwriter, sent me a few tunes from their upcoming album, "Songs for Outsiders." I liked them all, but one in particular grabbed me. It was a bouncy, country-punk piece called "Maps of the West." I lived with it for a while and couldn't help but picture Nick in a darkened kitchen, lit by gaslight, members of Leland Sundries behind him, while Nick strummed his guitar and lip-synched the lyrics. Since the tune is about the West and a girl the narrator met there, I thought, since I like miniatures, that we would do cutaways, periodically, to things that were mentioned in the tune: a tiny train, a crinkled, yellowing old map, little horses — that sort of thing. Nick thought about it and seemed only mildly interested. He'd written the song after a real cross country trip he'd made, during which he'd met and fallen for an inspiring, well-traveled woman. After a night's sleep, I agreed with him that my minimalist approach wouldn't really capture his big idea.
Learning to Open Up
The next day, after brainstorming, I thought, "Why don't we open it up then and do something with Nick and an actress that catches the traveling vibe, the rush and loss of love that the song depicts?" From Nick's tone, I could tell that was much more to his liking.
Walking, Talking and Learning
We were on our way. But the best thing the songwriter suggested was to come to his neighborhood in Brooklyn with our cinematographer, Olya Loginova, to walk the old-fashioned streets, check out the often western-themed restaurants and grungy locales and try to make the video more like the story in the song — only not literal. And, vitally, more cinematic.
That's when I had that epiphany. One's first thought was not always one's best. It was a huge breakthrough for me. I hope I never forget it.
One's first thought was not always one's best.
The first thing we did, when Olya and I met at Nick's apartment, was talk. I had roughed out an idea of the beginning, middle and end of a romance. Nick liked the ideas, but wanted more vignettes between the beginning and ending. He had various locations he suggested we check out in his Red Hook neighborhood. Then Olya, feeling the spark, also suggested some scenes indoors that would make a strong visual statement about how the couple felt about one another, whether happy or sad. I realized, due to these cool concepts, that I wanted the whole band to be a sort of Greek chorus, playing through the video and commenting on it, which meant we would take them outside to a wonderful little cement patio, do a series of master shots and then do close-ups of everybody in the band.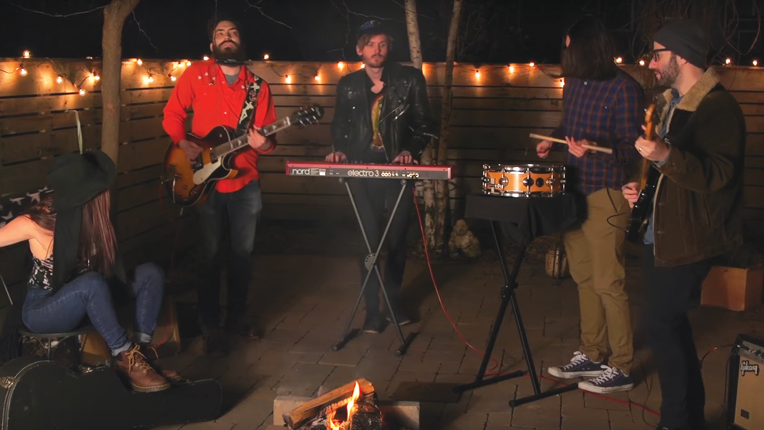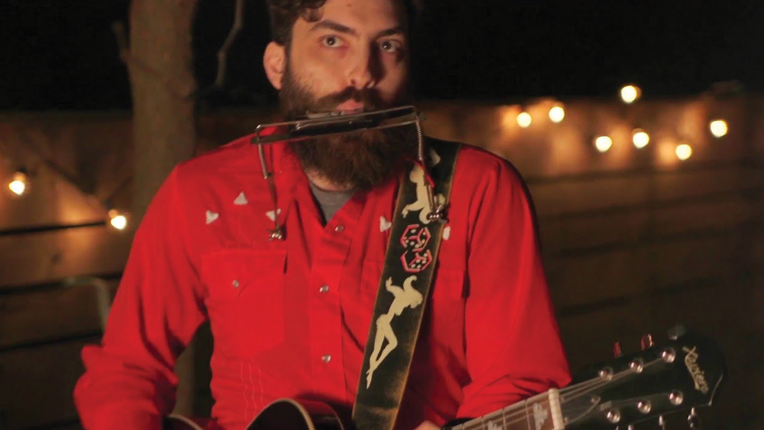 Out we went location scouting. We found a slew of amazing places where we knew we could film Nick and his on-screen girlfriend. With every step and every sight, another great visual ideas came to me. I was especially taken by a faded green truck that seemed permanently parked on a cobblestone street. It seemed to have just the flavorsome Americana that I was looking for. A few days later, we used it to film both Nick playing a guitar solo, and our actress, Katharine Marion, playing a harmonica solo. All of the elements that made the video richer and more complex came from simply staying open to ideas, finding great images and knowing we would come back to shoot them.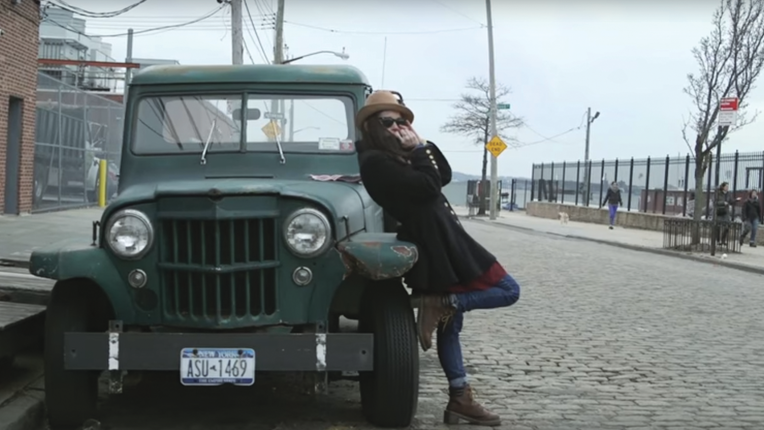 Don't be Afraid to Rewrite – and Rewrite Again
I went home, tore up my idea and wrote a different treatment altogether. I also made up a shot list to keep us focused and to help me keep an eye on the time. Yet on shooting day, I found that suggestions kept coming on the fly that turned out great for our story. For instance, sensing that the middle section of our love story needed a bit more heft, Nick thought the tale needed a scene out on the patio, with the lovers clearly showing their affection for each other, while also acknowledging things weren't going to work out. He was right. Olya then decided, near the end of our day, that there should be more romance for the first part of the story. We ended up adding some romantic bedroom scenes as a spur of the moment decision, and had a nice cut to the film "Fool For Love," which subtly commented on the tension in all love affairs.
Ultimately, after Olya's remarkable editing, we were all quite pleased with the outcome.
My Conclusion
You might think your first idea for a video is perfect. Sometimes, I bet it is. But leave yourself open to input from others and to serendipity itself. Opening up your story can also open up the hearts of the people watching it, and you're bound to be delighted by the results.
Leland Sundries CD music for outcasts is available at lelandsundries.com The video for "Maps Of The West" can be seen on YouTube.
Peter Gerstenzang is a video director and humorist. He recently completed his first feature-length script, "Personality Crisis."