Professional shooters making up a crew of one need an on-camera microphone that is lightweight, unobtrusive and easy-to-use. The Rode Stereo VideoMic X (SVMX) hits those points and more while delivering broadcast quality audio. It's perfectly suited for shooting live events, nature footage, even b-roll for films.
The price and rugged aluminum construction show that the VideoMic X is made for pros, but its simple interface makes it easy to use right out of the box. It features professional-grade balanced outputs (3-pin mini-XLR) in addition to an RF shielded 3.5mm stereo output.
What's In The Package
Everything about the Rode Stereo VideoMic X is beautifully designed, including its two included accessories. The Pop Shield, which looks like a futuristic soccer ball, provides some noise reduction while still being acoustically transparent. The Wind Shield, which looks like your standard furry dead cat wind protector, reduces noise even more but with a slight loss of high frequency detail.
An RF shielded 3.5mm stereo cable is included, but you'll have to buy a mini-XLR cable separately if you want to take advantage of the balanced outputs.
The Microphone
The VideoMic X is sturdy yet lightweight. Its ergonomic design allows it to perch atop any camera with a standard shoe mount. A ⅜-inch thread at the bottom also allows you to mount the mic to a boom pole or tripod.
The microphone has an acoustically matched pair of ½-inch true-condenser capsules, configured in a stacked X-Y configuration. A Rycote Lyre shock-mounting system isolates each capsule and reduces noise from vibrations and handling.
We tested the Stereo VideoMic X outside and inside with excellent results.
The VideoMic's cardioid pickup pattern picks up clear audio from the front and sides. Unlike shotgun mics that isolate a subject, the X-Y configuration captures immersive stereo that accurately reproduces the sound environment.
The Controls
The Rode Stereo VideoMic X turns on with the touch of a button. The controls, consisting of three digital selector buttons, are well-lit and easy to use. Press a button to cycle through each setting. A green LED indicates which position is currently selected.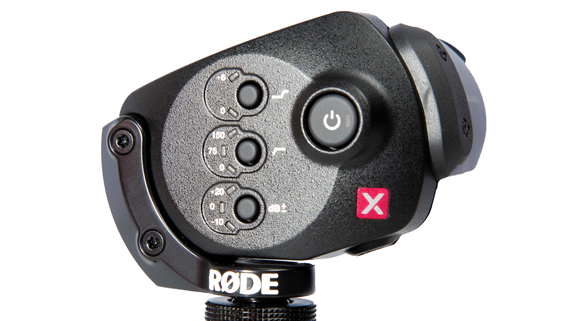 The lowest selector button on the back of the microphone is the Level Control. The middle setting (0dB) is the optimal gain setting for use in ideal recording conditions. Quiet environments and some DSLR cameras will benefit from the high setting (+20dB). The lowest setting (-10dB) will reduce the signal to lessen the likelihood of clipping from loud audio sources.
The middle selector button controls the high-pass filter (HPF) settings, a low frequency cut-off which can reduce noises like distant traffic or a rumbling air conditioner. The high-pass filter has three settings: 0, 75 or 150.
The top selector button controls a unique high frequency boost (+6dB @ XHz) designed to help pick out high frequency detail such as dialogue. Rode recommends engaging the high frequency boost feature to combat the slight loss of high frequency detail experienced when covering the VideoMic with the wind shield.
The Connections
You can attach the VideoMic to your camera with the provided RF shielded 3.5mm stereo output cable, but the SVMX really stands out because of its professional grade balanced outputs. Two mini-XLR cables connect the mic to your professional camera or audio recording device to deliver optimal sound quality. The mini-XLR jacks can also deliver phantom power (+48V).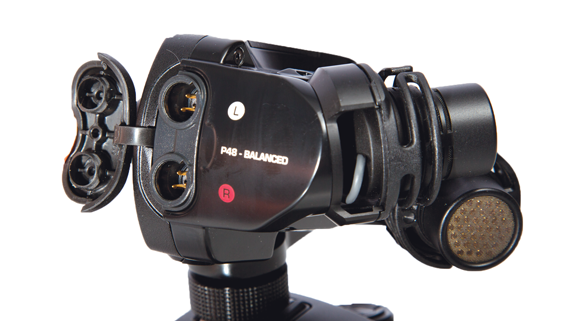 Testing It Out
We tested the Rode Stereo VideoMic X mounted on a Canon 7D DSLR, then later mounted on a tripod connected to a Zoom H4n portable audio recorder. While connected to the camera's 3.5mm input, the microphone was powered by a 9V alkaline battery. Removing this battery proved to be the only quirk of the VideoMic, requiring some prodding and shaking to make it fall out rather than popping out easily.
The VideoMic performed flawlessly during our testing period. As on-camera microphone, it was lightweight and unobtrusive. The selector buttons were easy to use, and their LED indicator lights were easy to see even in bright daylight. The high-pass filter (HPF) controls were a quick way to reduce low frequency hums, and the high frequency boost compensated for detail lost when using a wind screen outside.
Sound quality is what you'd expect from a professional Rode microphone. We tested the Stereo VideoMic X outside and inside with excellent results. Human voices were warm and clear, as were the nature sounds we captured outside.
On-Camera and More
While the VideoMic is designed to sit atop your DSLR or camcorder, it's versatile enough to be used as a studio microphone or for gathering ambient audio with a field recorder. It's a simple way to capture broadcast quality audio at interviews, weddings, sports events and other situations in which you are a one-person production.
The Rode Stereo VideoMic X has a price that reflects its professional quality, but it's a worthwhile investment if you need a sturdy, versatile Cardioid microphone that's easy to use.
RØDE
http://www.rode.com
$799
Tech Specs
Acoustic Principle: Pressure Gradient
Polar Pattern: Cardioid
Frequency Rate: 40Hz ~ 20kHz
Frequency Range: (High Pass Filter) 0, 75, 150Hz
Variable Level: -10, 0, +20dB
Output Impedence: 200Ω
Signal to Noise Ratio: 82 dBA SPL (as per IEC651)
Equivalent Noise: 12 dBA SPL (as per IEC651)
Maximum SPL: 143dB SPL
Sensitivity: -32 dB re 1V/Pa (25mV @ 94dB SPL) ± 2dB @ 1kHz
Dynamic Range: 131 dB SPL
Power Requirements: 9V alkaline battery or Phantom Power (P48 via miniXLR)
Output Connection (Unbalanced): 3.5 Stereo mini jack plug (dual mono)
Output Connection (Balanced): Mini XLR (TA3F style connector)
Weight (No Battery): 11 oz (300 g)
Strengths
Sturdy ergonomic design
Simple controls
Balanced mini-XLR outputs
Weaknesses
9V battery can be tricky to remove
Joshua A. Siegel is a filmmaker and visual effects artist.