You can customize your software with additional tools through plugins. There are hundreds of plugins available and you would go broke trying to buy them all, but fortunately for you, we are going to cover the most popular plugins and what they can do for you and your editing game.
But what is it?
Before we jump head-first into the various plugins available, let's talk about what the heck a plugin is. A plugin is not a standalone program but a component meant to augment existing software with new features or tools. For example, one of my favorite plugins for After Effects is Element 3D by VideoCopilot. It enables the user to import and manipulate 3D objects into After Effects, whereas before I was not able to. A plugin adds a new feature to a tenpole program, allowing you to do something you couldn't otherwise do. Plugins can help an artist do things like import 3D objects, track, key or matte footage, adjust color or add light flairs, grunge effects, particle producers and tons more. If there is a task you want accomplished, chances are someone has a customized plugin for it. They range in price from free all the way to thousands of dollars, and can be purchased as stand-alone tools or as a tool set, often called a suite. If you are looking to fill out your software with an assortment of new tools, a suite can often be an affordable way to do that.
A plugin is not a standalone program but a component meant to augment existing software with new features or tools.
What Plug-ins are available?
There are literally hundreds of different plugins you can buy, so we're going to just scratch the surface and talk about the most popular and the most useful tools and toolsets available to you.
Red Giant
Like the celestial object it is named after, Red Giant is huge; they are one of the industry's biggest names in post-production software. Red Giant has an extensive array of tools and suites that range from high-end motion graphics plugins to color correction and grading, keying, syncing, as well as a ton of other effects and tools. The most popular tool in the Red Giant collection is probably Trapcode Suite, priced just under $1,000 dollars. We reviewed the latest version, Trapcode Suite 13, in the May 2016 issue, calling it a standard for virtually all motion graphics artists. While it's not cheap, the Trapcode Suite comes with 11 separate plugins that can be purchased individually ranging from $99 dollars to $399 dollars or can be purchased as a suite for $999 dollars. My personal favorite of those plugins is Trapcode Particular, a much more advanced particle generator than the stock generators in After Effects. If you want to learn more about the Trapcode Suite 13 check out our Review in the May 2016 issue.
Almost as popular as Trapcode, is Red Giant's Magic Bullet Suite for Premiere, priced at $800 dollars. We also reviewed this suit back in our June 2015 issue and declared it a game-changer. Magic Bullet has been an industry standard since 2008. Originally, it started as a way to add a quick, very stylized look to boring footage. That said, it ended up helping shape a very contrasted and processed look that would become extraordinarily popular.
Magic Bullet Suite comes stocked with seven different tool sets, each of which is focused on color grading, correction and noise removal. Magic Bullet Looks, the original and still very popular tool in the suite, allows the user to easily drop a look onto some footage for a quick color grade. Magic Bullet also comes bundled with Colorista III, a professional colorection tool that gives editors the ability to easily manipulate color in a very professional way without having to step outside of Premiere. While it's not a replacement for high-end coloring software such as Davinci Resolve, its still a very powerful tool to have. If you want to learn more check out our review from June 2015.
If you're looking for a more generalized set of effects and compositing tools Red Giant has your back with the appropriately named Effects Suite, priced at $500 dollars. The Effects Suite is a great set of tools to round out your After Effects arsenal with advanced compositing tools, water simulation, distortion tools, text animation and most famously, their lens flare plugin: Knoll Light factory. Knoll Light factory was designed by Visual Effects' god, Industrial Light and Magic's Chief Creative Officer, John Knoll, who also happened to co-create this other little program called Photoshop. Knoll Light Factory is easily one of the most popular and powerful lens flare plugins available, and you will them see everywhere.
Video Copilot
If you are an After Effects user, you're probably familiar with Video Copilot and its founder Andrew Kramer. Video Copilot is not just a great resource for After Effects tutorials; they also have some really amazing plugins as well. Their most popular (and my favorite of theirs) is Element 3D, priced at $200 dollars. As mentioned before, Element 3D allows After Effects to import, animate and composite 3D objects. The plugin is perfect for low budget filmmakers and small production houses that don't have the time to learn 3D modeling and composting programs such as Maya or Nuke.
Video Copilot also has a really sweet lens flair tool kit competitive with Knoll Light Factory called Optical Flares available for $125 dollars. This plugin is really fantastic and I have used it on many high-end projects. Video Copilot also has a super fantastic free plugin called Saber: As the name implies, it's designed to build those really cool light-based swords from a popular space saga. Not only can it make those light-based sabers easily, but you can also use this plugin in a ton of other really creative ways. Its free and awesome — download it. Do it now.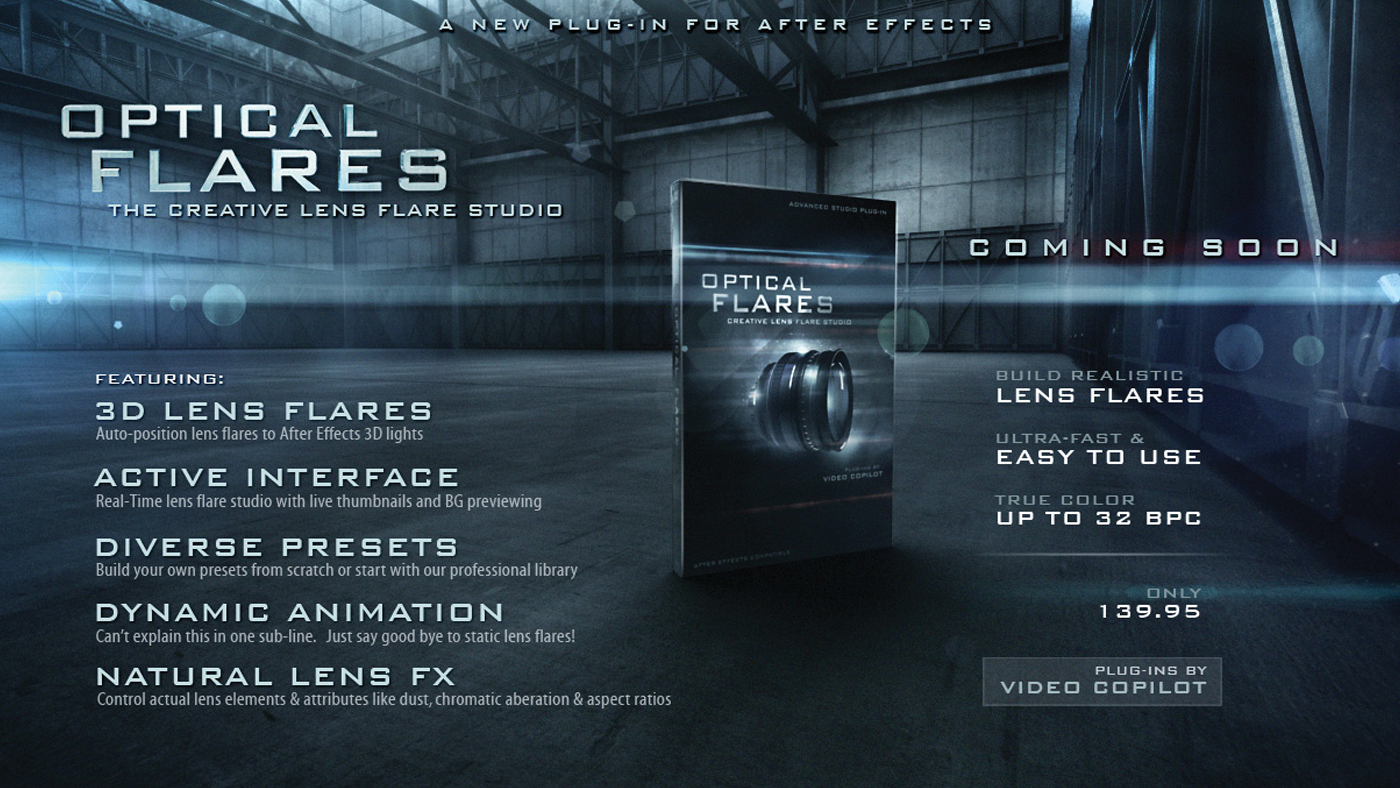 BorisFX
Boris FX is a standard in the post-production world, with their most popular suit being Continuum Complete, priced at $695 dollars. This is a collection of really fantastic tools for Final Cut Pro X, Premiere Pro, Media Composer, Resolve and Vegas Pro. The collection includes keying tools, planar tracking and masking powered by Mocha, film looks, color correction, 3D extruding, creative transitions, image restoration and tons of other powerful tools. Boris Continuum gives you a lot of customized tools for your hard-earned money.
The most powerful plugin is Mocha Pro, available for $795 dollars. When I was compositing a feature film, we used this tracker constantly. It cannot be overstated how great Mocha Pro is. Not only will it perfectly track surfaces, but you can use that data to easily create animated mattes and more impressively, Mocha Pro will even clean plate for you, making rig removal a snap. While After Effects already has a Mocha plugin, the Pro version goes much further. If you do a lot of comp work, get it. If you are an After Effects user and don't already use the free version that comes built into After Effects, well you probably should start re-examining your other life choices, too.
NewBlueFX
TotalFX, priced at $1,400 dollars, is a creatively named total plugin package that includes powerful color correction and color filters, a 2D/3D graphics animator with templates for After Effects, a bunch of customized video transitions, compositing tools, simulated camera movements, warping, plus literally dozens of other tools. TotalFX is compatible with most industry-standard post-production tools.
FilmConvert
Now that everyone is on Instagram, the look of film is in vogue and in no small way either. If you want your video to have a tactile film feel, then FilmConvert is your best choice with a price of $150 dollars. FilmConvert is a plugin for After Effects, Premiere, Final Cut Pro , Vegas, Resolve and Media Composer or as a stand-alone program. It's insanely simple to use and has really great input LUTs to get you started, as well as their famous film emulators. If you desire the film look and shoot digitally, FilmConvert is your program.
Digital Anarchy
Digital Anarchy is a small company whose outdated website does not reflect their really amazing plugins. If you're shooting time-lapses, then you know ficker is a constant fight; even with the ideal settings, flicker can be an issue. Digital Anarchy's Flicker Free — $150 — is a great solution that will go a long way in evening out your time-lapse.
Beauty Box Video, priced at $200 dollars, is a deceptively simple plugin for After Effects that will smooth out skin tones reducing wrinkles and blemishes. Beauty Box can really help wedding videographers add that extra touch of perfection that brides will love. Light Wrap Fantastic for $80 dollars is another creatively named product — it's a fantastic light wrapping tool for keying. Adding a touch light wrapping around your subject can go a long way in making your VFX shots look like they were all done practically. I know, you can totally build a custom light wrap from scratch in After Effects, but time is money and that plugin is stupid cheap.
CoreMelt
CoreMelt builds affordable plugins for Premiere Pro, After Effects and Final Cut Pro X. Their Coremelt's V2 plugin bundle is only $200 dollars and includes their Polychrome Transitions which are a set of 60 "Advanced Transition Effects," Editors Tools V2 — a set of easy color grading tools — ImageFlow FX, which automates the process of building montages, and Motion Graphics Box V2, which includes grunge textures, camera defocus tools, ray generators, glows and shatters, as well as a bunch of other tools. Coremelt also has sets of tools exclusive for Final Cut Pro X  powered by Mocha. Each run at $100 dollars, and all are centered around tracking and shape masks.
Axle
Axle's programs and plugins are designed for large scale production houses and broadcasters.  Axle 2017, priced at $1,295 dollars, is their flagship program designed for asset management as well as creating proxy files for easily editing.  For $3,000 dollars, Axle Transfer is yet another creatively named plugin that transfers sequences between Avid and Final Cut Pro 7 or from Avid and Final Cut Pro 7 to After Effects. This is particularly handy for all of us who have hundreds of old projects cut on Final Cut Pro 7.
Final Thoughts
Purchasing a few plugins or a suite or two is a really terrific way to add that special touch to your work or save you a bunch of time in post. Before you bust out the credit card though, it is important to think about what you want to accomplish with that new tool, how it will increase your game or save you time. There are so many flashy, super fun plugins that just aren't for everyone. For instance Red Giant's Trapcode suite is amazing and it's easy to get excited about it, but if you live mostly in Final Cut Pro or Premiere and rarely hop into After Effects, it may not be a great pick. Get creative and customize your post-production programs with plugins and starting improving your editing game.
Manufacturer List
RedGiant
www.redgiant.com
NewBlueFX
www.newbluefx.com
Digital Anarchy
www.digitalanarchy.com
Video Copilot
www.videocopilot.net
CoreMelt
www.coremelt.com
FxFactory
www.fxfactory.com
BorisFX
www.borisfx.com
Imagineer Systems
www.imagineersystems.com
Axle Video
www.axlevideo.com
FilmConvert
www.filmconvert.com
Jason Miller is an Emmy Award Winning director and Producer.