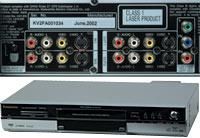 Now that hard drives and DVD-R discs have entered the mainstream as consumer audio/video recording media, devices like Panasonic's DMR-HS2 DVD Video Recorder seem a necessary evolutionary step in the development of hi-tech home video. Built to function as an all-in-one home video entertainment center, the DMR-HS2 combines a 40GB hard drive, a DVD-R/DVD-RAM recorder, a television tuner, FireWire inputs and a simple cuts-only editing interface, all within a shiny, chrome package.
The DMR-HS2 takes over many of the functions of the home VCR and it may have a place in the household of video editors who want a stand-alone unit for recording DVDs of home videos without the need for a computer.
Standing Out
To test the DMR-HS2, we integrated the unit into an existing home entertainment center that included a Dolby Digital receiver, VCR, 5-disc DVD changer and 32-inch television. Connecting the cables was simple and straightforward; aside from running the cable TV auto-channel detector, no special setup was required. Upon first looks, however, it became quite clear that the folks at Panasonic made a bold decision when they chose chrome for the finished look of the DMR-HS2. If you're the type of person who cares how your components, be forewarned that you might have trouble finding something to match this one.
Next, we cabled a Sony Digital8 camcorder to the unit via FireWire, which was a snap due to the front-mounted FireWire input. Also present were front-mounted stereo audio, S-video and composite video jacks, which greatly simplify the creation of DVDs from analog video sources, such as Hi8 or 8mm camcorders.
After putting the camcorder into VTR mode and popping in a tape, we made use of the recorder's DV Auto Record feature, which automatically recognized each scene/shot change on the tape and generated a list of DVD chapters. This is arguably the DMR-HS2's most valuable feature for videographers, as it separates the shots on the tape so you can easily trim, re-arrange and delete them before actually recording them onto a DVD. This kind of feature is best when you've planned for it; it doesn't work very well when you're just trying to burn a DVD of a previously-edited video.
Editing Features
The DMR-HS2 offers only the most bare-bones variety of video editing. You can re-arrange your shots, trim your shots, copy your shots, and delete unwanted material, but that's about it. The unit offers no titling, no fades, no wipes and no audio editing.
On the plus side, the quality of video and audio that the DMR-HS2 recorded was superb. Colors were vibrant, detail was sharp, blacks were truly black, and artifacts from the system's MPEG-2 encoder were minimal. Four different recording modes are available: XP, SP, LP and EP, in descending order of quality. The system's 40GB hard drive can handle about eight hours of raw material in its highest quality setting (XP) and up to around 52 hours in EP mode. A fifth recording mode, FR, automatically selects the highest quality for the length of the video you're recording, based on the amount of space remaining on the hard drive. It's also possible to record directly to the unit's DVD-R/DVD-RAM drive, but it's usually a better idea to record to the hard drive first, then make copies onto the DVD drive.
While most DVD-R discs only offer one hour of recording time on consumer gear, the DMR-HS2 can make use of Panasonic's two-sided DVD-RAM discs, which effectively bumps the recording time up to two hours. The unit is also capable of playing smoothly from side 1 to side 2 without a hitch. Recording in EP mode, a two-sided DVD-RAM is capable of recording up to 12 hours of low-quality video, but the results look fairly pixelized.
Of course the advantage of using DVD-R discs is that they can (theoretically) be played back in other standard DVD players. We had no trouble playing back our burned discs in any of the newer DVD players we tested.
Bottom Line
Where the DMR-HS2 shines is in its role as a timeshifter and organizer of television broadcasts. And a TiVo-like service without the monthly fees will be enough for many people. It also has a cool way to view JPEG or TIFF images through the PC Card slot, which accepts a number of standard digital camera memory cards (including SD, CompactFlash, MultiMedia Card and Memory Stick). In our tests, we loved the hard disk and TiVo features for television watching, but for videographers, they are completely unecessary. You might want to save yourself some money and get a standalone DVD recorder without a hard disk if you don't watch a lot of television.
The DMR-HS2 might also have a place in the home video editor's arsenal of equipment. For example, the unit could be useful for assembling previously-edited videos into chapters for burning to DVD. This approach does not make the most visually appealing menus on the finalized DVD – in fact, the unit doesn't offer much at all in the way of menu-building, outside of the automatic chapter creation system. Still, in the end, DVD video isn't really about the menus, it's about watching video. If you don't want to fool around with a computer to capture, edit, render, author and burn, this is the DVD solution for you. If you can push record on your VCR's remote control, you can create DVDs with the DMR-HS2.
TECH SPECS
Format: DVD-RAM, DVD-R

Hard Drive: 40GB

Inputs: Composite video (x3), Stereo audio (x3), S-video (x3), DV FireWire (x1), PC Card digital camera memory reader

Outputs: Composite video (x2), Stereo audio (x2), S-video (x2), DV FireWire (x1), Component video (480i/480p), Optical digital audio

Other features: TimeSlip recording, VCR+, TBC on video inputs, DV auto-record, simple cuts-only editing

Dimensions: 3 1/8" x 16 15/16" x 12 1/16"

Weight: 11.2 pounds
STRENGTHS
Front-mounted inputs and outputs
DV Auto-record (scene detection)
Quality video and audio output
WEAKNESSES
Few editing features
Lack of DVD menu-creation control
SUMMARY
The quality of video and audio that the DMR-HS2 recorded was superb, but creative tools are limited.
$1,000

Panasonic

One Panasonic Way

Secaucus, NJ 07094

(800) 211-PANA

www.panasonic.com