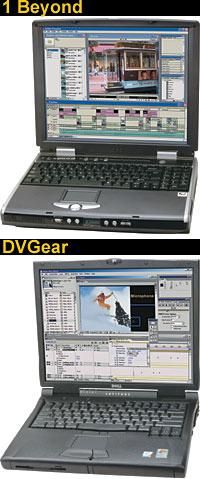 1 Beyond DV Pro 2600 Laptop
$3,995
1 Beyond Inc.
61 Medford St.
Somerville, MA 02143
(877) 663-2396
www.1beyond.com
DVGear DVMobile Pro Dell Latitude C840

$4,749

DVGear

10634 E. Riverside Dr., Suite 130

Bothell, WA 98011

(877) 415-0628
www.dvgear.com
We've never been enthusiastic about editing video on a laptop. Call us conservative, but it seems like editing is problematic enough on a desktop computer. Here are just three reasons:
Video editing needs more workspace than a 15-inch laptop display offers. In fact, we'd recommend that you equip your edit bay with dual monitors (two 21-inchers would be ideal) and a television for previews.
Mixing audio on tiny tinny laptop speakers is just about impossible. Headphones are not a good solution and create their own mixing problems.
Cramped keyboards and awkward touch pads can make editing on a laptop a frustrating experience.


We can only think of a very few situations where you absolutely need to edit on a laptop and the scenario with the hipster editing his exotic vacation on the 14-hour trans-Pacific flight home is not one of them. The harsh pragmatic realities of capturing (imagine the wires), battery power and a flimsy tray table (don't forget tearing down and setting up again for meals and bathroom breaks for everyone in your row) should dissuade you from even attempting this advertising fiction.


When might a laptop be useful? One situation might be that you could show your client the project in progress (but you may regret ever allowing the client in on the editing process). Another modern example could be in newsgathering, were rough edits can be transmitted by satellite from remote locations.


But in your case, ask yourself: if you buy a laptop for editing, will you actually use it on the road or will it just look really cool on your desk at home? If you had to edit a project, and money or time were on the line, which would you rather use: a laptop or a desktop? If you had a $5,000 budget to buy anything to improve your video, how would you spend it?


If, after all of our warnings, you still feel that you are one of those people who absolutely needs to work on the road, we have found a couple of laptops that will really make you drool. In both cases, these two laptops from 1 Beyond and DVGear were excellent performers that had more features than any desktop workstations we've seen.


Don't let us discourage you from purchasing the ultimate in geek-gear, however you want to justify your purchase. These laptops are definitely the equivalent of those sexy two-seater high-performance sports cars. Sure, a Toyota Corolla will get the job done, but wouldn't an MR2 Spyder convertible be more fun?

1 Step Beyond

It is a bit of an exaggeration to claim that the 1 Beyond DV Pro 2600 can be used on your lap. At 12 pounds 4 ounces, this is a behemoth that is almost certainly much faster than your current desktop, sporting a gig of RAM and a 2.6GHz Intel P4 processor. In fact, at the time of this review, this is the fastest laptop you could buy (though 1 Beyond will likely have a faster model by the time you read this).


After packing the beast up in the included soft-sided padded attach case with the AC power supply and peripherals, the total traveling weight was over 16 lbs.


The next clue that this computer is not destined for your lap is the remote control. Remote control? Yep: imagine how useful this could be if you do PowerPoint presentations on the road or need to show video to clients on a television in the front of the room. The remote is also used to control the onboard television receiver and hard disk recording software that allows you to pause and record television (similar to how TiVo and ReplayTV PVRs work). This is all possible because of the ATI Mobility Radeon 7500 video card (with 64MB of video RAM), which is also a fast 3D gaming card. The audio card supports S/PDIF digital audio out for 5.1 AC3 Dolby Surround audio from DVDs. The internal DVD-ROM and CD-R/RW drive was ready to burn CDs and had external controls on the front of the laptop that allowed us to listen to audio CDs when the rest of the computer was turned off. Other extras include a full-sized optical mouse (which immediately negates our touch pad criticism), a high-quality pair of Sony noise-reduction headphones and a fun removable MP3 player (2.6oz) that also doubles as a small 128MB USB hard drive. 1 Beyond included a GPS satellite receiver and road atlas with our laptop.


After you find your hotel with the GPS, finish your Unreal II online deathmatch and watch tonight's episode of Buffy, you should probably think about getting a little work done. Using our standardized Videomaker MPEG-2 Encoding Test benchmark, we were able to encode 15.03 frames of video per second, thanks to the 2.6GHz CPU. The two separate 40GB hard disks which are configured in a RAID offered flawless performance for DV capture and analog video (via the S-video in port). We opened Premiere 6.5 to edit and found that the average quality 15.7-inch LCD screen was comfortable on the eyes, but didn't offer much space at a maximum resolution of 1280×1024. We hooked up a 21-inch CRT to the VGA port and extended the desktop to stretch across the dual monitors. Configuring the desktop to span the monitors was not terribly easy, and we could not get the Premiere timeline to span both monitors, although the extra real estate was still very useful.




Performance Comparison

"x" indicates our winner in each category
| | | |
| --- | --- | --- |
| | 1 Beyond | DVGear |
| Price | $3,995 | $4,749 |
| Raw Performance | X | |
| Battery | | X |
| Portability | | X |
| LCD Panel | | X |
| Multi-monitor | | X |
| Analog Capture | X | |
| Hard Disks | X | |
| Audio | X | |
| Software Package | | X |
| Warranty | | X |
| Tech Support | X | |
| Documentation | X | |
| Bells and Whistles | X | |
In our heavy-use, real-world tests, the Intel desktop CPU and 15.7-inch LCD drained the battery in a little over two hours. That's certainly not enough to get you from JFK to LAX, nor is it enough time to actually finish all but the simplest of video projects. This computer is portable, but you won't be able to get much work done without a wall outlet.

1 Beyond's warranty is three years for parts, Lifetime Labor and Lifetime Video Technical support (see the warranty for details and call 1 Beyond for more). A 33-page color quick-start Project Manual supplements the outstanding 214-page User's Manual. The DV Pro 2600 truly shines when hooked up to two external monitors, digitally connected to your surround sound stereo with a cable TV connection running into the back. We wish our desktop had this many features. And we wish we could bring our desktop with us when lecturing on the road.
DVGear, Here

Just about any modern computer can edit video. What distinguishes an editing computer from a general-purpose machine is how it is configured. While a stock Dell Latitude C840 is fully capable of editing video, it won't do so with any competence right out of the box. That's where DVGear comes in. They super-charge a Dell with a serious bundle of video editing software and re-christen it the DVGear DVMobile Pro. It's more than just a name change, however.

The most critical hardware difference between a stock Dell and the DVMobile Pro is how the hard drives are configured. Although we were able to capture video to the 20GB system drive without problems, DVGear wisely installs a separate 40GB video capture drive. Second in importance to the hard drives is the excellent nVIDIA GeForce4 440 Go (mobile) display card. Besides decent 3D gaming performance (You do take breaks from editing, right?), the dual-head card allowed us to extend the desktop workspace to an external CRT, using nVIDIA's nView Desktop Manager software. This is the best multi-monitor control software we've seen, automatically configuring the desktop when selected programs were run. For example, nView automatically reconfigured the displays every time we ran Premiere, remembered program window positions and customized where dialog boxes popped up. Premiere was very well behaved across the extended desktop.

The stock eight pound Dell is a fine machine. We were immediately impressed by bright and sharp 15.1-inch LCD at 1600×1200 resolution. We found the mobile Intel P4 2.0GHz CPU with 1GB of RAM to be muscular, rendering 12.00 frames of video per second in our stressful MPEG-2 encoding test when plugged into the wall. The mobile processor adjusted performance for power conservation, falling back to 1.2GHz when using batteries, but ramping up to 2.0GHz when plugged in. This is a great feature, but it also made our battery duration tests very difficult to objectively assess and affected rendering speeds as well. With heavy usage capturing, editing and rendering video, we were able to squeeze 2 hours 22 minutes of juice out of a fully charged battery. The battery lasted nearly 3 hours with light video editing and testing while we typed this review. Your mileage may vary, but the power-saving advantage of the new mobile processors is undeniable.

The clearly outstanding video software package is what really distinguishes this as an editing laptop, however. As a system integrator, DVGear has configured the DVMobile Pro with the comprehensive Adobe Digital Video Collection (MSRP $1,249), which includes the latest versions of Premiere, After Effects, Illustrator and Photoshop. This baby really is ready to produce video.

Dell includes only a bare minimum of documentation (about 25 pages), but the full manuals for the Adobe software are included. As detailed, the DVMobile Pro has a number of very important hardware and software features that the stock Dell does not. The Dell laptop comes with a good manufacturer's three-year onsite parts and labor, as well as the excellent three-year CompleteCare Service (see the Dell warranty for details and call DVGear). DVGear adds its own one-year, six-incident Silver Support assistance, which is mostly geared towards handling Premiere-related issues. This is not a criticism of Dell in any way, but don't call Dell if you are having trouble with real-time previews in Premiere. The folks at DVGear will have no trouble fielding this question.
Wrap it up

These are both excellent machines that do not disappoint. Both have excellent warranties and support from companies that specialize in video. Both feature solid internal hard drive configurations and are very capable of the demands of editing.

The 1 Beyond wins the performance crown and is the one to pick if you need to capture analog video, but it also weighs a good bit more and drains the battery faster. The 1 Beyond is also cheaper, but the DVGear has a much better software package. The DVGear features an absolutely beautiful LCD panel and offers better multi-monitor support. Of course the 1 Beyond has lots of extremely cool bells and whistles, some of which are important for video editing. In the end, we found the DVGear, with it's superior software package, durable canvas case, mobile processor and lighter weight to be our choice for hitting the road. But when wall power is available, the totally loaded 1 Beyond competes with, and beats, even the most feature-packed desktops.
| | | |
| --- | --- | --- |
| | 1 Beyond | DVGear |
| Price | $3,995 | $4,749 |
| Weight | 12.25 lbs | 8.09 lbs |
| Dimensions (inches) | | |
| Height | 2.15 | 1.75 |
| Width | 14.25 | 13.03 |
| Depth | 11.75 | 10.87 |
| LCD Panel | | |
| Size | 15.7 | 15.1 |
| Max Resolution | 1280×1024 | 1600×1200 |
| Video In | | |
| Digital | FireWire | FireWire |
| Analog | S-video | none |
| Video Out | S-video | S-video |
| CPU | | |
| Type | P4 desktop | P4 mobile |
| Speed | 2.6GHz | 2.0GHz |
| RAM | 1GB | 1GB |
| Hard Drives | 2 | 2 |
| Total (GB) | 80 | 60 |
| System (GB) | 10 | 20 |
| Video (GB) | 70 | 40 |
| RAID | yes | no |
| Audio In | 1/8-inch | 1/8-inch |
| Audio Out | 5.1 digital surround | stereo |
| Operating System | WinXP Pro | WinXP Pro |
| Software | Premiere 6.5 | Premiere 6 |
| | DVDit! SE | After Effects 5 |
| | | After Effects 5 |
| | | Illustrator 9 |
| | | Photoshop 6 |
| | | DVDit! LE |
| Case | faux leather | durable canvas |
| Additional Hardware | MP3 player | FireWire cable |
| | 128MB SD card | |
| | Memory Stick reader | |
| | GPS receiver | |
| | Optical mouse | |
| | Remote control | |
| | Sony Noise-reduction | |
| | headphones | |