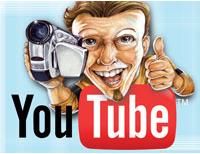 Everybody's jumping on the YouTube bandwagon, from cats and kids to vacation travelers and pros. It's fun and it's easy. Here are some quick tips to getting started.
About ten years ago, I was really into the idea of video letters. Many of my friends and family lived in disparate areas of the country, and I always had fun making up videos of my daily routine, editing them down, dubbing them to VHS, sticking them in envelopes, addressing the envelopes and watching them pile up on the table by the door because I hated going to the post office. So envelopes would sit there, unmailed, gathering dust. Then along came the internet to the rescue, with video file-sharing sites like YouTube. Now you can shoot video, edit it and upload it to a central location, where your friends and family (and, if you like, total strangers) can watch it. No postage necessary!
YouTube is actually very simple to use, but very often the most difficult part of the journey is the first step. So this month, we're going to walk you, step-by-step, through publishing video content on the world's most popular video-sharing site.
History
Putting Your Video Online
There are a few simple steps to getting your video from your computer to YouTube. The minds there have worked long and hard to make this as painless a process as possible.
Sign Up
Go to www.youtube.com and click the Sign Up button; it's at the very top of the screen. There are several different types of accounts: Standard, Director, Musician, Comedian and Guru. It doesn't really matter which one you choose, but the Directors' entries ostensibly are expected to be professional edited videos. Videos uploaded from Standard accounts are limited to 10 minutes; the Director videos can be longer.
You'll get an email asking you to confirm your registration, and then you're in.
Prepping Your Video
YouTube will accept most popular video formats: 3GPP, AVI, FLV, MOV, MPEG-4, MPEGPS, WebM files and WMV. The format that YouTube suggests is MPEG-4 at 1920×1080, 30fps, with 128kb/s MP3 mono audio.
640×360? Are You Serious?
Yes. We're talking about Internet bandwidths here and bit rates comfortable for people that are fighting neighbors for wireless signal. If people want to see your video in HDV, you're looking for another venue. What YouTube and others like it give you is easy access by a lot of people. Video quality is a small trade off. It stems from the low-cost (and low-quality) format that the most amount of people can access, and more and more people are watching movies on their portable devices. As of June 2012, 640×360 is where a significant part of the viewing population is.
Uploading Your Video
After you've logged into YouTube, look at the top of the screen for My Account. Click on that, and then select Videos. From there, click on the button that says Upload Videos. (Figure 1)
Enter a description for your video (Standard accounts are limited to 10 minutes or 100MB). This description will help people decide whether or not they want to see your video, so be as descriptive as possible. If you're loading videos only for friends, Doug and Jimmy at the Zoo will probably be sufficient, but if you want people you don't know to watch it, you'll want to be more descriptive.
Here you can also select options to make your video public or private and to allow people to comment, make video responses, rate your video, embed your video on web pages and blogs, syndicate it and make it playable on mobile phones. (Figure 2)
Click Next and use the Browse button to find your video. (Figure 3)
YouTube takes your uploaded video and converts it automagically to a flash animation – this may take several hours or just a few minutes.
When your video is on the YouTube servers, you'll see URLs you can send to people so they can see your video directly. You'll also find the HTML code necessary to embed your video on a web page or blog. (Figure 4)
Sharing and Watching Your Video
There you go. Clicking on My Videos will take you to your collection of online videos. You can email the URL to all the people in your Address Book, you can embed the video into a web page and you can share, save and re-watch favorite videos of your own. It's a great big video world.
Some Other Things to Consider
Aside from rating your videos online and leaving comments about them, your friends and family can subscribe to your videos and receive a notification every time you update your collection. It's all much more convenient than all that nonsense with stamps and envelopes. And since YouTube eagerly accepts video from cellphones and digital cameras, it's relatively easy for even non-skilled moviemakers to join in the fun.
A word of caution: be prudent in your video sharing. It might not be a good idea to be posting online video showing that you're on vacation in the Bahamas, when other videos you've posted show the location and luxurious contents of your home.
Another downside to this program is YouTube automatically picks a frame from the exact center of your piece to represent it – this can make or kill a video. You get two options to change it, made at about the one-third and two-thirds mark, but you don't get much to fiddle with. Who knows, in 20 years there may be a rule of filmmaking that your most amazing, eye-catching scene must come exactly halfway through your movie, and nobody will know why….
So now, get sharing!
Contributing Editor Kyle Cassidy is a visual artist who writes extensively about technology.