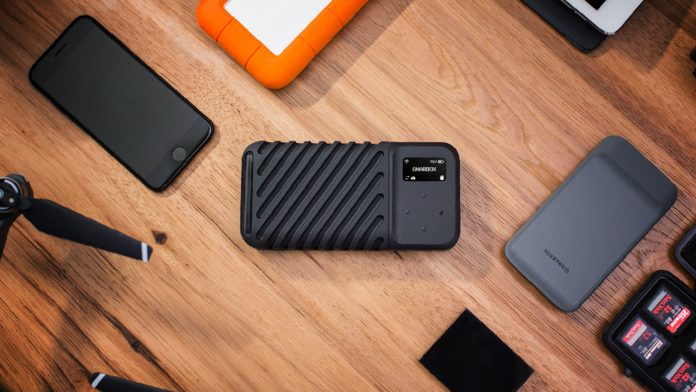 Congratulations to Gnarbox! Their Gnarbox 2.0 SDD has taken Videomaker's Best Mobile Storage of NAB 2018 award. The Gnarbox 2.0 is a rugged backup device made just for traveling content creators who don't want be lugging their laptops back and forth between the field and the studio.
Quick and Painless Backup
With backup speeds of up to 75MB/s when using the SD Card slot, or 450MB/s through USB-C, users can "quickly perform backups without your phone or tablet in one touch" by using the on-board OLED screen and buttons, according to Gnarbox.
The device offers access to preset folder trees so you can keep your backups organized. Also, the device can automatically sync folders to Dropbox when you have a WiFi connection. You will additionally receive verifications on all your transfers.
Reduced the time you spend in the studio
The Gnarbox 2.0 offers four new mobile applications that let you begin the studio work instantly.
The Safekeep app allows you to tailor file/folder organization and manage file transfers across devices. The Selects app offers "super-fast" RAW image previewing and tools to mark your selects and manage metadata. Next, the Sequence app lets you review your footage and begin rough cuts. Lastly, the Showcase app gives you the ability to view your photos and videos in high resolution on any HDMI-enabled screen.
Design
The Gnarbox 2.0 is IP67-certified, meaning it is dust-proof and can be submerged in water up to 1 meter for 30 minutes.
Gnarbox claims that this device is packed with the same power as a laptop. It includes an Intel processor, NVMe SSD, 802.11ac WiFi, SD card slot, and two USB-C ports.
Overview
Intel Quad Core, 2.40GHZ CPU
4 Core Intel HD Graphics GPU
867mbps 802.11 ac/b/g/n WiFi
2/4GB LPDDR3 RAM
NVMe SSD up to 1TB
SD Card Backup: 75-100MB/sec write
USB-C Backup: 400-500MB/sec read/write
2x USB-C, SD & Micro HDMI ports
3200mAh 7.4v removable lithium ion battery
Battery Life: 5 hours backup / 3 hours editing
IP67: Waterproof to 1m for 30minutes
Dimensions: 6" x 3" x 1.16" / ~1.1lb
Pricing and Availability
You can pre-order the Gnarbox 2.0 SSD on its Kickstarter campaign page in capacities of 128GB, 256GB, 512GB, and 1TB. The starting price for the GNARBOX 2.0 SSD is 299, which would get you the 128GB version. Visit Gnarbox 2.0 SSD's campaign page to view all of its pricing options. Gnarbox expects deliveries to be completed in December 2018.