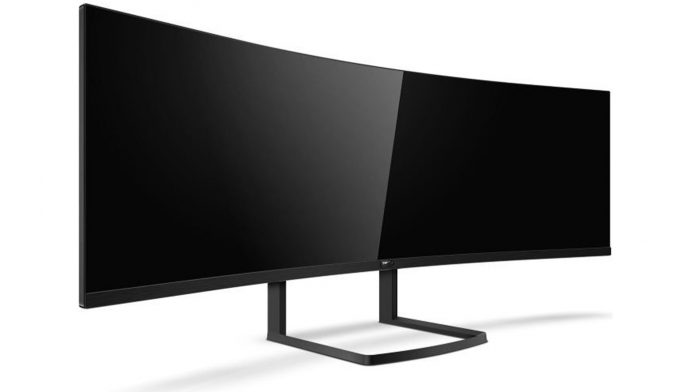 Philips has revealed that its upcoming Brilliance 492P8 curved 49-inch monitor will have an upgraded QHD (5120 x 1440) display. It will be released in the United States sometime during this year's fourth quarter.
The Brilliance 492P8 was first announced at last summer's IFA with a 3840 x 1080 display. That now pales in comparison to the new model's 5120 x 1440 resolution, which is the highest resolution to be paired with the 32:9 form factor to date.[image:blog_post:68843]
Brilliance 492P8 Seems to be Geared Towards Productivity
There is no word about this monitor's response time or refresh rates or whether or not the display supports AMD's FreeSync of Nvidia's G-sync. What we do know is that the monitor has a 1800R curvature, up to 600 nits brightness, and a 5000:1 contrast ratio. Also, Philips reports that the display supports DisplayPort, HDMI, USB-C, VGA, USB 3.0 and Ethernet.
Advertisement
The 492P8 got a 2018 iF Design Award
The 492P8 award a 2018 iF Design Award by a 63-member jury, praising its immersive design. The jury evaluated up to 6,4000 other candidates that come from 54 different countries. Standing out from that crowd is a big feat for the monitor.
"We are very excited and proud that our Brilliance 492P8 curved display has been recognized by iF Design Award jury. We take this as a confirmation of our outstanding capabilities in innovation and design and continue on our path to provide leading product innovations with dedicated design focus to the market," says David Ray, Marketing Director for North America at EPI.
Pricing and Availability
Philips hasn't revealed the price or specific release date for the Brilliance 492P8 curved 49-inch monitor, so for now, all we can say is that you can expect the 49-inch monitor to launch sometime near the end of this year.