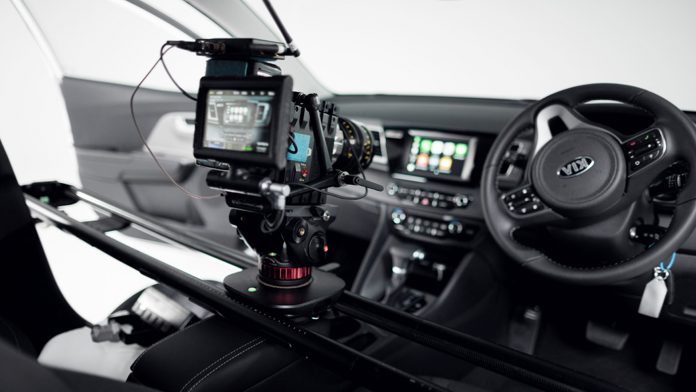 Syrp took its first stab at crafting sliders with the Magic Carpet, which was met with praise after its release. The slider proved to be so successful that Syrp felt inspired to release a carbon fibre version, the Magic Carpet CF. Now, Syrp has revealed an even higher grade model of the Magic Carpet: the Magic Carpet Pro.
As you can probably guess from its name, the Magic Carpet Pro is a slider built for professional videographers with big cameras. Its main key feature is that it's "endlessly extendable" according to Syrp, but it also has a few other noteworthy points, like a flywheel placed inside the carriage itself, eliminating any belts and pulleys, and mobile quick release system.
Advertisement
Magic Carpet Pro's Track Joiners enables infinite extendability
Every Magic Carpet Pro is built with "precision-machined" Track Joiners. These Joiners are what makes this slider's infinite range possible. According to Syrp, to extend the slider's range, you simple join two track pieces together by clicking their two ends into place. Even better, Syrp promises that you won't need any tools to do this.
There's no belts or pulleys
Syrp has put the Magic Carpet Pro's flywheel inside the slider's camera carriage, meaning there's no need for any belts or pulleys when manually controlling the movement. But, like Syrp's other sliders, it does support automated motion control though a Genie system.
[image:blog_post:68913]
It's both stable and portable
The Magic Carpet pro is built with reinforced aluminium and can hold camera setups up to 70lbs (32kg). With the Track Joiners, its weight load drops to 50lbs (23kg).
It sports a interchangeable camera thread and Syrp's Quick Release System in the slider's plate so that it attaches and detaches from tripod heads easily. Also, the slider's Track Joiners are unlockable, allowing for greater portability for the "infinitely extendable" slider.
[image:blog_post:68915]
Pricing and Availability
Three models of the Syrp Magic Carpet Pro will be available for preorder in sometime between May and June:
Syrp Magic Carpet Pro Short Track (2ft) – 989 dollars
Syrp Magic Carpet Pro Medium Track (3ft) – 1,099 dollars
Syrp Magic Carpet Pro Small+Large Track (5ft) – 1,469 dollars
You can learn more about the Magic Carpet Pro at its product page on Syrp's official site.