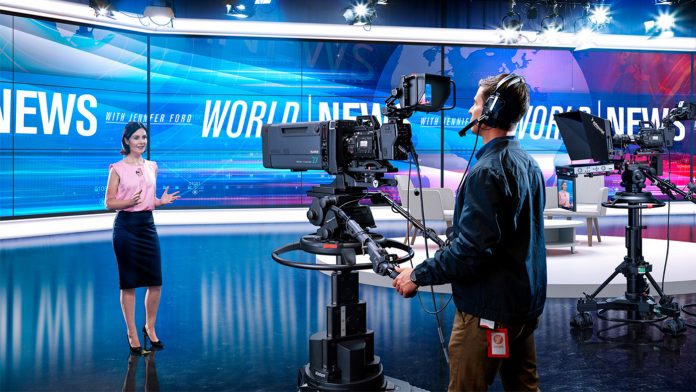 At Blackmagic Design's product release yesterday, they put HD and UHD affordability at the utmost forefront and unveiled the URSA Broadcast camcorder. For a significantly low $3,395, the URSA Broadcast is a professional 4K camera begging to be the camera of choice for both live and studio productions.
Flexibility
One of the big key features the Blackmagic highlighted for the URSA Broadcast is its overall flexibility. For instance, the camera is compatible with older B4 HD lenses and even inexpensive photo lenses. Broadcasters will likely appreciate that the camera is flexible to their needs, allowing them to keep the lenses that they like and are used to if they want.
[image:blog_post:68182]
Advertisement
And whether you're out in the field shooting a live news broadcast or broadcasting from a studio, Blackmagic says that the URSA Broadcast has got you covered because of its compact, tough design along with its built-in color grading capabilities and overal image quality.
"Whether you're in the studio or out in the field, URSA Broadcast will give you incredible image quality, accurate skin tones and vibrant colors that are far superior to cameras costing ten times more," Blackmagic says.
What about the sensor?
As said before, the URSA Broadcast uses a 4K image sensor that's designed to capture images with a wide depth of field in both HD and 4K UHD.
"The image sensor is designed for both HD and Ultra HD so you get amazing texture and detail, accurate skin tones, vibrant color and high dynamic range video, all without the need for post production," says Blackmagic.
ND Filters
If you find yourself shooting on a very sunny day that's leaving your image blown out, the URSA Broadcast has neutral density filters to decrease the amount of light hitting the camera's sensor, making proper exposure easier.
The filters include 1/4, 1/16th and 1/64th stop filters and you can switch them pretty quickly when having the filter dial turned on.
Design
The camera's been designed with a "super strong, lightweight" magnesium alloy body that's should be easy to hold and carry out in the field. It features externally mounted mechanical switches and controls, like traditional broadcast cameras
There's as a 4-inch fold out touchscreen for monitoring and controlling the camera.
[image:blog_post:68183]
Slow-mo
The URSA Broadcast captures full resolution Ultra HD at up to 60 fps. When shooting slow motion, the URSA Broadcasts records at higher frame rates and then later plays back at more standard frame rates, allowing you to then setup the high speed frame rate and switch between standard sync speed and off speed frame rates.
Blackmagic URSA Broadcast Key Features
4K sensor, extended video dynamic range, traditional external controls and buttons, built in optical ND filters, dual CFast and dual SD card recorders,
Advanced HD and Ultra HD broadcast camera with ?" B4 mount.
New extended video mode with better dynamic range and color fidelity producing images with amazing texture and detail, accurate skin tones, vibrant color and high dynamic range.
Full electronic B4 lens control support for adjusting focus, iris and zoom using the camera's controls, or remotely from an ATEM switcher or ATEM Camera Control Panel.
Built in dual SD/UHS-II and CFast card recorders allow unlimited duration recording in high quality.
Records 1080i or 2160p video into standard .mov files using DNx145, DNx220X or ProRes for compatibility with existing broadcast systems and workflows. Standard .mxf will be added in future updates.
Support for DNxHD 220X, DNxHD 145, Apple ProRes 4444 XQ QuickTime, ProRes 4444 QuickTime, ProRes 422 HQ QuickTime, ProRes 422 QuickTime, ProRes 422 LT QuickTime and ProRes 422 Proxy QuickTime, CinemaDNG RAW, CinemaDNG RAW 3:1, CinemaDNG RAW 4:1.
High quality clear, 1/4, 1/16th and 1/64th stop neutral density (ND) filters with IR compensation designed to specifically match the colorimetry and color science of URSA Broadcast.
Fully redundant controls including external broadcast controls which allow direct access to the most important camera settings such as external power switch, ND filter wheel, ISO, shutter, white balance, record button, audio gain controls, lens and transport control, high frame rate button and more.
Interchangeable lens mount with B4 mount included as standard. Optional EF, PL and F mount available separately.
Status display for quickly checking timecode, shutter and lens settings, battery, recording status, and audio levels.
Features all standard connections, including dual XLR mic/line audio inputs with phantom power, 12G?SDI output for monitoring with camera status graphic overlay and separate XLR 4 pin power output for viewfinder power, headphone jack, LANC remote control and standard 4 pin 12V DC power connection.
Built in high quality stereo microphones for recording sound.
4 inch foldout touchscreen for on-set monitoring and menu settings.
Blackmagic SDI Control Protocol for external control or iPad control via Bluetooth®, 2 x 2.5mm LANC for lens and record control.
Pricing and Availability
The URSA Broadcast is available now for just $3,395, which is a price point closer to a DSLR than a interchangeable-lens studio or live production camera. You can learn more at blackmagicdesign.com.