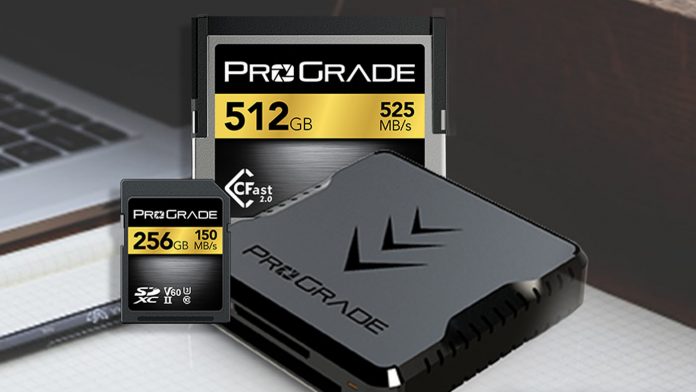 Having just launched last week, ProGrade Digital is a new memory card company looking to "provide the highest quality, professional grade memory cards" available to the professional videographer and photographer market. The company is founded by a few former executives from Lexar that worked in management and technical leadership positions. Together, the team of executives behind ProGrade Digital have over 60 years of experience in memory card design, development and manufacturing after working at companies like Lexar and SanDisk. That's some serious experience right there.
The team behind ProGrade Digital says that they'll be focused "exclusively" on developing and marketing memory cards, card readers and software made for the professional cinema and photographer markets.
"Our goal is to be the professional's source for top performing, professional grade memory cards and workflow solutions," says Wes Brewer, founder and CEO of ProGrade Digital. "We will be committed to focusing our efforts on the digital imaging pro who is meticulous about his equipment and workflow—delivering the best service, plus best product quality and reliability."
To kick off ProGrade Digital's launch, the former Lexar and SanDisk team announced the availability a line of memory cards and card readers for high-end DLSRs, camcorders and digital cinema cameras.
Here's a rundown of their key features:
Memory Cards Key Features
Professional-level capacities for CFast 2.0 (550MB/sec) and SDXC UHS-II (200MB/sec) memory cards
Capacities: 128GB, 256GB, 512GB
Optimized controllers specifically designed for use in professional-grade cameras
Rigorous full-card testing with serialized tracking of key components and manufacturing data for the highest quality control
Component-level testing down to individual memory chips for optimal quality
Card Reader Key Features
Dual slot reader for CFast 2.0 and SDXC UHS-II card formats
USB 3.1 Gen. 2 transfer speed of up to 10Gb/second
Supports concurrent full-speed flow of data from cards in each slot
Portable and compact
Includes two 18″ connection cables: one for Type A to Type C and one for Type C to Type C
Magnetized reader bottom firmly connects reader to laptop (using included metal mounting plate)
For pricing, the CFast 2.0 memory cards are running for 229 dollars for the 128GB, 349 dollars for the 256GB and 699 dollars for the 512GB. The SDXC UHS-II, Class U3 prices are 54 dollars for the 64GB, 94 dollars for the 128GB and 189 dollars for the 256GB. As for the card reader, it's price is 79 bucks. You can purchase them at Progradedigital.com.
With ProGrade Digital being headed by former Lexar executives with tons of memory card experience and relationships with suppliers and manufacturers, it's looking like ProGrade Digital has a strong foundation to build upon.