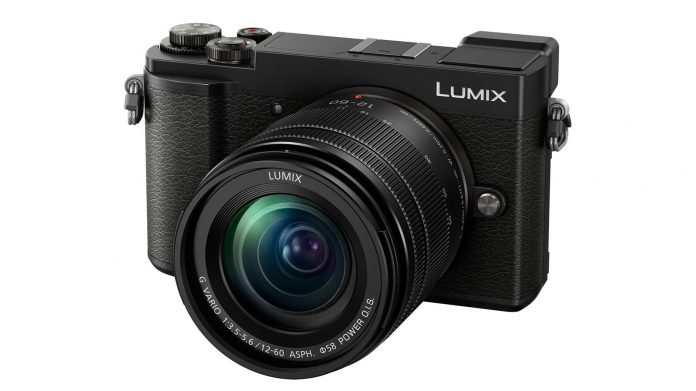 Panasonic's newly announced Lumix GX9 takes what the Lumix GX8 did right and builds on it. The GX8 featured 4K video, stabilization and a 20.3 megapixel sensor — a fairly big step for Panasonic tech back when it was released in 2015. Now with a lower 999 dollar launch price (the GX8's launch price was 1199 bucks for just the body), the mid-range interchangeable-lens mirrorless GX9 keeps the same sized sensor, but adds in a fresh new body design and monochrome shooting mode.
GX9 Overview
The GX9 carries a 20.3-megapixel Live MOS sensor that is powered by the latest Venus Engine. The sensor is similar to the on in the GX8, but it no longer has a low-pass filter, which should allow for greater detail capture.
Advertisement
Panasonic claims that the GX9's contrast AF "depth from defocus" system includes face and eye detection and can focus itself within .07 seconds. As for stabilization, the GX9 has Panasonic's 5-axis "dual" image stabilization. Also, the camera's burst shooting has been improved to 9fps in single-shot AF mode along with a buffer that can achieve 30 shots in RAW and over 100 in JPG.
Video
The camera can capture UltraHD 4K video at 24p or 30p, and 60fsp at 1,920 x 1,080 with full AF. This is the same as the GX8, but Panasonic's upgraded its 4K Photo mode ( a mode where you obtain stills from the video you shoot), making it easier to get 8-megapixel shots from your videos, according to Panasonic. They've equipped the camera's 4K Photo mode with post focus and auto marking. The auto marking feature will automatically find interesting shots and the post focus feature will let you change the focus of a shot even after shooting it.
[image:blog_post:68400]
A Camera for Monochrome Shooters
Panasonic has also added an L.MonoChrome D mode that actually adds noise to the photos you shoot so it can seem like it was shot with film. Black and white photos shot in this mode will have better dynamic range and have more control over the level of noise, according to Panasonic.
Body
The GX9's button design has be improved, but it retains the exposure compensation dial, focus lever and tilting live viewfinder found on the GX8. It has an LCD viewfinder with a resolution of 2.760 million dots and a magnification of 0.7x. The 3-inch rear screen can tilt up 80 degrees and go down 45 degrees.
LUMIX DMC-ZS200 Travel Zoom Camera
[image:blog_post:68399]
Panasonic additionally announced the successor to the Lumix ZS100, the Lumix ZS200. The ZS200 is a super-zoom fixed-lenscamera that has a 15x optical zoom and a 1-inch 20.1-megapixel sensor, delivering up to ISO 12,800. With the Leica 24mm ultra-wide DC VARIO-ELMAR lens, the ZS200 can achieve a higher range, a 35mm camera equivalent of 24 – 360mm. It keeps the ZS100'a 4K video shooting and adds the L.Monochrome mode that we talked about with the GX9.
The ZS200 does however feature a slower aperture than the ZS100, f/3.3 – 6.4 to the ZS100's f/2.8 – 5.9.
Pricing and Availability
The GX9 will be shipping this March for 999 bucks. You can learn more about the GX9 at its product page on Panasonic's website.
As for the Lumix ZS200, it will be released on March 20th for 799 dollars and you can learn more about it through its press release.