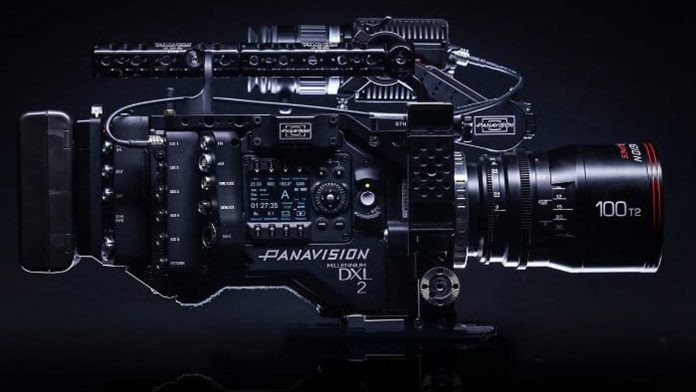 In recent years, the majority of the major blockbuster films out there were shot on Arri or RED cameras. But before those two became Hollywood's select choices, there was Panavision. Panavision's Panaflex camera was the one of the most used cameras in cinema after it made its debut back in 1972. Panavision is now ready to try and take back the top spot once again with their newest cinema camera, the Millennium DXL2, and they've shockingly incorporated RED's Monstro 8K VistaVision sensor right at the heart of the DXL2, giving it 16-bit, 8,192 x 4,320 RAW output with a reported 16 stops of dynamic range.
[image:blog_post:68217]
Borrowing from RED
Despite being in direct competition with RED, Panavision's has designed the Millennium DXL2 with RED's Monstro 8K sensor. Due to the sensor's large 40.96 x 21.6 millimeter size, it's likely that the DXL2 will have great low-light sensitivity, while having a base ISO of 1600.
Panavision has also taken RED's modular designing and made the Millennium DXL2 with interchangeable modules that allow you to move from a studio to a handheld or even a gimbal Steadicam-like setup. The camera itself weighs10 pounds.
A New Kind of Color Science
Panavision has developed its own color mapping system for the Millennium DXL2 as well, calling it Light Iron Color 2. The system essentially remaps saturated colors to lower luminance values. You can see a comparison in the image below, which demonstrates the difference between the Light Iron Color mapping (right) and traditional video color mapping.
[image:blog_post:68219]
"Light Iron Color 2, delivers a rich cinematic look right out of the camera. Feast your eyes on film-like density, neutral shadows, and natural skin tones. Light Iron Color 2 deviates from traditional digital color matrices by following in the footsteps of film stock philosophy instead of direct replication of how colors look in nature," says Panavision on their website.
Light Iron Color 2 could also make it easier for crews trying to view RAW files on set with a new workflow. "We have been listening to feedback from cinematographers and the results of our collaboration are directly manifested in the DXL2," said Panavision CEO Kim Snyder.
The DXL2 in Action
Panavision let John Schwartzman, ASC, cinematographer Nathan Mielke and Steadicam operator Kyle Sauer test out the Millennium DXL2 for themselves. See what they thought in the video below:
Tech specifications for the DXL2
Sensor Type: 16-bit, 35.4 Megapixel CMOS – DXL2, 16-bit, 35.5 Megapixel CMOS – DXL
Resolution: 8192 x 4320
Sensor Size: Large Format: 40.96mm x 21.60mm (Diagonal: 46.31mm)
Dynamic Range:16 Stops – DXL2, 15 Stops – DXL
Max Frame Rate: 60 fps at 8K Full Frame (8192 x 4320), 75 fps at 8K 2.4:1 (8192 x 3456)
Recording Codec: 8K RAW with simultaneous 4K proxy (ProRes or DNx)
Recording Media: SSD (up to 1 hour on a single magazine)
File Type: .R3D (supported in RED SDK)
Color Profile: Light Iron Color 2 (compatible with all popular gamuts and transfer curves)
Weight: 10 lbs.
Pricing and Availability
As a reminder, Panavision doesn't sell cameras; they rent them on a daily basis, so you can't actually buy the Millennium DXL2 . You can probably expect it running for about a daily $1,000 rental rate.
If you'd like to learn more about the Millennium DXL2, you can go to Panavision's website.