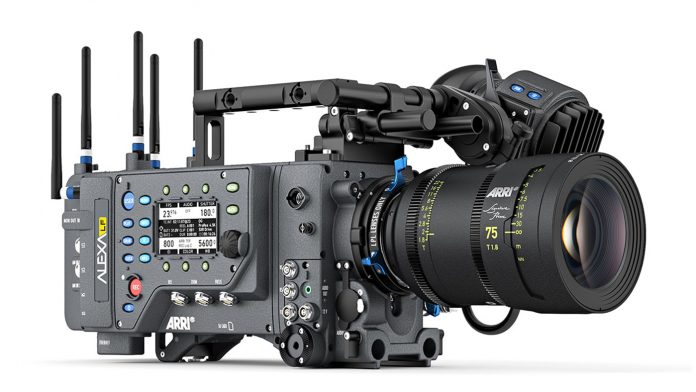 ARRI's Alexa is one of the leading cinema cameras used in the film industry today, if not the leading camera. And just last week, ARRI revealed that they have developed a large-format 4K version of the Alexa, dubbed the Alexa LF. It's the first Alexa to be built with a large format 4K sensor.
Even with the Alexa's 3.2K resolution, it's widely used in Hollywood. ARRI has strongly believed that the resolution of a camera isn't the only factor that determines if quality of an image. Rather, ARRI focused their attentions on aspects like wide dynamic range.
However, Netflix requires that its original productions be shot on true 4K, which has caused a lot of trouble for filmmakers using the Alexa and other ARRI gear. "The ARRI Alexa and Amira are fantastic cameras, and we stream plenty of content that was captured with these cameras. However, since these cameras do not have true 4K sensors, we cannot accept them for our 4K original productions," Netflix explains on its website. "For those who pay a premium for our UHD 4K service, we only deliver content that was shot and delivered at a true UHD 4K resolution."
Advertisement
Now, ARRI filmmakers' ARRI content can be accepted thanks to the Alexa LF.
Alexa LF's Sensor
The sensor in the Alexa LF is "slightly bigger than full frame," says ARRI, and it's measured at 36.70 x 25.54mm with a resolution of 4448 x 3096. According to CEO Glen Kennel, the Alexa LF actually records 4.5K "with the same [colorimetry], and dynamic range … but in a format that supports 4K resolution in terms of pixels."
Lenses
Along with the Alexa LF, ARRI has launched 16 new large format ARRI Signature Prime lenses. They range from 12mm to 280mm and are fitted to the camera with a new ARRI LPL mount.
Previous Alexa lenses and accessories are also compatible with the Alexa LF.
[image:blog_post:68222]
Test Footage Has Been Released
ARRI has released the first set of test footage shot with the Alexa LF. One of the first few who able to use the camera was Oscar-nominated cinematographer Dan Laustsen, who worked on "The Shape of Water." "It's a fantastic large-format camera, and the new lenses that I used are really great; I like the wide angles very much," Laustsen said. "This is also going to give cinematographers [the option to] work with a smaller [Alexa] camera if you want to shoot 4K."
Here's what he captured on the Alexa LF:
Cinematographers Bill Bennett, Tom Fahrmann, Matias Boucard and Wang Yu were also able to test the Alexa LF.
Overview
Large Format 4K ALEVIII Sensor (from the ALEXA family)
Compatible with Full-Frame Lenses
New ARRI Signature Primes at T1.8 (mostly)
Sensor is slightly bigger than 35mm full-frame
Familiar ALEXA SXT family body design
4K ProRes recording options
ARRIRAW at 150fps
SxS or SXR Capture Drives depending on configuration
Netflix/Amazon and other UHD/4K deliverables compliant
New LPL mount for large format lenses
Compatible with S35 lenses
Wi-Fi enabled
Availability
The Alexa LF will be released late March with a set of four Signature Prime lenses will be released early June. The rest of the lenses will be released throughout 2018.
To learn more and to see additional test footage from the Alexa LF, go to arri.com.