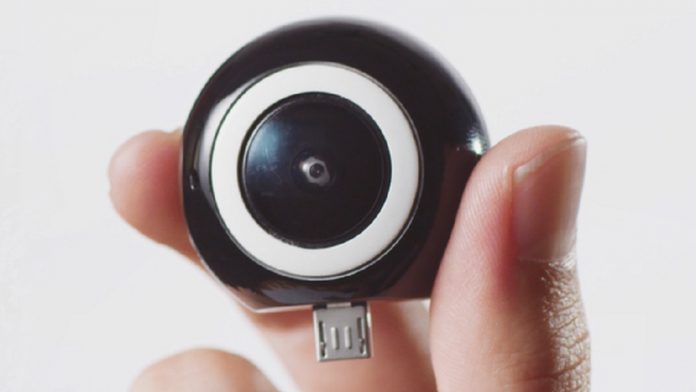 The 360 Video Camera, LyfieEye, first came to life when eCapture Technologies, Inc. started up a Kickstarter campaign for it in 2016. The campaign turned out to be a great success, earning twice the amount of their $25,000 pledge goal, ultimately earning almost $54,000 in just a month. The LyfieEye works with Android phones to capture 360 videos and upload them to social media.
eCapture have definitively claimed that LyfieEye is the "World's smallest 360 video camera" for Android phones. It does seem to be pretty small; it's dimensions are 39 x 36 x 33 mm, and it weighs only 18g. Designing a mobile attachment that's both light and compact is crucial to its overall portability, so it seems LyfieEye fits the bill in that regard.
[image:blog_post:68063]
Advertisement
LyfieEye plugs right into your Android micro USB charging port. Your phone, however, must support OTG and also be running Android 5.0 or higher to use it. After it's plugged in, your phone will then be allowed to preview, record and playback the 360 videos or photos you take. LyfieEye can upload instantly to Face 360 and YouTube 360, and it can work with any type of VR headset.
[image:blog_post:68064]
The camera itself records FHD (1920 x 1080 at 30 fps) and uses two "Super-FishEye" lenses, so when shooting, each camera is actually capturing 180 degree videos and later combining them together to make a single 360 degree video.
See how it looks in action:
It also supports USB 2.0, 3.0 and Type-C interfaces, and it ""intelligently" uses your phone's battery to reduce battery drainage, according to eCapture.
[image:blog_post:68065]
eCapture says that the main goal behind LyfieEye was to create a 360 mobile product that offered a live preview option while shooting content at a low cost.
"We passionately believe that immersive technology will drive the next digital revolution in our generation … But when we looked at the options for content creation, we were hard-pressed to find something that we were satisfied with. We thus set out to design and create the best possible product that we could put in the hands of users all over the world," says eCapture. "As we looked at the current solutions in the market, we realised that the majority of them lacked a "live" preview capability: you can't see how you look in your selfie until after you have taken it. At the same time, they can be prohibitively expensive, standalone solutions that require tedious pairing and sharing with your computer or smartphone."
The LyfieEye is priced at $129 and includes a 7-inch Lyfielink cable that allows you to set your phone down and still record, a LyfieU2C, a USB 2.0 to Type-C converter, and a storage bag. You can check it out at lyfie.com.