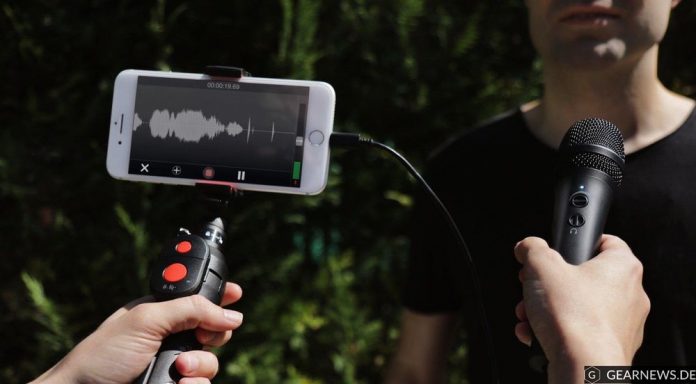 Being the successor the the iRig Mic HD, IK Multimedia say that they have designed the iRig Mic HD 2 to give high-resolution digital audio to anyone who wants to capture pristine mobile recordings anywhere they need or want.
This microphone is a phone geared toward mobility, being a microphone for iPhones, iPads and iPods, along with Macs and PCs. If IK Multimedia is able to deliver on creating a great mobile microphone, they could become an audio recording champion for video enthusiasts using their phones to carry the weight of their productions. The iRig Mic HD is suppose to perform well regardless if you're recording in a studio or if you're on the go.
The audience that this mic seems to be geared toward includes online video sharing communities like Youtube, where content creators aren't necessarily in need of professional gear but still want a microphone that is portable and can perform well. Many users on Youtube aren't situated in something like a studio or recording studio. They are on the go, recording here and there. This mic seems to be trying to appeal to the kind of content creators that want to just pull out their phone and record without any other hassle.
Youtube musicians or interviewers may benefit most from the microphone's easy setup and mobility. IK Multimedia say they have been able to ensure that the microphone can capture all the tiniest details of all surrounding sounds by integrating a low-noise preamp with a gold-sputtered condenser capsule into the mic. IPhone 7's recording capabilities are already quite good, so pairing it with this mic should only add to the combination's recording abilities.
"[It's] the only handheld microphone of its kind featuring high-quality 24-bit converters with sample rates up to 96kHz, a low noise preamp, a high-quality gold-sputtered electret condenser capsule for exceptional frequency and transient response and an onboard dedicated headphone output with volume control for direct signal monitoring." said IK Multimeida.
The mic comes with a Lightning connector cable, a USB cable and other assessors like a table tripod. Youtube musicians or interviewers could use a microphone that is simple to hook up, prop up and record with, and this mic seems to do it.
The iRig Mic HD 2 comes with downloadable software versions for the Mad and PC as well, one of those being the Mic Room, which IK Multimedia says delivers "incredibly realistic virtual models of some of the most desirable microphones of all time."
You can preorder the iRig Mic HD 2 right now for 129 dollars. It will be available for shipping in September 2017.