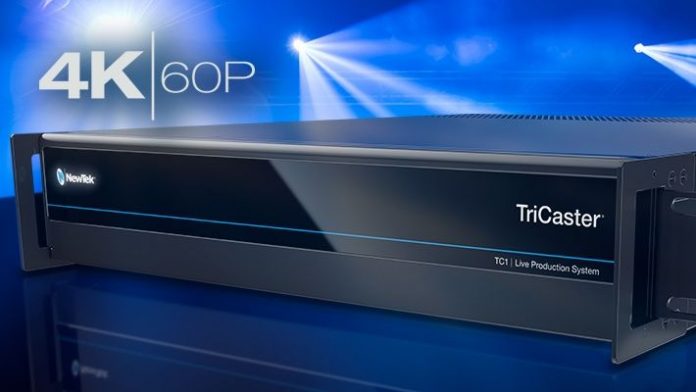 On April 6, 2017, NewTek announced their new video production system, the TriCaster TC1, giving their live video production customers access to 4K UHD switching, live streaming, recording, data-driven graphics, social media publishing, virtual sets and much more.
NewTek has eliminated the need for conversion to and from baseband video by using a software-driven, IP-native approach to 4K with the TriCaster TC1. This allows features like video playback and mix/effect busses to be 4K-capable and not limit available resources. Having the TriCaster support 16 external inputs in 4K UHD, NewTek looks to offer quality without sacrificing functionality.
[image:blog_post:63801]
Advertisement
"Working with IP video makes you feel like you are living in the future, today," said Dr. Andrew Cross, NewTek's president and CTO. "Once you have it, you can't imagine going back. It enables so many new ways of working and greatly simplifies infrastructure. It also makes things like live streaming even easier. I can't imagine anyone buying a product today that isn't capable of delivering content to all of the places the viewers want to watch."
Here is some of the features that the TriCaster TC1 has to offer:
Live Streaming and Publishing Recorded Content
The TriCaster TC1 allows its users to stream directly onto Facebook Live, YouTube Live, Microsoft Azure, Periscope, Twitch and other video streaming sites. It also allows its user to transfer video clips directly from the TriCaster's interface onto social media sites.
Integrated Skype TX
NewTex is the only company in the world that offers Skype TX integration in a live production system. The TriCaster TC1 offers broadcast quality Skype videos through any one of its 16 external inputs and allows its operators to call any active Skype user using a pristine HD video call with balanced audio.
Seamless Connection to the IP-based Industry Ecosystem
The TriCaster TC1 offers networking that connects seamlessly with compatible products from hundreds of manufacturers and developers, meaning the connections to both NewTek and third-party products from TriCaster TC1 can be direct through IP without a baseband video connection.
[image:blog_post:63799]
Other features the Tricaster offers includes: switching, streaming, and recording in 4K UHD, support for video formats up to 2160p60, advanced audio mixing with multi-source configuration and control, 4x4x4 channel routing, professional DSPs, and 4 Mix/Effects busses supporting separate mixes, keying layers, virtual sets, compositing.
The TriCaster TC1, in a 2RU chassis, is priced at $14,995. For more redundant power, the TriCaster TC1 in a 3RU chassis is priced at $19,995. For more information, visit newtek.com