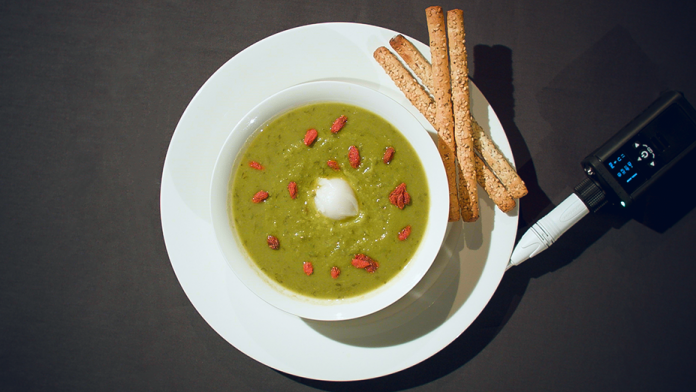 Today, April 1, 2017, the microphone industry was left awestruck when pro-audio brand RØDE Microphones announced they will be launching a brand new microphone category, the Cuisine Condenser Microphone, and releasing the FoodMic Pro, the world's first microphone designed to capture the sound of food.
Inspired by the growing market of food-blogging, food-vlogging and food appreciation, RØDE's Head of R&D Nigel Wilburtsonson setout to create these groundbreaking microphones to fill a huge gap missing in the food appreciation market: delicious sound.
"It was in part inspired by my good mate and food vlogging sensation Johnny Choo (The Camera Eats First)," says Nigel. "His incredible film vlogs of food lacked the kind of high fidelity only RØDE mics can provide: sound. Or, as we call it, 'The Sound Of Deliciousnessness.'"
Advertisement
[image:blog_post:63698]
The food vlogging superstar Johnny Choo has expressed his enthusiasm for the new microphones having said "… nothing sounds as good as me… except the RØDE FoodMic Pro. It's the sound of deliciousnessness."
The FoodMic Pro comes packed with numerous revolutionary features, like a patented plate-shaped ceramic element, and it comes with a HPF (High-Fibre Pass Filter), 48V Phondue power, Infinitely Variable Gastronomic Pick-up patterns, RØDElink Wireless TX (for remote plating) and a Non-stick Jus-Resistant coating.
"Food finally sounds as good as it tastes," says foodmicopro.com.
[image:blog_post:63697]
Having been fully tested by engineers and tastemakers, the FoodMic Pro is an astounding, and almost magical, audio product that's ready to record the deliciousness of your food like nothing ever before. For more information about the FoodMic Pro and to see a video of it in action, visit foodmicpro.com.