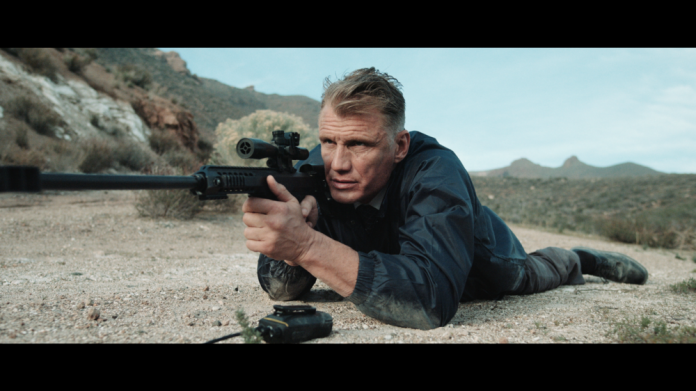 The gap between independent filmmakers and Hollywood grew a little smaller with the announcement from Blackmagic Design that director Timothy Woodward Jr.'s latest film, "4GOT10," was shot entirely on
Blackmagic URSA
PL cameras. The film was also graded using
DaVinci Resolve
Studio.
"4GOT10" is described as a modern western film and tells the story of Brian Barnes (Johnny Messner) who wakes up in the desert wounded with no memory and no idea why he's surrounded by eight bodies, a van with four million in cash and a van full of cocaine. Brian is pursued by notorious drug lord Danny Perez (Danny Trejo), DEA Agent Rooker (Dolph Lundgren) and the corrupt Sheriff Olson (Michael Pare).
The film was shot in various parts of California and the filmmakers strove to create a look and feel reminiscent of the spaghetti western films of the 1970s.
Cinematographer Pablo Diez was full of praise for the URSA: "4GOT10 is an action packed film with gunshots and explosions dominating many of the sequences. We shot much of the film with live fire, which can be an issue for many digital sensors. Because of the global shutter on the URSA, however, we had no issues capturing any of the flashes, explosions or sudden camera movements that would typically cause a jello effect in other digital cameras".
[image:blog_post:58302]
The release of "4GOT10" is another example of affordable cameras being used on large film productions and suggests exciting times ahead for independent filmmakers as professional quality gear becomes increasingly accessible.
To shoot the film, Diez used URSAs as both the A and B cameras, shooting in ProRes 4444 with Schneider Cine-Xenar lenses. "As a director of photography it is important to be able to know the capacities of the camera and work with them to reach the highest image potential," Diez states.
Pricing for the Blackmagic URSA starts at $4999 and the
Blackmagic Production Camera 4K
, which shares the same imaging chip as the URSA, is available from only $2995. The newly released
URSA mini
is also available from $2995. More details of all of these camera models can be found on Blackmagic's website.