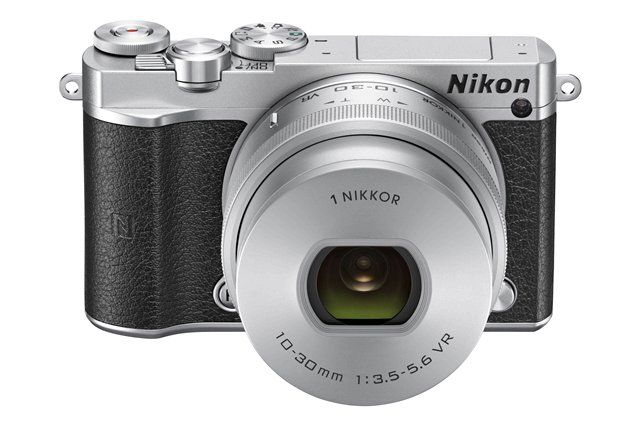 The Nikon 1 J5 seems anachronistic at first glance or maybe even "retro" might apply: this new 20.8 megapixel mirrorless digital camera has a straightforward textured body reminiscent of rangefinder cameras. Lens interchangeability includes NIKKOR 1 lenses as well as the ability to use NIKKOR DSLR lens (paired with the optional FT-1 Mount Adapter). The CX-format CMOS image sensor (1-inch and smaller than could be wished for) has an ISO of 160-12,800 and purports to avoid noise even at extreme low-light image capturing.
Controls are at the upper right. That's where exposure modes, menus and functions are conveniently located together. The back has a high-res 3" LCD display that can be tilted and swung through a 180 degree arc, making it suitable for viewing at other than standard viewing angles.
Thanks to a new processor, the camera is able to shoot up to 20 frames per second using continuous auto focus (60 fps being locked in at single focus). The addition of an actual grip means steadier shooting. Unsurprisingly, it can also shoot video — 1920 x 1080 at 30 and 60 frames per second, along with 720p at the same fps and slow motion at 1280 x 720/120 fps and 400 x 144/1200 fps. While it can shoot 4K video, (3840 x 2160), this comes with a caveat: the frame rate is set at 15 frames per second which means that it is not suitable for professional applications due to the obvious choppy look that results.
This midrange offering from Nikon will be available in three kits: a 10-30mm zoom lens (f3/5-5.6) retailing for $499.95; a double-lens kit (a 30-110 f3.8-5.6 as well as the 10-30mm) retailing for $749.95; and a 10-100mm f4-5.6 for $1,049.95. No release date for these has been set as yet.