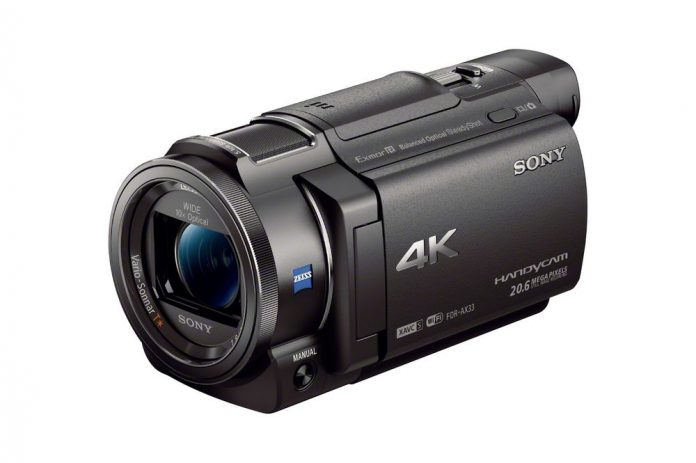 UPDATE: The FDR-AX33 does have an audio input, and there is no internal memory.
Our team joins Sony to finish off press conference day at CES. Five cameras from Sony Electronics Inc. The FDR-AX33, HDR-CX405, HDR-CX440, HDR-PJ440, HDR-PJ670. What jumps out to us is the FDR-AX33, it separates itself as one of the smallest 4K cameras that would actually be handheld. This 4K being 3860×2160 at 30fps. It's got a lot that we look for in cameras with a flip out LCD, Balanced Optical SteadyShot, and zebra patterns. For audio, there is a standard minijack for headphones and microphone. The FDR-AX33 will be available in February for $999.
Advertisement
Updates for Sony's projector-camcorder lineup come in the HDR-PJ440 and HDR-PJ670. The projector's brightness is clocked at up to 13 lumen and 25 lumen respectively. Both have a resolution output of 640×360 which may not wow you, yet, so many YouTube videos are pleasantly watched at this humble and convenient size. The HDR-PJ670 and HDR-PJ440 will be available in January for $700 and $400 respectively.

The HDR-CX405 and HDR-CX440 are the updates to the non-projector lineup and bring with them some savings in cost. With these slimmed down versions, the projector is the next feature absent. You'll find the HDR-CX440 and HDR-CX405 available in January for $300 and $230 respectively.