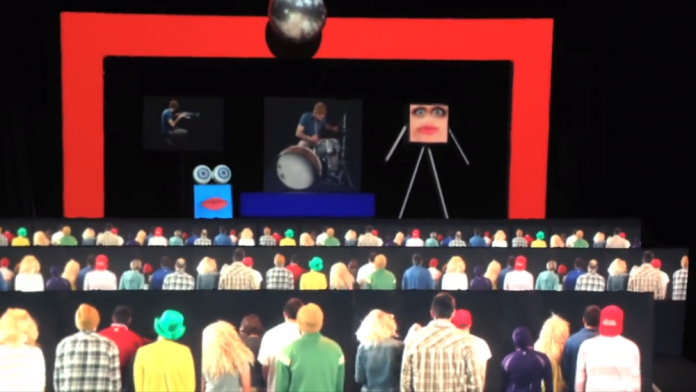 Using simple tools in these amazing videos, Jack Conte and Nataly Dawn make up the musical duo known as Pomplamoose. Since 2008, Pomplamoose has made a name for themselves by creating mesmerizing music and interesting music videos. A majority of their early music videos were called "video songs"; music videos that had the following requirements."What you see is what you hear. (No lip-syncing for instruments or voice) If you hear it, at some point you see it. (No hidden sounds)"
Doing so has garnered the music group much success selling over 100,000 songs in 2009 alone and gaining over 92 million videos to date on their YouTube channel. Now entering season 2 of their online career, Pomplamoose has released a musical mash-up of Pharrell William's "Happy" and "Get Lucky". Their music video showcases their new musical styling as well as their new visual style that utilizes tools that you would typically reserve for a science fair project.
http://youtu.be/i7X8ZnmLfM0
Advertisement
Behind the Scenes
In addition to being a fantastic musician, Jack Conte is the primary video editor of the Pomplamoose music videos. His catalog of work shows his love for experimenting with visual styles including, stop motion, what he likes to call "Poor Man's 3D", and even working with animatronics.The set builds were built and designed by Conte. He built three different sets out of foam board each with it's unique 3D setup.This is not Conte's first take at 3D projection. He has released two other videos that experiment with projecting video onto 3D surfaces including face masks and well timed and placed foam board.
"All effects in this video were created with only white foam board and one single projector. We drag shapes around in our video editor…to line them up with our set."
The most interesting thing about this process is how Jack utilized Final Cut 7 to manipulate all of the images to fit the shape of the foam board. Stating in the description of his video Jack states, "We simply held up the foam core and used the "distort" tool in Final Cut to mash around the images until they fit onto the foam core pieces." The duo also had to record and edit all of the moving scenes that were taking place throught the video, including playing the piano, dancing, and even being their own audience. According to Conte, this production took three full days to make and edit the video, with half a day dedicated to planning.
The Take-Away
This video is mesmerizing. It not only shows how Final Cut can be used as a 3D projection mapping tool, but it illustrates how a dynamic video can be made while using multiple visual platforms simultaneously. The music video uses a live singer, a projector, three custom foam core sets, Final Cut to organize and align the visuals to the set, and an iPhone to record the orchestration of everything. It was also interesting to see how the projector also served as the primary lighting for the whole video.
Additionally, this video shows how self-set limitations can lead to immense creativity. This music video could have very well been created without the use of 3D projection, but incorporating the projector and setting the challenge of recording a video in one take lead to a stand out music video that allows the viewer to experience the music video take place. By creating this video, Pomplamoose shows that with a projector, video editor, time, and some art supplies, you have all the tools you need to make a fun and dynamic music video.
Ricky Anderson II is a writer, video editor, and comedian.