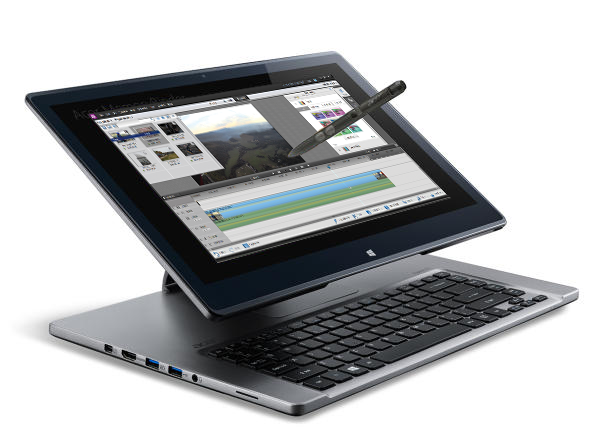 Touchscreens are on all sorts of devices. Tablets, phones, they're even showing up on cameras. Touchscreens do make things easier, they're an intuitive input device. With Microsoft's Windows 8 operating system built for touchscreens, it's not a surprise that they're starting to show up on laptops. Touchscreens aren't something that's been widely adopted for video editing but they are turning up on set as more tablets are being used to keep productions on task and on time. There are even tablets showing up in the edit bay as editors use them to keep track of notes or interface them with their editing computers, using the touchscreen as a tactile control surface. On the heels of this Tuesday's announcements, Acer announced today it's release of the Aspire R7 Touch Notebook.
Aspire R7 Touch Notebook
The Aspire R7 Touch Notebook comes with a 15.6" Full HD widescreen CineCrystal LED-backlit multi-touch display, supporting 10-finger touch. It's powered by a 4th generation Intel Core i5 processor with a standard 8GB of RAM and has an Intel HD Graphics 4400 graphics card with 128MB of dedicated memory. One feature that makes the Aspire R7 unique is its Ezel Hinge which allows the user to change the position of the screen. It can function as a normal laptop, the screen can flip around for shared viewing, move closer to the keyboard, raise up in a table like manner, or fold over to function like a tablet. The versatility of the screen and its positioning make this an intriguing notebook for producers and directors on the go. They can use it to easily share and collaborate on set while managing multiple projects.
The Acer Aspire R7 is listed at $899
Chris "Ace" Gates is a four time Emmy Award-winning freelance writer and video producer.