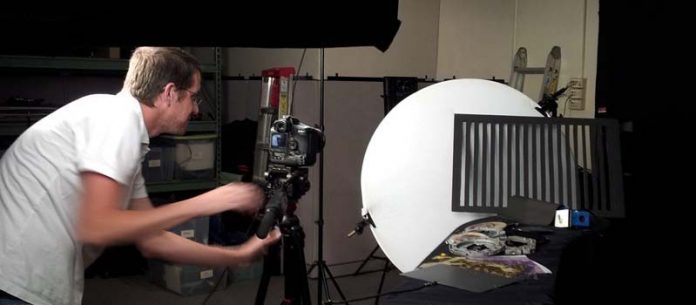 Want another Behind the Scenes look at what Videomaker is working on? This is our newest member to the Videomaker team, Greg Olson, our video producer. Greg is setting up props for one of the segments of our latest How to Make your Video Look Like Film series and he is awesome. He comes to us with a commercial producer's background and he knows his chops. [image:blog_post:12773]In these photos, the stage is set to show you the variety of lighting tools you can use to help add dimension and texture to your background with cookies, and using gels, flags and cinefoil to control light spill. [image:blog_post:12774]Videomakers completed training video, Lighting for the Film Look, was uploaded this week, you can see it here: http://www.videomaker.com/video/watch/tutorials/724/lighting-for-the-film-look/
[image:blog_post:12775]Proper lighting is a very important technique for good video execution. Greg uses a scene from the TV show Scrubs to illustrate the differences in lighting one might use for a dramatic scene, (low key) as opposed to a more comedic scene, (high key). Both scenes are identical except for the lighting techniques the experts used to illuminate the set.[image:blog_post:12776]
Next to audio, lighting is the most important element you need to know when designing your video production. Videomaker's large resource of lighting tools is available in many forms. Our lighting features on our website and in our publication have a large collection of various techniques and style ideas that can help you take your ordinary video up a few notches to a more professional look. If video examples are more your style, we also sell training DVDs and downloads that break the process down to show you how to set a scene using high key or low key, as illustrated in our Lighting for the Film Look example, and also how to create stylish mood lighting, set a scene for green screen, lighting product shots, using scrims, reflectors and gels and a whole lot more.
Advertisement
Finally, theres nothing better than hands-on training and our Intensive Lighting workshop offers three full days of in-your-face techniques. This class is a favorite but its small to give you the best hands-on training as possible, so make sure you sign up early its always a sell out. The next Videomaker Intensive Lighting workshop is coming up in September. If you come early, make sure you attend Chico Californias famous Thursday Night Market street fair that runs through the end of September. Hope to see you here you cant miss Fall in Northern California its spectacular!
Did you find this content helpful?