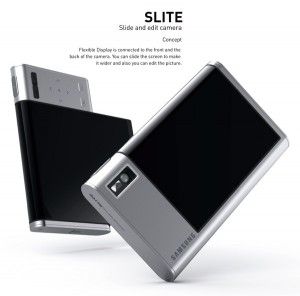 Slite is a concept that seems like a great combination of technology that is already available – mobile editing and digital imaging. The specific model only shows still image editing, but video editing can't be too far behind. The tools available sure look professional, and add mid range audio editing capability and there is some serious work to be done with this one device! Important to this design is a separate innovation, extendable displays.
Increasing the edit space for mobile video editing is one of the first things people are skeptical about, and rightly so, there's a reason most professionals go for dual screen monitoring. The Slite takes this idea and gives it a great shot, by sliding the screen down, extending beyond the original height by an inch or two. The extra workspace should allow for you to view other clips and tools. The workspace can also shift when you turn the camera to a new orientation for a larger view, who knows, this may be necessary for a timeline.
This screen is really what will set it apart from other cameras, with the ability to display on the front as well as the back of the camera. Many phones included a convex mirror to aid the self portraits with cell phones, but this is almost too much. If nothing else, over the shoulder shots will be a breeze.
[image:blog_post:13050]So many of the tools we've come to expect, white balance, exposure, zoom and crop should make an easy transition to the big time of editing video on a mobile device. Expect a lot of menus, since the external buttons are minimal. Even if only basic edits are available, it will mean a lot since you'll be able to edit a good take immediately after it is shot. Then, when you reach your editing work station, instead of ingesting raw footage, you'll be transferring your rough edit.