Let's look at what it takes to build a computer that can handle 8K video editing requirements and what parts you need.
Are you looking for a CPU for video editing? You're in the right place. We will run through everything you should consider when buying a CPU.
AI is pioneering a new frontier for video production. Here's how AI can aid in the pre-production, production and post-production process.
Have you ever shot a fast-moving subject with your camera and the footage looked a bit warped? That's the rolling shutter effect at work.
To understand what film grain is and how to avoid it, you first must understand the process of how it's created.
Sticking to the rules of screenplay writing are a must, but it can be challenging. However, Trelby can help make it easier.
Quality anamorphic lenses can easily cost you thousands of dollars. However, there are a few budget options that achieve a comparable effect.
Knowing common color spaces and how to use them in your projects will grant you greater control over your images.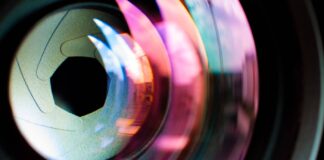 The iris diaphragm is an essential component for your lens' aperture. Let's discuss how the iris diaphragm works and why it's important.
If you've ever wondered how films can pull off the shot where zoom out as the protagonist walks into the sunset, the answer is a jib.
Avid Media Composer, also referred to as just Avid, has made some big progress from your fathers Avid. Learn about the new additions and improvements to the line up in this video.
Blackmagic released a long list of products this year, in this video you will learn about them all!
Made for the Canon R5 with the new RF mirrorless lens mount, the Canon F/2.8L Dual Fisheye 3D VR Stereoscopic Lens is an innovative and new way to produce a stereoscopic image.
If you think pixel resolution is the only thing that affects the visual quality of a video file, think again. Bitrate is equally important, though often misunderstood.