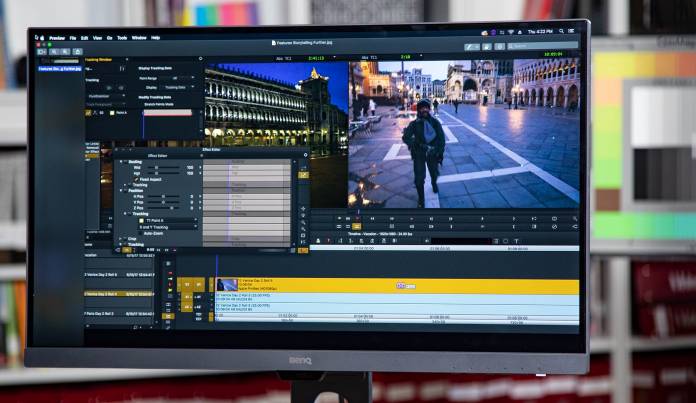 With the newest release of Media Composer, Avid is beginning to regain its footing as a competitive option for aspiring and professional video editors. Now matching the monthly cost of Adobe Premiere Pro CC, Avid has held onto the high-end pro market for Hollywood editors, but its grip is not nearly as firm as it once was. That said, this update does a good job at keeping up with the industry.
The new pricing is the biggest change, as updates are released quarterly. Currently, if you want to subscribe to Avid Media Composer and want to pay month to month, it will set you back just $25 a month. Commit to a year and it's five dollars cheaper at $20 per month. It gets even cheaper if you pay for a whole year up front for $200 flat. This is lower than previous plans and Avid says the new pricing is targeted towards "aspiring and professional editors and filmmakers who work independently and need advanced editing tools." When you look at subscribing to just Premiere Pro in the same tiers, Avid matches or beats the price.
What's new in 2018
A few times over the last year, Avid has released a new set of updates for Media Composer. Each had a different focus, however, they all had one theme: Prepare to be underwhelmed. Don't get me wrong, there is some good stuff in there, but when you strip the marketing language away from the updates, there isn't too much that's especially innovative or exciting.

Let's start with the latest update and go back in time to the beginning of 2018. In December, we saw an update to the titling tool— not revolutionary. Although it's been greatly improved over previous versions, Final Cut Pro and Premiere Pro have both had this type of titler built in for years.
Avid also updated Multicam editing groups to allow you to make adjustments to multiple clips at the same time, even with mixing frame rates. You're also now able to save bins in the background — kind of hard to believe this wasn't already a feature. Again, this is something that Final Cut Pro and Premiere Pro have had for a long time. And lastly, Media Composer now works better with DPX files.

The September update saw the addition of unlimited video playback streams for powerful computers. This update also supports the new DNxUncompressed format, which Avid says is "… used for import, transcode, mixdown, and render, enabling you to work with camera originals and apply and render color corrections and VFX while maintaining the full bit depth of the media". Lastly, if you work with DPX files, Avid says Media Composer now exports DPX files up to 10 times faster than before.
In July, Avid incorporated the ability to send video over IP with NDI, giving users the option to send audio and video from Media Composer to an NDI device over a local network. NDI has already been supported for Final Cut Pro and Premiere Pro for a while now. They also allowed a user to resize windows as they see fit.
If you are subscribing to the product, why is it mostly the same update after update?
For some, the updates over the last year could be very helpful. The updates did work as they should, and we are happy they made them. However, when you are continually paying for something, you would expect the product to evolve. On one hand, there are a ton of editors who want consistency and improvement in small increments, but if you never own the product and there is something else out there that can do it just as well (or better), there isn't a compelling reason to keep using a particular product.
Of course, there is the part where you would need to learn another program, so that would have to be factored into a decision to switch applications. The other factor is whether your workflow is a part of a larger production workflow with many moving parts. Either way, we would hope that, in the future, Avid will invest in some research and development that is innovative, not just focused on keeping up in the industry. Ok, I'll get off my soapbox now.
Marketplace
We've already talked about how Avid has made their pricing more competitive, even undercutting Adobe's subscription cost. But Avid and Adobe aren't the only names in the game. Other options include Apple Final Cut Pro X, a professional level editor with tons of support. Plus, once you buy it for $300, you won't have to pay for an update, whether you bought the program in 2011 or yesterday. At this price, Final Cut offers tons of value, though if you don't have a Mac, it's not an option.
If you want even more value, Blackmagic Design DaVinci Resolve 15 is free. It is limited in a few ways, but if any of them are a deal breaker, the full version, Resolve Studio, is available for $300. The top-end editors have never been more competitive. Add in that they all have similar support and feature sets and it really is anyone's game. When it comes to editors alone, Media Composer does it their own way and became industry leaders because of this.

Media Composer has a robust toolset that, at their new pricing, is available to the little guy — not just the studios.
Final Thoughts and Recommendations
Media Composer is a solid editor that gets used on the biggest films in the world. Editing with Media Composer was once much more exclusive, but through heavy competition, Avid is now one option among many. Media Composer has a robust toolset that, at their new pricing, is available to the little guy — not just the studios. We would love to see Avid invest in some innovative new features so that they are able to rise up above their competition like Final Cut Pro and Premiere Pro, rather than just keep up.
SUMMARY
STRENGTHS:
DNxUncompressed support

New pricing structure
WEAKNESSES:
RECOMMENDED USES:
Narrative Filmmaking
Documentary Filmmaking and Journalism
Corporate and Event Videography
Marketing Video Production
PRICE: $20 per month
Minimum System requirements:
Operating system:
Mac OS X: 10.12.6 (Sierra), 10.13.6 (High Sierra), 10.14.2 (Mojave)
Windows: Win 10 64-bit Pro, Creators and Enterprise, Win 8.1 64-bit Pro and Enterprise, Win 7 64-bit Pro SP1
Memory: 16GB minimum, 32GB (or more) recommended