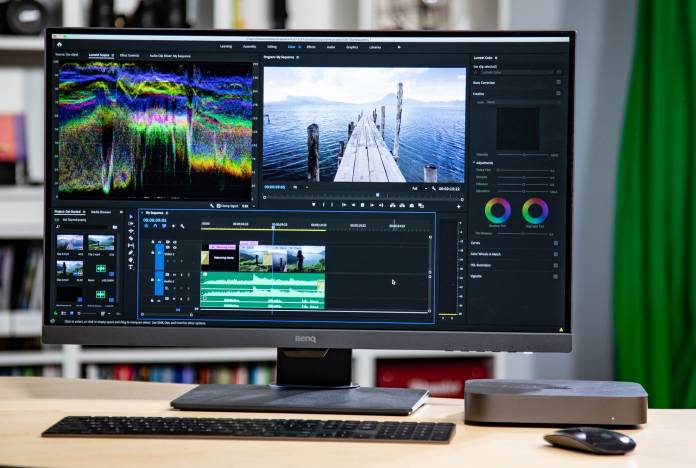 If you're looking for a solid 4K screen, you should check out the BenQ PD2700U DesignVue Designer 27-inch monitor. It offers 100% sRGB and Rec. 709 color gamuts over its 350 nit bright UHD 4K IPS panel.  Plus, it's built for, you guessed it, designers. Still, how does it perform for video producers? After all, we do have a few different needs when previewing our work.
First, let's start with its specs to verify it can do what video editors need. It has HDMI, DisplayPort and Mini DisplayPort connections, so it will properly interface with your computer. Plus, it has a native resolution of UHD 4K (3840 x 2160) at 60 Hz. The 60 Hz is key for us who use NTSC as our standard.
Moreover, if you use PAL, then you require 50 Hz, as a minimum. Comparatively, it has a wide viewing angle, good for collaborative work, and it has a 5 ms response time. Below 7ms is best for video editing to avoid ghosting or blurring effects.
Lastly, it supports up to 1.07 billion colors, also known as 10-bit color. In short, 10-bit is becoming more and more prevalent with every new camera release. So, if you want to be forward-thinking in the monitor you buy, it's important to consider.

The good bits
First off, we like the stand. It allows for vertical rotation of the screen. Altogether, this used to be a silly prospect for video editors, but with Instagram stories and Snapchat, vertical video has found a useable home. So, a monitor that can preview vertical is great.
In fact, it doesn't have a huge footprint and the stand is flat, so this screen isn't wasting any space on the desk. Uniquely, it also has a nice thin bezel — not the thinnest, but still thin. Any thinner and cost of the monitor will go up. We really like the matte finish on the screen; it makes reflections a non-issue, even in brightly lit areas.
Being able to preview in native color and resolution is clutch.
Lastly, we like that it has a UHD 4k resolution and supports 10-bit color.  Again, it's nice to invest in where video is headed. Being able to preview in native color and resolution is clutch. Lastly, it comes factory calibrated, so it's ready out of the box. Additionally, each monitor gets individually calibrated, so even when there is variance in production, they are right when boxed up for sale.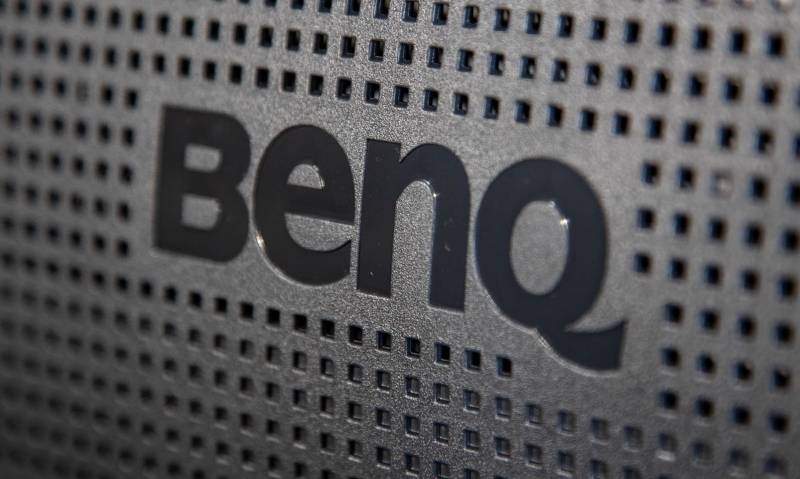 The interesting features
There are a few features on this monitor that are pretty neat, though not likely to be the reason you buy it. The first is different picture profiles. These are best for designers but could be helpful for video creators.
If you do 3D design or CAD, then CAD/CAM mode would work well during production. It increases the contrast in lines and shapes in technical illustrations. Then, there is Animation Mode for when you want to lift the shadows to see the details within — not likely something you will use when editing video but great for when you are designing.
Lastly is Darkroom mode, which is designed to be an improved setting for darkened post-processing environments. For other work outside of video production, these picture profiles will be helpful, but they are not recommended when you are working with the color of your video. Rather, use the sRGB mode. If one of the other profiles find their way into the workflow, then the next feature will also be beneficial. Dual view will allow you to be in two picture profiles at the same time, so you can preview how each will affect your image.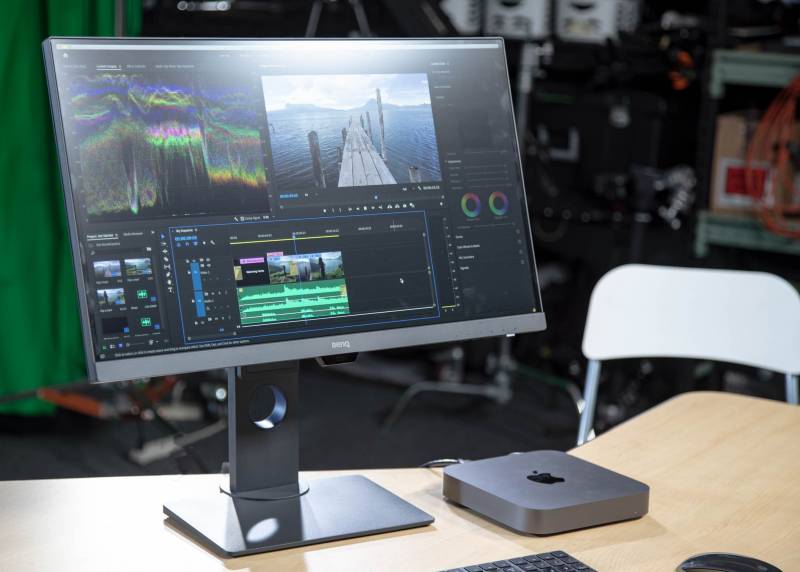 Marketplace
The number of monitors on the market is quite amazing. In fact, we were able to find other monitors with 7 matching criteria that are $30 apart. They all are 27 inches, UHD, 350 nits bright, 10-bit color supporting IPS monitors with a built-in USB hub and a 178-degree viewing angle.
Let's start off with the HP Z27. It also has a thin bezel and costs $560, $20 more than the BenQ. The major drawback for video production with the HP is its poor response time of 14 ms.
Next, is the Dell U2718Q at $570, that's $30 more than the BenQ. It has a thin bezel like the HP but with a more acceptable response time of 5ms.
Last up is the ViewSonic VP2780-4K at $580; it's the most money and has a thicker bezel. It also has a 5ms response time.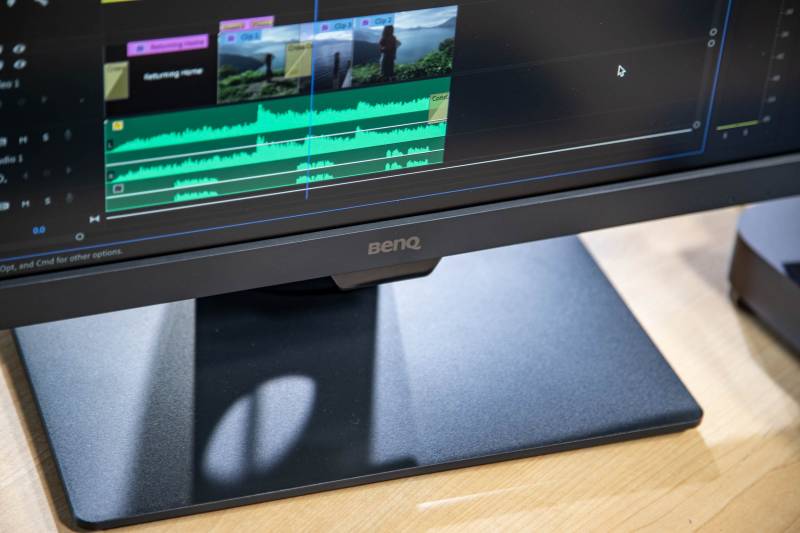 Final thoughts and recommendations
This screen might have "designer" in its name, but it will be a great monitor for video editors. We like the native resolution of UHD 4K and support for 10-bit color. Plus, the matte finish is great and being able to rotate the screen could be handy for some applications. The picture profiles are an added bonus for those who can use. The best part of the BenQ PD2700U DesignVue Designer's 27-inch monitor is its price, just under its nearest competitor.
SUMMARY
STRENGTHS:
10-bit color support

Matte finish
WEAKNESSES:
Low refresh rate
Limited HDMI connectivity
RECOMMENDED USES:
Narrative Filmmaking

Documentary Filmmaking and Journalism
TECH SPECS:
Size:

27″

Panel Type:

IPS-Type LCD

Native Resolution:

3840 x 2160

Aspect Ratio:

16:9

Pixels Per Inch (ppi) :

163 ppi

Maximum Brightness:

350 cd/m2

Contrast Ratio:

1300:1

Refresh Rate :

60 Hz

Bit Depth / Color Support:

10-Bit (1.07 Billion Colors)

HDR Compatibility:

HDR10

Color Gamut:
Response Time:

5 ms (GtG)

Inputs / Outputs:

1 x HDMI 2.0 Input

1 x DisplayPort 1.2 Input

1 x Mini DisplayPort 1.2 Input

1 x DisplayPort Output

4 x USB Type-A (USB 3.0) Input

2 x USB Type-B (USB 3.0) Output

1 x 3.5 mm Output

Weight:

16.98 lb / 7.7 kg (With Stand)

11.02 lb / 5.0 kg (Without Stand)