The GoPro HERO12 Black is the latest installment in the well-known line of GoPro action cameras. The new action camera arrives with a set of new features and enhancements aimed at both casual users and professionals alike.
Feature-wise, the HERO12 Black isn't that much different from its predecessor. As we hoped with this new release, they did manage to improve on some basic shortcomings of its predecessors. Users of the new HERO12 Black can expect dramatically improved runtimes specifically in its best quality (5.3K and 4K 120 fps) modes, an area where previous models struggled due to battery and thermal limitations.
The HERO12 Black also introduces several new modes and capabilities not found in the HERO11. These include GPLog for shooting in a flat color profile, open gate shooting to utilize the full sensor area and smarter stabilization for smoother footage with less crop. The new model also supports wireless microphone pairing and even expands mounting options by including a tripod mount.
Although the GoPro HERO12 Black is quite similar to the HERO11 Black, is it worth upgrading to? Let's discuss.
Design and build
The design of the GoPro HERO12 Black maintains the rugged, compact form factor that the HERO Black series is known for. Nothing's notably new compared to the HERO11, so any add-ons and accessories that worked with the HERO11 will also work with the HERO12. Built to withstand extreme conditions, the camera features a durable outer casing. It's water-resistant up to 33 feet without the need for an additional housing. The device incorporates three physical buttons for power, recording and menu navigation, and they are easy to access even in fast-paced shooting environments.
As for the menu and interface, the camera employs a touchscreen display that enables intuitive navigation through settings and playback options. Controls are set to Easy by default, allowing for a quick point-and-shoot experience. Users familiar with previous HERO models (and camera settings in general) can switch to the Pro interface. This gives you more customization options. For mounting options, the HERO12 Black offers the signature folding fingers at the bottom of the camera, as well as a ¼-inch-20 thread, allowing for flexibility between GoPro and third-party stands and mounts.
GoPro HERO12 Black: Specifications
On paper, the GoPro HERO12 Black offers the same video specification as the HERO11. Both cameras share the same sensor: a 1/1.9-inch 8:7 sensor capable of capturing 5.3K 60 fps Ultra HD video. However, the HERO12 Black has a new HDR function that improves the image quality of the videos and photos it shoots. So, if you're not into color grading, the new HDR mode offers great-looking video straight out of the camera.
The camera also supports 4K, 2.7K and 1080p resolutions and can shoot video at 240 fps in 1080p and 2.7K. For low-light situations, the HERO12 Black's ISO range stays the same as the HERO 11 at 100 to 6,400 ISO.
But it's not all the same old, same old for the HERO12 Black. Aside from HDR, the HERO12 is the first in the HERO series to incorporate GOPro's upgraded flat color profile, GPLog. GPLog aims to deliver increased dynamic range and provide users with greater latitude in post-production color grading. When shooting 10-bit 4K or higher, you can choose between Standard, HDR and log profiles.
Recording modes
For creators needing vertical video, you can quickly switch from horizontal to vertical orientation without turning the camera sideways. Even better, when filming in the full frame 8:7 aspect ratio, you can choose vertical and horizontal ratios in post-production. This can be done using third-party software or the GoPro Quik app.
The GoPro HERO12 Black features a few recording modes: Hindsight. It also includes modes for Scheduled Capture and Duration Capture. When Hindsight is active, Hindsight continuously records and keeps a buffer of video for up to 30 seconds. Once the user hits the record button, the preceding footage is included in the final clip. This feature is beneficial for capturing unexpected or fast-moving events, like wildlife sightings or sports plays. With Scheduled Capture, users can program the camera to start filming at a certain time, up to 24 hours in advance. This way, you can capture events like sunrises without manual intervention. Duration Capture lets you specify how long the camera will record once started, ranging from 15 seconds to three hours.
Timelapse and long exposure modes
Like the HERO11, this model offers advanced timelapse and long exposure modes. The different options include:
TimeWarp: Captures hyperlapse videos, allowing for smooth, stabilized footage that speeds through time
Star Trails: Takes a series of long-exposure shots to capture the movement of stars for astrophotography
Light Painting: Using long exposure, this mode is meant to capture trails of light. This is for creative shots and looks great when shooting light sources such as fireworks or glowsticks.
Vehicle Lighting: Tailored for capturing the lights of moving vehicles, this mode offers long exposure settings optimized for fast-moving cars. This works best for scenes like freeways and busy streets.
Time Lapse: The traditional time lapse mode takes photos at set intervals, which can be compiled into a video to show activity over an extended period. While TimeWarp is best for shooters in motion, this mode is typically used with the camera mounted on a tripod.
Night Lapse: Optimized for low-light conditions, this mode captures time lapse videos with longer exposure times to reveal details in darker environments.
Runtimes
The GoPro HERO12 Black also addresses thermal and battery performance issues. It's an area where earlier models faced challenges, especially during prolonged 5.3K 60 fps and 4K 120 fps shooting. The improved processing allows the camera to handle extended recording sessions more effectively. Thie means the camera is less likely to shutdown automatically due to overheating.
While the HERO11 Black could last only 35 minutes in 5.3K 60 fps, the HERO12 Black can shoot for twice as long, up to an impressive 70 minutes. For 4K 120 fps, the runtime has increased from 28 to 58 minutes. Recording modes that are not as thermally limited, such as 4K 60 fps, also benefit from runtime boosts up to 16%. Users who experienced limitations in previous models due to overheating or battery life will find the HERO12 Black to be a more dependable option for capturing high-quality, uninterrupted footage.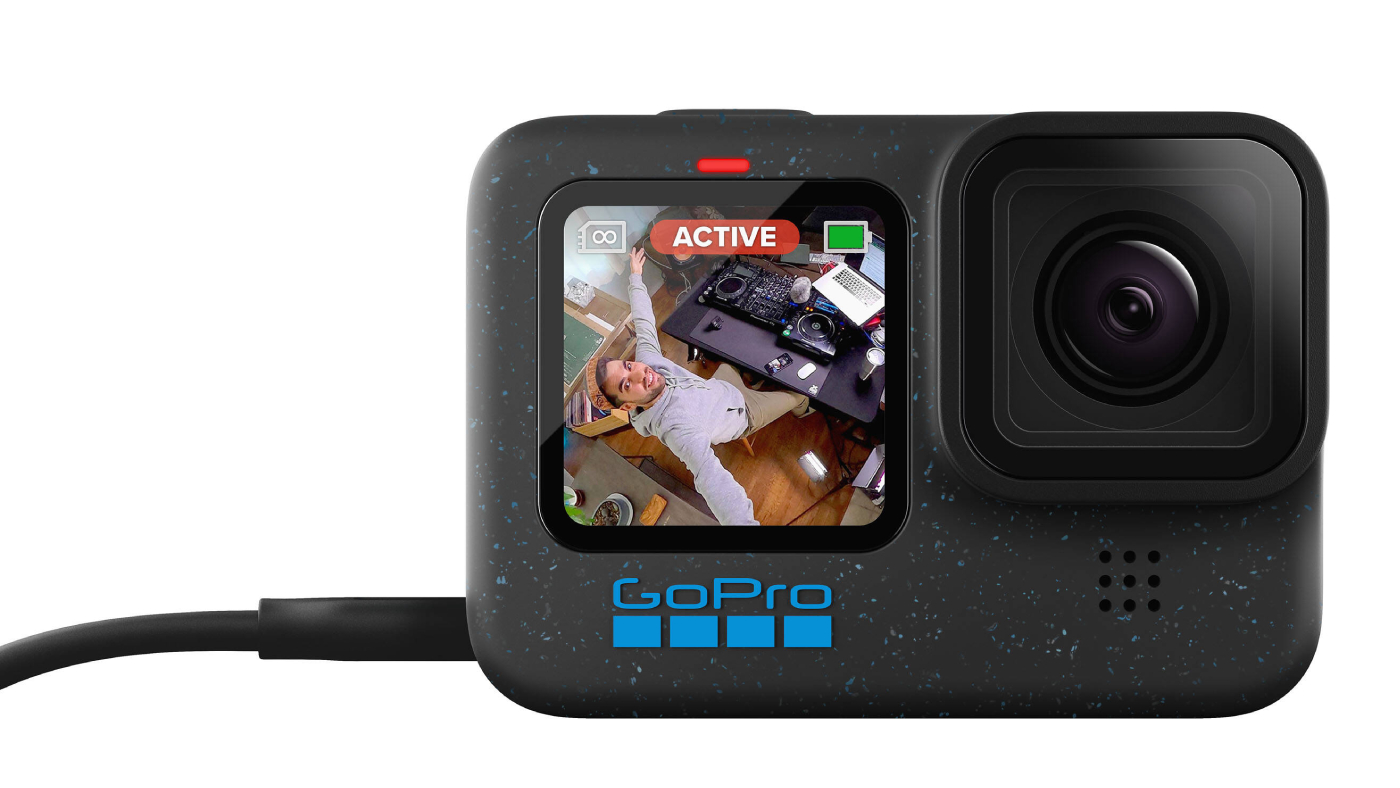 Storage and connectivity
The GoPro HERO12 Black offers storage flexibility with support for microSD cards up to 256 GB, an essential feature given the larger file sizes generated by 5.3K video. For optimal performance, the company recommends using cards with a UHS-3 rating to handle high-resolution recording. When it comes to ports, the camera uses a USB-C connection for fast data transfer and charging.
In terms of network connectivity, the HERO12 Black comes equipped with Wi-Fi and Bluetooth capabilities. These options make it easy to connect the camera to smartphones or tablets using the GoPro app for remote control and quick file sharing. Additionally, the camera offers livestreaming support, allowing users to broadcast in real-time to platforms like YouTube and Facebook through the GoPro mobile app.
One notable addition is the ability to connect an external microphone, including Airpods, wirelessly through Bluetooth. This is a long-desired feature for those capturing dialogue, and it's good to see GoPro being a leader in the market by introducing this. Though the built-in mic isn't terrible, the lack of mic compatibility made content creation on a GoPro less practical than a traditional DSLR. Control over your audio is limited, however. The camera automatically sets levels, and you can't monitor it while recording. Despite this, the ability to connect a microphone wirelessly is very useful, it just may require some trial and error to get the appropriate level. We hope to see more control of these aspects in future models.
Other new features
Voice control
The GoPro HERO12 Black comes with enhanced voice control features. This allows users to operate the camera hands-free. Voice commands can be used to start or stop recording, take photos and more, making it simpler to record without touching the device. This is particularly useful in situations where manual operation is inconvenient, such as when the camera is mounted on a helmet or vehicle.
Max Lens Mod 2.0
GoPro offers a range of accessories with the release of the HERO12. One of these is the Max Lens Mod 2.0. This lens modification widens the field of view to 177 degrees and enables Max HyperSmooth stabilization. With this mod, users can capture more immersive and stable footage for an additional $79.
Installation is straightforward. Users simply unscrew the standard lens and attach the Max Lens Mod in its place. The lens mod is also water-resistant, just like the camera. However, it restricts resolution to a max of 4K 60p, lowering the overall video quality if you prefer shooting in 5.3K. This isn't too bad of a trade-off considering the unlikeliness of an audience being able to view the footage in full resolution, especially on social media.
Timecode sync
Though technically previously available via GoPro Labs, the HERO12 formally supports timecode sync. Used for lining up different camera and audio sources, this feature bolsters the functionality of the camera for a variety of situations. With accurate timecode information embedded in each video clip, it becomes easier to align and edit footage from various sources. This functionality enhances the camera's versatility for multi-camera shoots and complex video production setups. This makes it a valuable tool for those seeking precise synchronization in their projects.
Performance
Video quality
In daytime conditions, the GoPro HERO12 Black performs exceptionally well. Improvements such as the HDR profile and the ability to shoot 10-bit video results in vibrant, sharp, high-quality video. The camera capture the nuances of various settings, especially outdoors. However, in our opinion, the addition of log shooting changes the game for this camera's usefulness. Features like this, along with support for wireless mics, should make more videographers take GoPro more seriously as an asset for cinematic recording. Traditionally, I, the author of this review, mainly thought of GoPro as an option for my hypothetical trip to Europe that my friends and I talk about, but never actually plan (next year for sure). Though a GoPro has always been great for these travel uses, I can now see using GoPro for more serious occasions, such as documentary filmmaking.
Users should expect some level of noise and reduced sharpness when shooting in low-light conditions. However, with the increased resolution and dynamic range provided through shooting in the log profile, the camera performs slightly better than its predecessor — but only slightly.
Stabilization
The GoPro HERO12 Black introduces enhanced stabilization technology, building on the previous versions' capabilities. The newly improved HyperSmooth 6.0 stabilization system is designed to produce smoother footage in various conditions. It now includes an AutoBoost function that crops the image more or less depending on the amount of movement. With this feature, users don't have to sacrifice a wide field of view for smooth footage as much as they did with traditional in-body stabilization.
The Horizon Lock feature is still great, and another reason why GoPro is the standard for action cameras. This feature keeps the horizon level, regardless of how the camera moves. Horizon Lock is part of the camera's stabilization system and is especially useful for action shots, like biking or skiing. When activated, it works in tandem with the HyperSmooth feature to keep the horizon level in the frame, even when the subject tilts or rotates. We still get amazed looking at videos with Horizon Lock. It's essentially video magic.
No one's perfect
Quik app
Though not an issue with the camera itself, the largely integrated GoPro app has faced some criticism. The GoPro Quik app is designed to complement the camera by facilitating easy editing and sharing. However, it has faced criticism for its performance issues. Users have reported frequent crashes, especially when working with large footage. This potential instability poses a significant problem for those who rely on the app for quick edits.
Additionally, some users have noted that the app's user interface is not as intuitive as it could be, leading to a steeper learning curve for those new to video editing. These drawbacks can make the overall experience less seamless, diminishing the convenience that the app is supposed to offer. Despite its potential to enhance the usability of the HERO12 Black, the Quik app's current shortcomings could be a point of frustration for users.
No GPS
One big gripe for some is that the GoPro HERO12 Black lacks GPS functionality, a feature present in many previous models. Sacrificed for improved battery life, GPS data in earlier models like the HERO11 allowed users to overlay information like speed, elevation, and route on their videos. This was particularly useful for outdoor enthusiasts and professionals who wanted to add contextual data to their footage.
The absence of GPS in the HERO12 Black means that users will have to forgo these overlay options or hold on to their previous model. For what it's worth, using a GoPro HERO11 and HERO12 Black together with Max Lens 2.0 mods could make for some sick 360-degree footage.
GoPro HERO12 Black: A recap
How does it compare?
In the action camera market, the GoPro HERO12 Black holds a strong position. It offers a range of advanced features that set it apart from competitors. While brands like DJI and Insta360 have made strides with models like the DJI Osmo Pocket 3 and the Insta360 ONE RS, the HERO12 Black stands out for its higher-resolution recording capabilities, and features like GPLog, Scheduled and Duration shooting, timecode syncing and more.
The inclusion of wireless mic support and timecode sync in the GoPro HERO12 Black specifically marks a significant step in making the camera more appealing to professionals. In addition to timecode sync, the camera's GPLog color profile provides more latitude for color grading. That's another important factor for professional videography.
The HERO12 Black also offers enhanced stabilization, improved thermal management and a variety of creative shooting modes. These features make it a versatile tool for various scenarios. While each competitor has its own strengths, the GoPro HERO12 Black's comprehensive feature makes it the standard in the action camera market.
Marketplace
Since its first HERO model, GoPro has pretty much had a chokehold on the action camera market. However, other popular camera brands have started to try their hand at creating an alternative action camera, improving on areas where GoPro may lack.
The DJI Osmo Action 4 is a similar action camera that features a larger sensor than the GoPro HERO12 Black. At the same time, it also has a 16% smaller build. This makes the Osmo Action 4 more suitable for low-light filming and portability. Also, underwater videographers can use the Action 4 at 18 meters. That's 8 meters more than allowed by GoPro without an additional housing.
Both video and photo resolution are better on the GoPro HERO12 Black. The ability to take 5.3K video at 60 fps is just something that can't be beat at a $400 price point. Those looking to take stills will also benefit more from the HERO12 Black's 27 MP, a significant detail advantage over the Osmo Action 4's 10 MP.
For the reasons above, we prefer the HERO12 Black for our action camera needs. However, both are solid action cameras, and the differences are subtle in most aspects. Those shooting in low light or during deep water dives may benefit more from the DJI Osmo Action 4.
Who is it for?
The GoPro HERO12 Black caters to a broad range of users, from hobbyists and outdoor enthusiasts to professional videographers. Its durable build, water resistance and array of shooting modes make it an ideal choice for capturing high-action activities such as extreme sports, outdoor adventures and travel experiences. The camera's high-resolution options and features like GPLog and timecode sync make it equally appealing to professionals who require advanced capabilities for more complex shoots, including multi-camera setups and detailed post-production work.
The GoPro HERO12 Black sets a high standard in the action camera market, offering a range of features that appeal to both hobbyists and professionals. Whether you're an outdoor enthusiast looking to document your adventures or a professional videographer in need of a compact, yet powerful, camera, the GoPro HERO12 Black offers a feature-packed solution. Though we're excited to see how the action camera market evolves from here, GoPro remains on top — for now.
Is it worth the upgrade?
Overall, the GoPro HERO12 Black is a step up from the HERO11 Black. The GoPro HERO12 Black shines in daylight conditions, offering vibrant, high-quality videos with features like HDR and 10-bit video shooting. Its log profile and wireless mic support cater to serious videography, expanding its use beyond traditional action-packed settings to potentially include documentary filmmaking. Plus, the HERO12 Black's stabilization tech, particularly the HyperSmooth 6.0 and Horizon Lock, ensures level and smooth footage across various activities.

However, the GoPro Quik app's performance issues and lack of intuitive design can frustrate users seeking seamless editing and sharing. The absence of GPS, a staple in previous models, is also a notable drawback for those who value data overlays on their videos.

But, despite some limitations and competition, the GoPro HERO12 Black is a strong contender. It's worth considering for both action-packed adventures and more serious videography projects. If you don't already own the GoPro HERO11 Black, then the clear choice is the HERO12 Black. If you already own the HERO11 Black, there are reasons to upgrade, such as its longer battery life and super wide-angle lens. So, if you have the budget, the HERO12 Black is worth the upgrade.

Pros
HDR support
Timecode sync
GPLog color profile
Cons
Low-light performance
Quik app performance and design
No GPS support
Tech specs
Image sensor
Size-unspecified CMOS
Sensor resolution
Effective: 27 megapixel
Media/memory card slot
Single slot: microSD/microSDHC (UHS-I) [512 Maximum / U3/V30 or faster recommended]
Still image support
RAW
27 MP
IP streaming
H.265
1920 x 1080
Display type
Fixed touchscreen LCD
Image stabilization
Digital
Environmental protection
Advertised as submersible to 33′ / 10.1 m
Built-in mic
No
Mobile app compatible
Yes: iOS only
Video output
No
Microphone input
No
Headphone jack
No
Battery
Rechargeable battery pack, 1720 mAh
Image sensor
Size-unspecified CMOS
Sensor resolution
Effective: 27 megapixel
35 mm-equivalent focal length
12 to 39 mm
Maximum aperture
f/2.5
Fixed focus
No
Angle of view
156 degrees (8:7 aspect ratio)
Media/memory card slot
Single slot: microSD/microSDHC (UHS-I) [512 maximum / U3/V30 or faster recommended]
Video format
5312 x 2988 at 60 fps (MP4 via H.265/HEVC)
3840 x 2160 at 100/120 fps (MP4 via H.265/HEVC)
2704 x 1520 at 200/240 fps (MP4 via H.265/HEVC)
1920 x 1080p at 200/240 fps (MP4 via H.265/HEVC)
Still image support
RAW
27 MP
Audio format
WAV
IP streaming
H.265
1920 x 1080
Display type
Fixed touchscreen LCD
Display size
2.27 inches
Resolution
368 x 552
Secondary display
Front: 1.40-inch LCD live-view monitor
Shutter speed
1/8 to 30 seconds in Photo mode
1/480 to 1/30 second in Video mode
ISO sensitivity range
Photo
100 to 3200
Video
100 to 6400
Shooting modes
HDR
Night
Star Trails
Super Slow Motion Movie
Time-Lapse Movie
Interval recording
.5 second
1 second
2 seconds
3 seconds
5 seconds
10 seconds
30 seconds
60 seconds
120 seconds
Burst Photo
60 photos / 10 seconds
60 photos / 6 seconds
30 photos / 6 seconds
30 photos / 3 seconds
10 photos / 3 seconds
30 photos / 1 second
10 photos / 1 second
5 photos / 1 second
3 photos / 1 second
Self-timer
3, 10 sec
Remote control
No
Built-in speaker
No
Built-in light/flash
Light — No
Flash — No
Wireless
Bluetooth
Accessory shoe
No
Tripod mounting thread
1/4-inch-20 Female
Inputs
1 x USB-C 3.0 / 3.1/3.2 Gen 1
Video output
No
Microphone input
No
Headphone jack
No
Operating temperature
14 to 95°F / -10 to 35°C
Dimensions (W x H x D)
2.8 x 2 x 1.3 inches / 71.8 x 50.8 x 33.6 mm
Weight
5.4 oz / 154 g (with battery)
Charging method
USB
Power adapter
5 VDC