The Fujifilm X-T4 has a very impressive resume. Its APS-C CMOS sensor with an effective pixel count of 26.1 MP can capture up to 10-bit with a 4:2:0 color space internally at a bitrate of up to 400 Mbps. Its top resolution is DCI 4K at 60 frames per second but can shoot up to 240fps in HD. It shares many features from the prior model, the X-T3, but adds a deeper grip, they removed the headphone jack and gave it in-body image stabilization. With specs like those, we had to get our hands on it and put it to the test. We were pleasantly surprised by the results.
Film simulation and F-Log
Fujifilm is known for its film simulations and the X-T4 is no different. Our favorite of the simulations is called ETERNA. A new film simulation to the X-T4 is ETERNA Bleach Bypass that Fujifilm describes as "adding richness with its high-contrast and low-saturation". Along with film simulation, the X-T4 also serves up F-log, which offers the most dynamic range.
[vimeo 408118283 w=640 h=360]
Dynamic range
Shooting F-log in 10-bit, the X-T4 can capture 14 stops of dynamic range. When shooting F-log in 8-bit, it loses one-stop for 13 stops of dynamic range. When shooting in standard (Rec.709) color profiles in 10-bit, the camera went down to 10 stops of dynamic range. Finally, when shooting non-log in 8-bit, the camera shows its worst dynamic range at just 5 stops.
For the best of both worlds, the X-T4 can capture F-log internally to the SD card but output standard Rec.709 video via the HDMI. This way, if you need the added dynamic range of the F-log footage you have it; if not, the footage is ready to cut.
[vimeo 408098682 w=640 h=338]
High frame rate recording
The Fujifilm X-T4 shoots up to 240 fps in HD. When slowed to 24fps, that gives you 10 times slow motion. More useful is 60 fps in 4K. At 60fps, you can get 2.5 times slow motion, enough for many cinematic slow-motion needs.
The X-T4 can shoot in-camera slow-mo. That means it shoots at a high frame rate that is then forced to be a lower frame rate in-camera for immediate slow-motion playback. However, there is a drawback to shooting this way: there is no audio captured when shooting above 60 frames per second. If the video ever needs to be played back in real-time, there won't be any audio to speed up.
Something else to consider when shooting at the higher frame rates is there is a trade-off in detail for those additional frames.
Another byproduct of the higher framerate is an increased crop of the picture. When shooting in 60 fps, the X-T4 has a 1.17 times crop over the 1.52 times crop from the APSC sensor for an overall 1.78 times crop from full-frame — important to consider when choosing lenses.
[vimeo 408088174 w=640 h=338]
Image stabilization
Happily, the X-T4 has in-body image stabilization. IBIS is a very welcome addition making handheld shot much easier to watch. It also offers digital image stabilization. DIS will work similarly to doing stabilization in post-production. Because of this, when recording in 4K with both IBIS and DIS enabled, the video crop factor is fixed at 1.29x. And when DIS is on alone it gives you a 1.1x crop over the crop of the APS-C sensor.
Since the IBIS works very well, we would opt to do any additional digital stabilization in post-production rather than with the camera.
[vimeo 408103181 w=640 h=338]
Autofocus
At first, we tried autofocus tracking with little Lego figures. Unfortunately, the camera did not recognize their faces to do face tracking. What worked surprisingly well, however, was when the figures were within the tracking point and the camera just kept up with the changes in distance.
Next, we tried a real face using face detection. First, we recorded our subject zigzagging across the frame, starting 25 feet away from the camera. The camera picked up our subject 12 feet away and we got better eye-tracking results when the subject took off their hat and glasses. However, the results were still impressive regardless.
We even tried to challenge the system by popping into the frame. With the camera focused on the background far away, we popped our head into the frame, and the camera quickly found it. It was almost instantaneous. If you are shooting a subject and want to keep the focus on their face, we would not hesitate to use the AF on this camera. It was very quick to respond and held focus very well.
[vimeo 410794575 w=640 h=360]
Low light performance
Shooting in standard color, we shot an ISO ramp from 100 to 12800. This will show us at what ISO noise is introduced into the picture. We observed that noise starts at ISO 800 and is too significant to use over ISO 3200. This is a big disappointment. Most mirrorless cameras have a better than average low light performance. With results like this, it performs more like a DSLR than a mirrorless camera, and that's not a good thing.
[vimeo 408124882 w=640 h=338]
Rolling shutter
The X-T4 shows some rolling shutter effect when shooting at 4K 24 fps. It's not bad, but it's there. However, because the effect is subtle with this camera, it should only be an issue when shooting fast-moving subjects or when moving the camera quickly.
Moiré
The X-T4 has slight moiré when shooting fine lines, but it's not horrible. When static, lines don't dance, but when panning, it is much more noticeable.
[vimeo 410797918 w=640 h=360]
Analog dials for shutter speed and ISO
The exterior ISO controls are fantastic. When paired with a lens with manual aperture control, there is no reason to go into the menu to adjust the exposure. It makes for a really nice experience shooting this camera.
Having all of the exposure controls at your fingertips lends itself to flow state shooting, where you can let muscle memory translate your exposure needs. Nothing is worse than shooting when you are inspired and having to think about where to find the controls within a menu or via a dial that runs double duty.
When shooting video, the analog control of the shutter speed isn't as helpful. Usually, you'll keep your shutter speed set to double the framerate (or close). Raising the shutter speed will create a staccato effect in your video. Lowering it will produce more motion blur. Unless you are going for one of these effects, don't change your shutter speed. This means the exterior control of the shutter speed is unnecessary.
Button selection
There aren't a lot of buttons to re-assign, but the analog buttons along with a touch screen make custom buttons less necessary. When you are shooting video, the camera has a quick menu just for video mode.
One feature we always look forward to on Fujifilm cameras is the Q button. This button opens a personalizable quick menu, where you can add all of the functions you use often.
Menu
The menu can be a big issue for many cameras. It's important to be able to pull up and change any setting or function you need when you need it. Hunting around in a menu is lame and a waste of time.
Luckily, the X-T4 has a good menu. It's easy to choose the resolution, frame rate and bit rate in one menu. When in the menu, you don't see options that are not possible at your current setting, instead they are greyed out. This makes it easier to identify when you have the wrong settings for your shoot.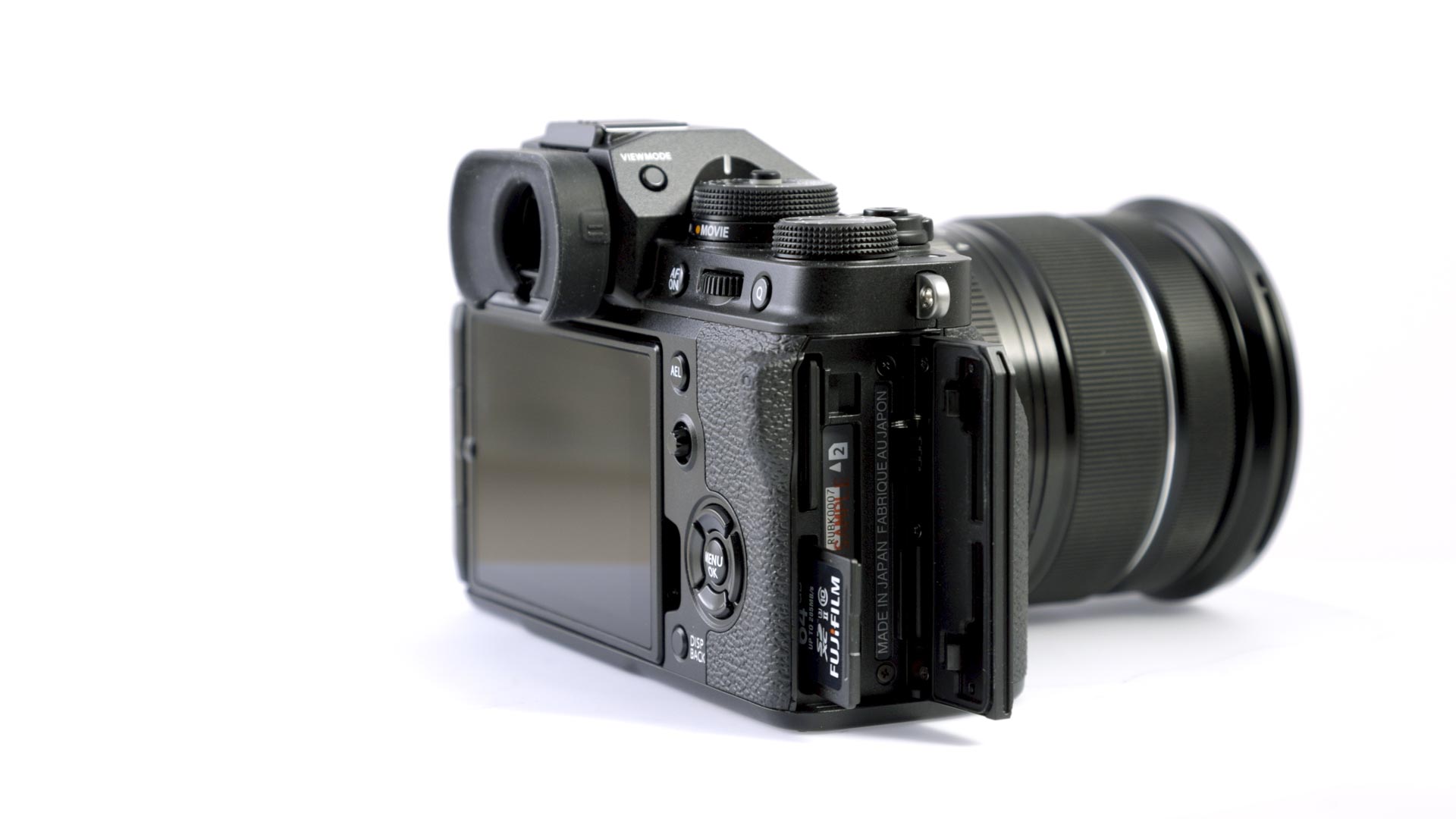 Using the rear display
If you plan on using the X-T4 to vlog with, the camera gives you the benefit of being able to see yourself as you shoot. Moreover, the fully articulating screen allows you to get the right angle to properly monitor your shot, whether high, low or in bright situations. Being able to fully articulate the screen is wonderful. No matter the conditions in which you need to see the screen, you will be able to get it there.
It's also a huge improvement over the X-T3. The brightness of the screen gets only a bit brighter compared to its default. However, because of the articulation, limitations in brightness are easy to overcome by moving the monitor.
EVF
The electronic viewfinder has a very high resolution. At 3,690,000 Dots, it offers more value than you pay for. No other APS-C mirrorless camera offers a monitor of that quality. This is a huge benefit of being able to see all the detail you need to get a sharp focus.
There is also a button on the EVF that turns it on or off. Since we prefer to use the rear monitor, it's helpful to be able to quickly turn off the EVF. Most cameras start with the EVF on auto detect. That means that if you, say, bring the camera close to your body, it might think that you are pulling it to your eye. In response, the camera will often turn off the monitor and turn on the EVF.
With the Fujifilm X-T4, however, the button is easy enough to operate and prevents some frustration.
HDMI output
Because we review a lot of cameras, we have lots of adapters to convert HDMI to micro, mini, or full size. In most cases, we would prefer a full-size output from the camera. We would have accepted a mini-HDMI port as a good compromise, but unfortunately, it has the smallest, most delicate, and outside of cameras, most unused size out of all the HDMI size options: the micro HDMI port.
With the complaining aside, the X-T4 does give you 10-bit 4:2:2 when recording externally.
Shoot assists
The X-T4 offers all of the shot assists you need: peaking to make sure your shots are sharp, zebras to be able to see what is close to or overexposed, and audiometers to verify audio input and set gain. Lastly, it has a histogram to give you an overall look at the exposure of your frame.
Lenses
The nice thing about shooting on a camera with a smaller sensor is that the lenses are cheaper. Full frame lenses require larger glass elements and are typically double the price compared to lenses for smaller sensors. A great kit, ready for any shooting situation, would consist of a set of primes and a couple of zooms. Remember that the X-T4 has a crop factor of 1.52 times, so make sure to choose your lenses with this in mind.
The first lens we shot with was a wide/normal prime, the FUJIFILM XF 23mm f/2 R WR with a cost of $450 and an effective focal length 34.5mm. For our normal prime, we choose the FUJIFILM XF 35mm f/2 R WR with a cost of $400 and an effective focal length 52.5mm. For our telephoto prime, we choose the FUJIFILM XF 50mm f/2 R WR for $450 with an effective focal length 76mm.
When it comes to zooms, we would typically like to have our focal length covered from 16mm to 200mm, all with the same maximum aperture. The only issue is that a zoom at the 70-200mm range is typically the most expensive zoom. To get around this, we instead tried middle focal length zoom lenses.
The first is the kit lens, the FUJIFILM XF 16-80mm f/4 R OIS WR for $800 with an effective focal length 24-122mm. The big drawback of this lens is its f/4 maximum aperture. The camera doesn't have great low light performance, so f/4 won't cut when shooting in less than optimal lighting conditions.
With that said, the FUJIFILM XF 16-55mm f/2.8 R LM WR at $1,200 has an effective focal length of 24-84mm. This is a great range for most shooting. Plus, if this were a Canon, Nikon or Sony lens for a full-frame camera, it would be double the price for the same focal length and performance.
What about audio jacks?
The camera has just a dedicated mic input. With a USB-C adapter, you can add a headphone jack. They are cheap enough, typically less than $20.
This is a nice option, but if you ever needed to power your camera from an external battery, you couldn't use the headphone jack at the same time. This is a bit of an inconvenience because it's great to be able to charge the camera this way. If they gave us both, we would be much happier. Additionally, a small adapter like USB-C to ⅛ inch is an easy one to lose.
Audio input and quality
Most cameras have poor quality preamps. This creates unwanted noise in your signal. Worse, the process of removing this noise in post can make voices, especially female voices, sound thin or watery. To test the quality of the preamp, we used a Rode VideoMic NTG. With it, we can switch between using the preamp on the microphone or the one in the camera.
Testing first the preamp on the camera, we heard noise in the signal. Then, with the same level of input capture, we turned the camera all the way down to one notch above zero. Using the preamp in the mic was a huge improvement. It doesn't take a good ear to hear it either, it's very noticeable.
We don't expect interchangeable lens cameras to have a low noise floor preamp, and the X-T4 is not any better than the rest of the poor camera preamps out there.
[vimeo 408127123 w=640 h=338]
Media
A really big feature of this camera is something that Nikon and Canon choose not to do in their full-frame cameras: two media card slots. You read right, the X-T4 offers two media card slots, and they even match with two SD/SDHC/SDXC (UHS-II) cards.
With those slots, the camera can create a backup, printing the same thing to both cards. However, even though you can capture the same video to two different cards, you can't record those videos at different qualities to create proxy files in real-time.
Additionally, the camera retains a record time limit of 29 minutes 59 seconds.
[vimeo 408136274 w=640 h=360]
Battery
The X-T4 uses a new battery, the Fujifilm NP-W235. It provides about an hour and 20 to an hour and 30 minutes of battery life. Additionally, it didn't overheat throughout the full use of the battery. Because this is the only camera to use this battery, you won't be able to interchange batteries with any other camera, even if you own another Fujifilm camera. An extra battery will set you back $70.
Lastly, if you need to charge the camera, you don't need to bring along the charger; you can charge the battery using the USB-C port on the camera.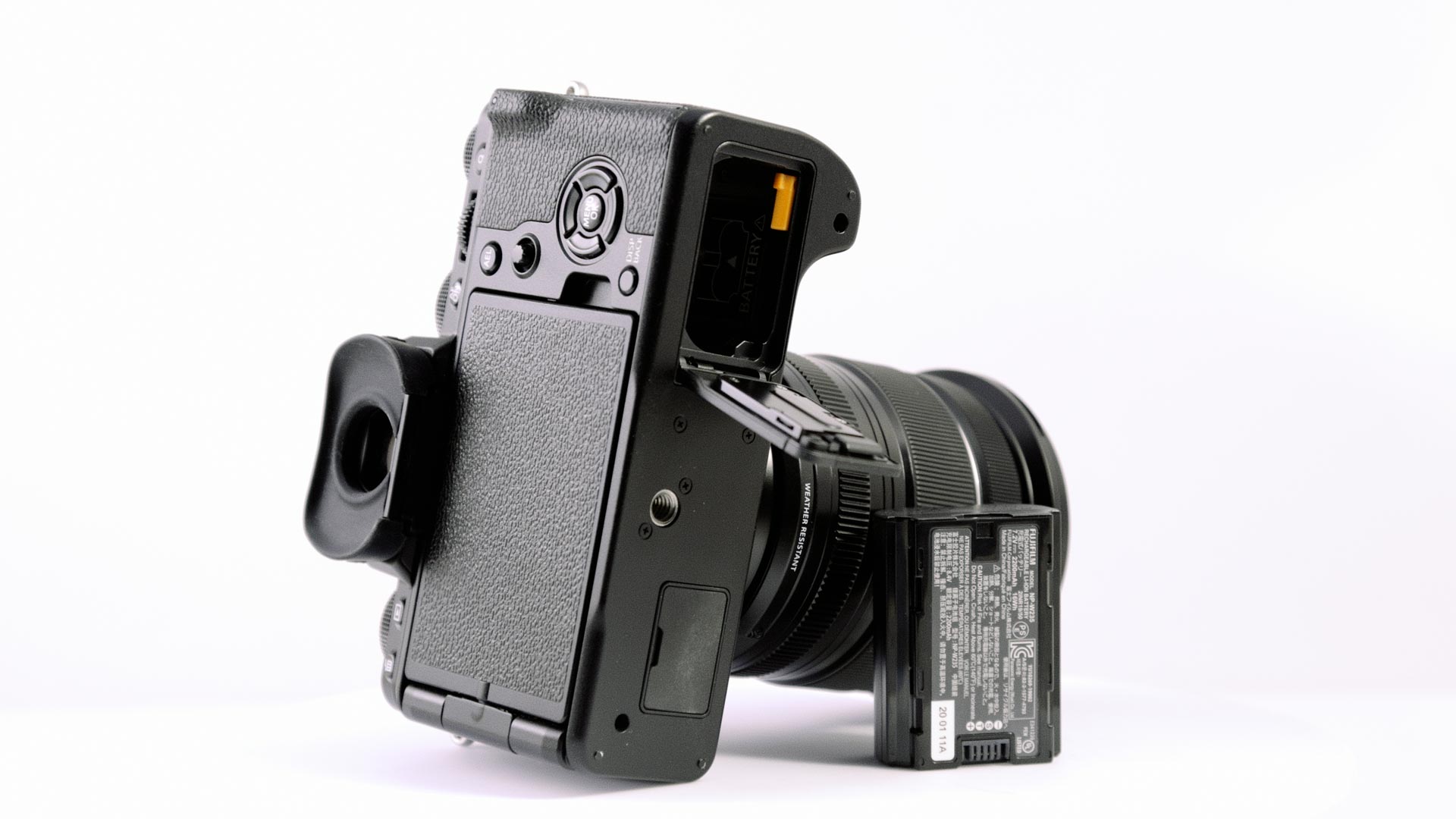 Marketplace
There are many APS-C mirrorless cameras in the marketplace. Let's look at what Sony, Nikon and Canon have to offer and compare those options to the Fujifilm X-T4.
The first camera is the Sony a6600. It's $1,400 — $300 less than the X-T4. It has both a headphone and mic jack, but that's where the advantages stop. The X-T4 has a higher resolution sensor at 26.31MP over 24.2MP. And while the a6600 can shoot up to 4K 60 fps with two flavors of log, it can only capture 8-bit video internally and externally.
The a6600 has a top frame rate of 120 fps in HD whereas the X-T4 can capture up to 240fps in HD. By more than a million dots, the a6600 EVF has a lower resolution. There are three things the a6600 does better than the X-T4, it has a better low light performance with noise starting at ISO6400, it has a longer battery life and it has no record limit time.
Next up is the Nikon Z50. At $860, it's a much cheaper camera, by almost half. Outside of the sensor size there isn't much shared between the two cameras. The Z50 has a 20.9MP image sensor, a single card slot, Digital IS, or OIS only, it has a 2.36 million dot EVF and a 1,040,000 Dot rear touchscreen. It doesn't offer a log and is 8-bit internal or external capture. The camera doesn't have a headphone jack and it can only shoot up to 4k 30fps.
Last is the Canon M6 MK II for $850. It has a much higher resolution sensor at 32.5MP, but only has a single card slot. It only offers digital or OIS stabilization and no EVF included. Its rear monitor is 1,040,000 and is tilt-only. It can only capture 8-bit and only up to 30fps in 4K.
So what did we think?
Fujifilm made a very strong camera with the X-T4. Its image is beautiful and every feature it offered worked and functioned well. We would have liked it to have a better low light performance, but outside of that, it's a great camera. The APS-C sensor will allow for more affordable high-quality lenses than that needed by full-frame cameras. Oh yeah, it also captures 10-bit internally and gives you two card slots.
Overall, the price is fair but is higher than its APS-C sensor competitors. The Fujifilm X-T4 is a great camera and would likely fit every need.
STRENGTHS:
Internal 10-bit
Up to 240fps in HD
IBIS
2 card slots
15 stops of dynamic range
WEAKNESSES:
Detail loss in high frame rates
Poor low light performance
Adapter needed for headphone jack
RECOMMENDED USES:
Narrative filmmaking
Corporate and event videography
Marketing video production
Online video production
TECH SPECS:
Lens Mount: FUJIFILM X
Camera Format: APS-C (1.5x Crop Factor)
Pixels Effective: 26.1 Megapixel
Maximum Resolution: 6240 x 4160
Aspect Ratio: 1:1, 3:2, 16:9
Sensor Type: CMOS
Sensor Size: 23.5 x 15.6 mm
Still Bit Depth: 16-Bit
Image Stabilization: Sensor-Shift, 5-Axis
Continuous Shooting Mechanical Shutter

Up to 15 fps at 26.1 MP for up to 38 Frames (Raw) / 110 Frames (JPEG)
Up to 10 fps at 26.1 MP for up to 44 Frames (Raw) / 164 Frames (JPEG)
Up to 8 fps at 26.1 MP for up to 49 Frames (Raw) / 200 Frames (JPEG)

Electronic Shutter

Up to 20 fps at 26.1 MP for up to 36 Frames (Raw) / 79 Frames (JPEG)
Up to 30 fps at 20.9 MP for up to 35 Frames (Raw) / 60 Frames (JPEG)
Up to 20 fps at 20.9 MP for up to 37 Frames (Raw) / 114 Frames (JPEG)
Up to 10 fps at 20.9 MP for up to 48 Frames (Raw) / 500 Frames (JPEG)

Recording Modes: MOV/H.264/H.265 10-Bit

DCI 4K (4096 x 2160) at 23.976p/24.00p/25p/29.97p/50p/59.94p [100 to 400 Mb/s]
UHD 4K (3840 x 2160) at 23.976p/24.00p/25p/29.97p/50p/59.94p [100 to 400 Mb/s]
DCI 2K (2048 x 1080) at 23.976p/24.00p/25p/29.97p/50p/59.94p [50 to 200 Mb/s]
Full HD (1920 x 1080) at 23.976p/24.00p/25p/29.97p/50p/59.94p/100p/119.88p/240p [50 to 200 Mb/s]

External Recording Modes: 10-Bit DCI 4K (4096 x 2160)
Recording Limit: Up to 30 Minutes
Audio Recording: Built-In Microphone (Stereo)
Autofocus Points: Phase Detection: 425
Viewfinder Type: Electronic (OLED)
Viewfinder Size: 0.5″
Viewfinder Resolution: 3,690,000 Dot
Monitor Size: 3″
Monitor Resolution: 1,620,000 Dot
Monitor Type: Articulating Touchscreen LCD
Memory Card Slot: Dual Slot: SD/SDHC/SDXC (UHS-II)
Connectivity: USB Type-C (USB 3.1), HDMI D (Micro), 3.5mm Microphone, 2.5mm Sub-Mini, PC Sync Socket
Battery: 1 x NP-W235, 7.2 VDC, 2200 mAh (Approx. 600 Shots)
Dimensions (W x H x D): 5.3 x 3.65 x 2.51″ / 134.6 x 92.8 x 63.8 mm
Weight: 1.16 lb / 526 g (Body Only)