The Fujifilm X-T30 offers a staggering list of features for the reasonable price of $900. This review will focus primarily on the features most important for video shooters. To start, the X-T30 has best-in-class internal capture of DCI 4K at up to 29.97 frames per second and 200 megabits per second. It can also output 10-bit DCI 4K with 4:2:2 color space via HDMI. This camera can even shoot in Fujifilm's F-log either internally or externally via HDMI. Plus, its video autofocus includes eye tracking that actually works pretty well, and because of Fujifilm's commitment to the APS-C sensor size, there is a large selection of affordable prime and zoom lenses for this camera.
At this point, it's hard to believe we are still talking about a $900 camera. However, the camera doesn't come without flaws. One big one is an internal record time limit of 10 minutes in 4K and 15 minutes in HD. It's also missing a headphone jack, though to get around this, you can use the USB port with an adapter to monitor the audio.
The mic jack is also smaller than typical with an odd 2.5mm size, not the 3.5mm like most use. Finally, the camera isn't weather sealed.
Overall though, the camera's offerings make it a big contender for those with a modest budget. And if you are just starting out in filmmaking, it would make a great starter camera.
Advertisement
Perks and quirks
In this section, we'll to cover our favorite aspects of the camera that we call perks. We then counter those perks with aspects we don't like as much, called quirks. With these perks and quirks, we hope to uncover the aspects of the camera you might weigh out to see if it's for you. These are the highlights of the camera, we'll be giving you our evaluation results from those features further down in the review.
//cdn.playwire.com/bolt/js/zeus/embed.js
DCI 4K and a 200Mbps bit-rate
Perk number one: DCI 4K in 10-bit with 4:2:2 color space out the HDMI. Comparing the 8-bit internal capture to 10-bit recorded externality is very enlightening. The difference between the billions of colors captured in 10-bit and the millions captured in 8-bit is huge. Another bonus is that there is no record time limit when you capture externally.
10-bit is great, but it's not necessary unless you are big into color. Most looking for a camera at this price might not need the additional colors. If that's the case, the camera's internal capture will be more than sufficient. The X-T30's top internal bit-rate of 200 Mbps is twice that of its closest competitor, the Sony a6400. The a6400 only offers bitrates up to 100 Mbps.
No in-body image stabilization
The first quirk is the absence of sensor stabilization, also known as in-body image stabilization or IBIS. A camera of this size is great for bringing along on any adventure, but without IBIS, street shooters might pause on choosing the X-T30. Shooting at anything longer than 35mm without image stabilization will show shake, even when shooting with a steady hand. If this is a concern to you, choose a lens with optical image stabilization. While shooting the FUJIFILM XF 10-24mm f/4 R OIS, we saw a great improvement with the OIS on.
Retro controls and stylish looks
The X-T30's next perk is Fujifilm's signature retro analog controls and a very stylish exterior. We can't say that the look of the camera will have any effect on the technical side of capturing images, but for those who care, its looks could lead to inspiration.
The X-T30 has three dials on the top of the camera. Unlike the larger Fujifilm cameras, the X-T30 doesn't have a dial for every exposure control. Instead it uses a mode control dial, exposure compensation dial and shutter speed dial. The dials have a bigger impact on its aesthetic than on function for video shooters. Because of the limits of adjusting shutter speed, this dial is not as helpful for video shooters. As a rule, you should set your shutter speed to about double the frame rate. Going above that creates staccato video. It would be great if this dial offered ISO control since video shooters will likely be adjusting ISO more often.
Did I press the Q button again?
The design quirk that perk is the location of the Q button. The Q button pulls up the quick menu of the camera. Although the Q button is helpful in that it gives faster access to many functions that would be otherwise hidden in a menu, it's in a bad spot. While researching the camera, we noticed the location of the Q button was a complaint we saw repeated over and over again.
Because of its placement, the Q button is too easy to press. It's right where your thumb rests — a problem made worse by the camera's small size. This meant we frequently opened the quick menu when it wasn't needed. Even knowing about the issue, it plagued us during every use of the camera. To hide the menu, you'll need to press the Q button again — no big deal, right? Most of the time it was just a minor nuisance, but when you are trying to capture a moment and the menu pops up, it might mean you miss the shot.
//cdn.playwire.com/bolt/js/zeus/embed.js
F-Log
A perk that we adore is the option to shoot F-Log internally at every frame rate, including in 120 fps. Unlike other camera brands, Fujifilm offers a free 3D LUT for taking F-log to Rec 709 or to their popular cinematic film emulation ETERNA. We'll talk more about F-Log later, but overall, F-log is a great log profile. It offers a noticeable difference in dynamic range over non-log shooting.
10 minute record limit?!?
One of the most significant quirks about this camera for video shooters is its record time limit. In 4k, you get 10 minutes of capture time. Additionally, when that clip is complete, the camera buffers for a few seconds. This means that if you need to capture something longer than 10 minutes, you will have a gap of a few seconds between clips. In HD, you get 5 more minutes of record time for a total clip length of 15 minutes.
With most cameras, we are frustrated with 30-minute clip limitations; getting a third of that in 4K is unfortunate. Some shooters can deal with the limit more easily than others since not all shooting situations require long clips. However, it's a big deal to video shooters capturing any kind of event. As we said before, the way to overcome the record limit time is to capture with an external recorder via HDMI.
//cdn.playwire.com/bolt/js/zeus/embed.js
Up to 5-times slow-motion
The last perk we're going to discuss is the X-T30's ability to capture up to 120 frames per second in HD. For most cinematic purposes involving people, a top frame rate of 120 fps is all you need. When shooting at 120 fps, there is an additional crop of the sensor. It wasn't a huge crop, but it is enough that you'll need to plan for it. When shooting any frame rates over 120, many actions simply take too long after being slowed down. To access 120 fps, the camera needs to be set in high-speed record mode. It does not capture audio in this mode. The top frame rate for audio capture is 60 fps in HD.
Who uses a 2.5mm mic jack?
The last quirk is a strange one. Fujifilm put a 2.5mm mic jack on the X-T30. We have more than a dozen different camera mounted microphones here at Videomaker and none of them have a 2.5mm cable. They all have 3.5mm, the standard for on-camera mics. This goes for shotgun, stereo and wireless mics. A 2.5mm converter to 3.5mm will set you back $4 on Amazon, but the fact that you need it in the first place is lame.
However, it's not all negative when it comes to audio input for the X-T30. Even when you have a mic plugged into the camera, you can capture and adjust the gain for the on-camera mic and an external mic separately. Lastly, although it does not have a headphone jack, for as little as $10, you can get a dongle that plugs into the USB-C port to provide a 3.5mm headphone jack out. This is a big deal as we always recommend you listen to the audio you capture. Being able to use the USB port this way is fantastic. We just wish they included the adapters with the camera; they would be cheap enough to supply in the box.
Ergonomics of the X-T30
How the camera feels in your hand is only one aspect of the ergonomics of a camera. Sure it plays a big role, but there are so many other aspects that need to be considered — like the location of the buttons or how easy the menu is to access and use. We also consider the screen itself and whether or not the camera provides the shoot assists you need.
Weight and size
Although the camera has a lot of analog controls, the body is still small and light. Excluding the weight of the lens, the X-T30 weighs 383 grams for the body with battery and memory. That's just 20 grams less than its biggest competitor, the Sony a6400. The a6400 weighs 403 grams for the body with battery and memory.
Both cameras are the same width at 4.47 inches. The a6400 is slightly shorter at 2.6 inches to the X-T30's 3.3 inches. Lastly, the a6400 is deeper thanks to its grip. The grip is very minimal on the X-T30 with only a slight ledge to grip with your fingertips. Still, it feels well balanced in the hand, of course depending on the lens you use. If it wasn't for the location of the Q button, the camera would be easier to grip. Its small size and weight are just asking it to be brought along, making it great for street shooting.
Buttons, joystick, menu, touch and tap
There are two aspects to the usability of a camera: where the buttons and controls are located and how well they execute the functions they control. Starting with the joystick, we like that it's small yet easy to access. It can get you through the menu navigation or to place your focus point. We find ourselves in a camera menu's a lot when reviewing a camera. The menu button is just below the joystick, so they make a good pair.
The menu button is also the OK or execute button. Because they share the same button, another button is needed to exit or go back in a menu. We would have preferred the menu button to get you in and out of the menu. Instead, it gets you deeper into the menu. The button below the menu button is the display and back button.
If the menu button was also the back button and the ok placed on the click of the joystick, we feel access and navigation in the menu would be more intuitive. We say this because the menu layout and organization is great — no complaints there. It's easy to find and change frequently used options like resolution, frame rate and bitrate so you can get back to shooting. Lastly, you can tap and touch the monitor to take a picture or make a focus area selection as well as navigate the menu.
Button selection
We already mentioned we would like the shutter dial on the top of the camera to control ISO instead of shutter speed; that's because we are video shooters. Other exposure controls have either a lens ring or dial. Three of the four lenses we used during testing had aperture control rings on them. We then used the index and thumb dials to control the ISO and shutter.
The dial on the top sets the base shutter speed and allows for slip up and down shutter speeds. We are glad to have analog control over the exposure triangle. It makes it easy to change the ISO, shutter speed or aperture quickly. Happily, the shutter can be set to 1/48 for those shooting at 24fps. It's the little things that show you that Fujifilm cares about the video function on their cameras.
The monitor
The 3-inch, 1,040,000 dot monitor is acceptable for the price of this camera. The monitor doesn't articulate along the third axis that would allow for angled vertical shooting in the X-T3, but as a video shooter, it's not going to be missed. When shooting in full sun, the screen is not bright enough to expose properly. However, when the screen is set at the maximum +5 brightness, it brightens up the screen just enough to be usable.
Shoot assists
The X-T30 has all of the typical shoot assists a video shooter would need. It offers focus assistants like peaking in different strengths and colors. It is bold enough to read well, and being able to choose the peaking color means you can see it in any shooting situation. The camera also has an autofocus zoom when in manual focus that also helps with nailing the focus.
Additionally, the camera offers zebras with control over the amount of white you want them to signal for and what direction the zebra strips go. This is a cool and unique feature, though the number of situations you might find yourself needing the zebras to go in the opposite direction is small. Lastly, you can turn on a simple histogram as you shoot; it's small but helpful.
One media card slot
The camera offers one SD card slot. If you require two, you will need to up your budget, because one is all you should expect at this price. Shooting at the top bit rate of 200 Mbps, the camera captures 1.5GB of data every minute. This gives a 64GB card about 42 and a half minutes of record time.
Additionally, the camera doesn't require the fastest newest media so the media will be affordable. We used both a 64GB Fujifilm Elite Performance SDXC UHS-I U3 Class 10 memory card and a 64GB Sony SDXC UHS-I U3 Class 10 memory card with no problem. As a rule, always format and clear your media in your camera before use to reduce the risk of data loss.
One thing we don't like about the media card slot is its location. It's in the shared compartment used for the battery. If you have a tripod plate connected, it will need to come off to access the door to the battery and media. However, this is exactly where the Sony a6400 puts its battery and media, as well, so it's likely a symptom of the camera's small size.
Bitrate, bit depth and frame rate options
The X-T30 has three bitrate options, though not all resolutions offer all of the bitrates. HD shooting supports all three: 50Mbps, 100Mbps and 200Mbps. 4K, on the other hand, doesn't support the lowest 50 Mbps bitrate. Internal capture is 8-bit with 4:2:0 color space. The external output is 10-bit with 4:2:2 color space up to DCI 4K 29.97. The camera can shoot up to 120fps in HD using high-speed mode but no audio is captured. Additionally, it takes that 120fps and conforms it down to a standard frame rate like 23.976 for up to five times slow-mo.
Film emulation and F-Log
Fujifilm is known for its film emulation. Unlike the picture profiles that other cameras offer, Fujifilm's film emulation is much more usable and, in some cases, preferable to a normal look. The camera has five color film emulations starting with the standard or PROVIA emulation, Velvia or Vivid emulation, ASTRIA or soft emulation, Classic Chrome emulation and lastly, ETERNA or Cinema emulation. If your production is going to have a look, maybe think about shooting it in camera.
The X-T30 can also shoot F-Log in all of its resolution and frame rate options, even when shooting 120fps. Additionally, F-log can be captured internally and externally in all resolutions and framerates. Plus, Fujifilm offers a free ETERNA LUT for times when you want the look of ETERNA with the control of F-Log .
//cdn.playwire.com/bolt/js/zeus/embed.js
Dynamic range
The camera doesn't have a huge dynamic range. When shooting a scene with full sun and full shade, we had to choose to expose for either the bright or the dark areas — we couldn't get proper exposure for both at the same time. Is this different from other cameras at the same price? No.
On the upside, we did find that when shooting in F-log that we had enough information in the shadows to pull them up. This means that if you expose for the highlights, you can bump up the shadows in post. It's more work, but unless you shoot at higher ISOs, it's the way to get the most dynamic range out of this camera. Fujifilm's F-log does a great job of giving more dynamic range to a shot.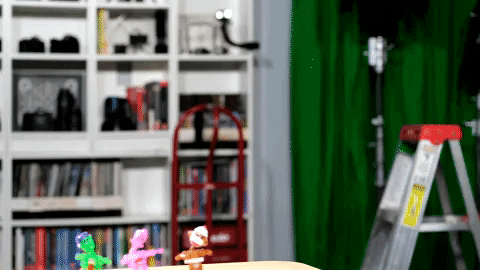 Rolling shutter
The X-T30 offers very little rolling shutter. This is true for 4K as much as it is for HD. The Sony a6400, by contrast, has a significant rolling shutter. Is rolling shutter something to be concerned with? Only if your shooting will include fast pans or be shot from something moving fast, like a car as it drives. For most other work, you can work around rolling shutter issues. In any case, the rolling shutter effect on the X-T30 is minimal.
Lenses used for this review
We shot on four native X mount lenses from Fujifilm: the XF 35mm f/2 R WR, XF 50mm f/2 R WR, XF 10-24mm f/4 R OIS and the XC 16-50mm f/3.5-5.6 OIS II. When on a tripod, we choose to shoot mostly with the 35mm and 50mm. At $400 for the 35mm and $450 for the 50mm, neither have OIS but offer a beautiful picture and fit nicely with the feel of the X-T30.
The two zooms couldn't be further from each other, the 10-24mm, although its f/4, is a great focal length for this camera when shooting from the hip. It has OIS but costs $1,000 — not a huge price for a lens, but it is more expensive than the body itself. The 16-50mm is only $200 and includes OIS but has a variable aperture across the zoom of the lens. When shooting a variable aperture lens, we recommend you use the larger f-number, so the exposure won't change with the field of view.
//cdn.playwire.com/bolt/js/zeus/embed.js
Autofocus
Good autofocus for video is rare. This is because any unplanned loss of focus on the subject means the shot is ruined. Regardless of how good the AF on a camera is, using it means you are yielding the focus decisions to the camera. Sure, you will set the camera to what type of AF you want and the area it should keep in focus, but if it thinks something else should get the focus, it doesn't consult you first. With that said, there are some situations where pulling a manual focus is not possible. When shooting on a gimbal, for instance, manually pulling the focus from the lens and maneuvering it is difficult, if not impossible, without extra equipment.
Area AF
We tested the AF on the X-T30 a few different ways. The first test was to evaluate the ability of the Area AF in AF-C mode to keep the focus on one subject. We then lined up three Lego figures so as one moved out of the AF area another one would come in but at a further distance from the camera, while pushing in and out of the scene. We had three depths to challenge the camera. It did a great job of moving to the next figure, giving us a quick rack focus. It worked a few times flawlessly, but other times, it hunted before changing to the next figure. Each time, the hunting was very quick, but it was there, none the less.
Eye Tracking AF
Moving on to testing Eye Tracking AF, we wanted to test the same way but found the lego faces were too small for the camera to identify. We later confirmed this by shooting someone walking toward the camera — it wasn't until the subject was 15-18 feet away that the camera identified a face. Your subject needs to either have a big head or be closer to the camera. Once we identified the issue, we placed a laptop open with a picture of Weird Al Yankovic five feet away from a foreground of toys. Testing eye tracking with left eye priority and right eye priority, the camera did a great job of keeping our subject in focus. However, we were only covering two feet in our push in or out.
We also did the same test with two faces in the scene, still 2-3 feet apart from each other. The camera was able to stay with the primary face — until we stopped moving. Then, it changed focus to the other face without being prompted to do so. Overall though, it kept focus well.
One more note: Beware of tracking eyes wearing glasses. The camera performed much worse when I was wearing glasses than when I was without.
Continuing to test Eye Tracking AF we set up our camera on a tripod and put our subject (myself) 24 feet away. I began to walk toward the camera, and at around 15-18 feet away, the camera picked up my face. When I got close enough to the camera for my forehead to hit the top of the frame and chin the bottom, the camera hunted, first focusing on the background and then finding my face.
AF and F-Log
This last shot had lots of dynamics in it with one side of my face being in full sun and the other full shade. We found that when we shot in F-log, the camera could see more of the face because of the increased dynamic range. This made the eye tracking function work better and gave us the same results every time.
//cdn.playwire.com/bolt/js/zeus/embed.js
Low light performance: The Noise Test
To test the low light performance of a camera, we increase the ISO and shutter speed together to counteract each other so we can see at what ISO noise enters the picture and when the image becomes too noisy for professional use. In 4k, noise starts around ISO 800 but only becomes an issue at 6,400. For a professional result, we would stay at or below ISO 6,400, though up to 12,800 could be used in a pinch. The noise does not start to color shift until ISO 25,600.
We observed no low light performance change when switching over to HD. When the internal noise reduction is turned on at its fullest strength, +4, it does minimize the noise a bit. However, this is countered with some sharpness loss. Additionally, the X-T30 offers interframe noise reduction as well, though we found that it didn't do much to correct the noise, either. It did, however, soften the noise a bit more than the normal noise reduction.
Battery life and overheating
This test determines how long the camera would last under its heaviest use.
First of all, the monitor was on and close to the body of the camera during the duration of the test. We set the monitor at its brightest setting and turned boost performance on. The AF was on in continuous mode with eye tracking turned on, and we set the camera to never sleep. The camera was inside, out of direct sunlight with an inside temperature of 76 degrees Fahrenheit. We shot in DCI 4k at 29.97 at the highest bitrate of 200 Mbps.
During the test, we had to stop the camera every 10 minutes and start again because of the limited record time. We also had to swap out the SD card around 42 minutes because the battery outlasted the capacity of the 64GB card. In all, we saw 54 minutes of continuous recording before the camera overheated. It gave us a warning at 50 minutes that it was hot, and it felt warm to the touch. When we removed the battery, both it and the SD card were also warm.
When we resumed the test, we were only able to get an additional two minutes from the battery until it was completely depleted. The overheating is unfortunate, though it didn't cause much performance loss; the camera would have needed a battery around this time anyway. Additionally, because of the record limit time, it's unlikely one would record non-stop through the full life of a battery. Remember, this test was to show the shortest battery life you can expect with the NP-W126S battery.
Fujifilm X-T30 vs Canon M50 vs Sony a6400
There are two cameras you should look at if you are considering an APS-C sensor mirrorless camera: the Sony a6400 and the Canon M50. Starting with the M-50, its $220 cheaper than both the a6400 and the X-T30 with a price of $680. It has a 24MP sensor and can shoot up to UHD 4K at 23.976 fps. It has a fully articulating touch screen that offers 2.36m dots and can shoot up to 120 fps, but only in 720 HD. it has Canon's Dual Pixel AF and offers internal electronic image stabilization.

We have already talked a lot about the Sony a6400 and how it compares to the X-T30. At $900, its the same price as the X-T30 and also offers eye tracking AF. The monitor on the a6400 can flip up for viewing yourself during a vlog or when shooting a selfie. The monitor is the same resolution as the X-T30.
One big advantage for the a6400 is that it has no pre-set record time limit. If you have a big card, it will keep rolling. The big drawback on the Sony is that you are limited to 8-bit internally or externally. Additionally, it does not offer a headphone jack or allow for the USB port as workaround like the X-T30. When using a Sony mic, a headphone-jack off the mic is available, but you won't be monitoring what is being captured, just the mic input. Or if you are using an external monitor, that will often give you a headphone jack, letting you listen to what is captured over what is coming out of the mic. The a6400 offers two flavors of log, S-Log2 and S-Log3, and also shoots up to 120 fps in full HD.
Final thoughts and recommendation
The Fujifilm X-T30 is a formidable camera with some great features, but it also offers a few unfortunate quirks. From the top, we love that F-Log can be captured in all resolutions and framerates. We also love that you can capture 10-bit out the HDMI. Fujifilm gives the ability to use a dongle to monitor with headphones, though we wish they would have included the dongle with the camera. We don't love the limited monitor articulation, the record time limit and the lack of IS outside of a lens with OIS.
If you can live with the record limit time or are using an external recorder, you can't beat this camera for $900. We loved the image from the camera, the added dynamic range from F-Log and its vast and affordable lens selection. If you are in need of an APS-C sensor mirrorless camera, you need to consider the Fujifilm X-T30.

SUMMARY
STRENGTHS:
10-bit 4:2:2 output via HDMI
F-Log capture at all framerates and resolutions
WEAKNESSES:
Location of the Q button
10-minute record limit in 4k
2.5mm mic jack
RECOMMENDED USES:
Marketing Video Production
Online Video Production
Casual Video Production
TECH SPECS:
Lens Mount: FUJIFILM X
Camera Format: APS-C (1.5x Crop Factor)
Pixels: 26.1 Megapixel
Image Stabilization: None
Interval Recording: Yes
Recording Modes: MOV/H.264
Internal Recording Modes: 4:2:0 8-bit

DCI 4K (4096 x 2160) at 23.976p/24p/25p/29.97p [100 to 200 Mb/s]
UHD 4K (3840 x 2160) at 23.976p/24p/25p/29.97p [100 to 200 Mb/s]
DCI 2K (2048 x 1080) at 23.976p/24p/25p/29.97p/50p/59.94p [100 to 200 Mb/s]
Full HD (1920 x 1080) at 23.976p/24p/25p/29.97p/50p/59.94p [100 to 200 Mb/s]
Full HD (1920 x 1080) at 100p/120p [200 Mb/s]

External Recording Modes: 4:2:2 10-Bit

DCI 4K (4096 x 2160) at 23.976p/24.00p/25p/29.97p
UHD 4K (3840 x 2160) at 23.976p/24.00p/25p/29.97p
DCI 2K (2048 x 1080) at 23.976p/24.00p/25p/29.97p/50p/59.94p
Full HD (1920 x 1080) at 23.976p/24.00p/25p/29.97p/50p/59.94p
Full HD (1920 x 1080) at 100p/120p

Recording Limit: Up to 29 Minutes, 59 Seconds
Audio Recording: Built-In Microphone (Stereo), External Microphone Input
Focus Type: Auto and Manual Focus
Focus Mode: Continuous-Servo AF (C), Manual Focus (M), Single-Servo AF (S)
Autofocus Points: Phase Detection: 425
Viewfinder Size: 0.39″
Viewfinder Resolution: 2,360,000 Dot
Monitor

Size: 3″
Resolution: 1,040,000 Dot
Type: Tilting Touchscreen LCD

Memory Card Slot: 1 x SD/SDHC/SDXC
Connectivity: 2.5mm Sub-Mini, HDMI D (Micro), USB 3.0, USB Type-C, X-Sync Socket
Battery: 1 x NP-W126S Rechargeable Lithium-Ion, 7.2 VDC, 1260 mAh
Dimensions (W x H x D): 4.7 x 3.3 x 1.8″ / 118.4 x 82.8 x 46.8 mm
Weight: 13.51 oz / 383 g (Body with Battery and Memory)
Did you find this content helpful?