On paper, the Fujifilm X-H2S is a beast. Its stacked BSI APS-C sensor, capable of recording 6.2K up to 30 fps, and ability to record 10-bit 4:2:2 ProRes internally — all for less than $2,500 — make it a competitor with budget cinema cameras.
However, while this camera has many great features, it has some flaws and frustrations. In this review, we'll go over everything that's great and not-so-great about the Fujifilm X-H2S. We'll discuss all its specs and put them to the test. Let's dive in.
The details
The Fujifilm X-H2S features the newly developed X-Trans stacked 26.1 megapixel CMOS sensor with the new 64-bit X-Processor 5. This combo produces crazy fast readout speeds. While it's a bummer that it's a Super 35 sensor and not a full-frame sensor, it's not a dealbreaker. Super 35 has been the filmmaking standard up until very recently. Last year, most Hollywood productions shot their movies on Super 35 sensors. Plus, the Alexa 35, a popular cinema camera amongst Oscar-winning productions, offers a similar-sized sensor. For a sub $2,500 camera, we're sitting pretty.
Advertisement
Resolution and open gate
The X-H2S records 6.2K (6240 x 4160) at 29.97 frames per second (fps) open-gate at peak resolution. What this means is that the camera doesn't crop the image to fit a 16:9 aspect ratio. So, you're getting an image with the same aspect ratio as a 4:3 sensor. Though most projects don't require a 6.2K open gate image, we love it. It made it easy to reframe vertically without sacrificing the horizontal resolution.
Alternatively, you can shoot DCI (4096 x 2160) or UHD (3840 x 2160) 4K up to 120 fps. The great thing about switching from 6.2K to 4K is that there's no crop factor. Although supporting 6.2K open gate image capture is impressive, most will find more value in the camera's ability to record oversampled 4K footage.
Stabilization
This camera features built-in 5-axis sensor-shift image stabilization. This isn't uncommon for cameras at this price point, but it's a welcomed feature. Many higher-end cinema cameras lack in-body stabilization. This is another reason we absolutely love shooting handheld with this camera. During our tests, neither of the lenses we were using had stabilization built-in, yet virtually all those annoying micro jitters that are common with hybrid stills/video cameras were gone. We would still recommend a gimbal or some other way of stabilizing the camera for professional work but, as a walking area camera for vlogging or B-roll or even on your vacation, you could do a lot worse.
First impressions
For our tests, we paired the Fujifilm X-H2S with a 16-55 mm f2.8 lens and a 35 mm f1.4 lens. However, we shot almost entirely on the 16-55 mm lens.
When testing the camera's image quality, we shot at 6.2K ProRes HQ. This gave us a short three minutes and 12-second shooting window. We had to constantly dump footage to make room on our 64 GB Compact Flash Express card. If you're going to shoot at this resolution, get a 512 GB CF Express card. That will give you around 25 minutes of recording time. Unfortunately, these are costly; they'll set you back about $350.
Thankfully, most users of this camera won't need to shoot at 6.2K ProRes HQ. If you bump the resolution down to the oversampled 4K at the same ProRes HQ, you'll get about 10 minutes using a 64 GB Compact Flash Express card. If you drop ProRes to 422, you'll get 15 minutes of shooting time. Likewise, if you go down to 4K ProRes LT, you will have 21 minutes of record time.
While the camera can record H.265 — which will get you a lot more record time — it can be clunky. Although H.265 retains a similar amount of dynamic range, ProRes is more reliable. We know for certain we're getting the most information we can off the camera's sensor and processor.
Image quality
The Fujifilm X-H2S's image quality is spectacular. With over 14 stops of dynamic range, the camera delivers a super clean image. We shot in F-Log, F-Log2 and HLG, and all of them were outstanding. The roll-off felt natural, skin tones were accurate and colors popped when we wanted them to.
F-Log was very clean. As with most digital cameras, we had the most success "shooting to the right." We slightly overexposed the image but were careful not to clip the highlights. We later brought them down in post-production and achieved a super clean image with rich colors and deep blacks with very little work.
The few times we slightly underexposed the image, noise began to creep in. So, you have to pay attention and slightly overexpose. This problem was less apparent when shooting HLG. HLG kept the exposure clean and gorgeous throughout.
We also tried out the PROVIA Standard Gamma curve. This tool's supposed to simulate the aesthetic of actual film. Unfortunately, in our experience with it, it was way too crunchy and unpleasant to justify using.
Editing and color grading
We did all of our editing and color grading in Adobe Premiere Pro, which handles ProRes like a breeze, even at 6.2K. We didn't experience any issues. If you have worked with ProRes before, you know it's like butter and handles grading even better.
We downloaded the Fujifilm F-Log to Rec 709 LUT, which did a lot of the heavy lifting to make the footage look beautiful. After just a few minor tweaks, we ended up with some of the best-looking footage we've seen from a camera at this price point. It doesn't take much to make the X-HS2's footage sing. One of the things we liked most about the camera is its ability to hold up to a heavy grade, all while still having a tactile film look. It looks somewhat similar to the texture you get from a Blackmagic sensor. From a color grading perspective, this is definitely a solid camera for low-budget short film production.
Rolling shutter
The Fujifilm X-HS2 does have a rolling shutter. However, due to its BSI stacked CMOS sensor, the readout speed is fast, rendering rolling shutter distortion a nonissue.
We conducted several tests swinging the camera back and forth on a fluid tripod. While the vertical lines did sway some, it only occurred when we rocked the camera back and forth at the fastest rate we could. We'd be comfortable using the X-HS2 in situations that require tons of camera movement.
Autofocus
Fujifilm is known for its autofocus game for stills. However, its autofocus video system isn't as renowned. While the autofocus operated fine in our testing, it wasn't great, either. It does have focus tracking, but you're limited to faces and a few registered subjects like Animal, Bird, Automobile, Motorcycle & Bike, Airplane and Train. If your subject doesn't fall into these categories, you can tell the camera to keep focus on it.
It does a decent job tracking faces, but we don't recommend using it in professional settings. When compared to Sony's autofocus system, you can see a major difference. However, it does a good enough job for situations like vlogging.
We did love using the X-H2S's tap focus. The tap focus on the touchscreen is simple to use. All you have to do is double-tap on the point you want it to shift focus to, and it'll do it.
Low light
We did a series of low light tests at 6.2K in F-Log, HLG and PROVIA/Standard. The results were surprising. We were able to push the ISO up to 12500 and still have a relatively clean image in Log and Log2. There was a little noise creeping in, but it's nothing you can't smooth out in post-production with a grade and some denoise. When using HLG, the video was clean all the way through.
We did shoot to the right and slightly overexposed the image. When it was underexposed, even slightly, the noise became a huge problem. High speed was a somewhat different story, though.
High speed
As stated earlier, the Fujifilm X-H2S can record up to 240 fps in HD and 120 fps in 4K. We tested these out by shooting a few closeups of a subject making cocktails. In HLG, the liquids were smooth and fluid, and the image was crisp at all frame rates. High speed in F-Log, even in lower ISOs, noise crept in. Since HLG looks great at all frame rates, it's not a huge compromise to shoot at high speeds. Something that surprised us was the camera's ability to play back shots in slow motion. This is a unique feature at this price point.
However, there is a serious issue that we need to talk about. Sometimes, when recording at high speed at 240 fps, the recording suddenly stops and the file is gone. While this was rare, only happening three times in a couple of dozen shots, it was still infuriating. Often with shooting something high-speed, you only get one or two takes at it, and having it crash and disappear is unacceptable.
Something to keep in mind: Even though we said earlier that the camera doesn't crop when changing resolutions, it does crop when you switch to a high frame rate. This is common in virtually every camera. At 120 fps, you get a 1.29x crop, and at 240 fps, you get a 1.38x crop.
Form factor
One of the fun things about Fujifilm regarding its cameras is that it puts a lot of effort into the tactile quality of its stills cameras. If you've ever shot on a Fujifilm digital camera, you will understand exactly what we're talking about. They feel like old-school 35 mm cameras. In the case of the X-H2S, the body is metal and the dial is an actual dial. It's an enjoyable camera to use, especially handheld. While most Fujifilm cameras are a pleasure to carry, the X-H2S is especially nice.
Displays
The X-H2S has three displays: a back touchscreen, an OLED viewfinder and a monochrome settings display.
Its back display is a three-inch 1,620,000-dot LCD touchscreen monitor. The monitor's LCD screen is bright and gorgeous. Also, it has a vari-angle design. This means that you can flip the screen to the side, tilt it up or down and flip it to face the front of the camera. While this is a must-have feature for vloggers, it isn't exclusive to them.
As for the viewfinder, it is a 5,760,000-dot OLED viewfinder. We were blown away by its beauty. In our tests, it consistently delivers bright and clear viewing.
The monochrome display sits on the camera's top adjacent to the shutter and record buttons. This display gives you a readout of your current settings, such as resolution, frame rate, exposure, ISO, battery life and how much write time you have available on your media. Although it's mainly for still photographers, it's pretty handy for run-and-gun shoots.
Media
For media, you have two options: a standard SD card or a CFexpress card. For most situations, using a standard SD card should work fine. However, if you want to take advantage of the camera's ability to record ProRes internally, you must use a CFexpress card. When recording ProRes internally, the camera requires high data speeds, and only CFexpress cards can keep up. Although internal ProRes is a big draw for the Fujifilm X-H2S, not all shoots call for ProRes. Having the option to pop in an affordable SD card is wonderful.
The menu
We'll cut to the chase; the menu system isn't great. While it's possible to get used to navigating Fujifilm's menu, we found it clunky.
Ultimately, we found the whole system to be disorganized. We struggled to find the right settings. They were usually buried deep in the menu. Navigating was far from intuitive; most settings and features weren't where we assumed they would be. Even simple acts, like formatting media, took a bit of digging. We hope Fujifilm redesigns its camera menu system soon.
Buttons
The X-H2S has a ton of buttons and scroll wheels to play with. There's also a focus stick that controls the camera's shutter speed, aperture, white balance, ISO and tons more. We were impressed by how much the focus stick could control. Also, pressing the small focus stick on the camera's back will digitally punch in for focus assist.
All in all, the button layout works well. However, we have one major qualm: There are only three custom function buttons, and two are on the front of the camera. In the eyes of a video shooter, this is a horrible choice. The only practical custom function button was the one on top of the body near the shutter and record buttons. This camera's button layout would have benefited if Fujifilm had placed the other two custom function buttons either on the top or the back of the camera. Video shoots use these buttons often, and having them in a place that isn't easily accessible is a major nuisance.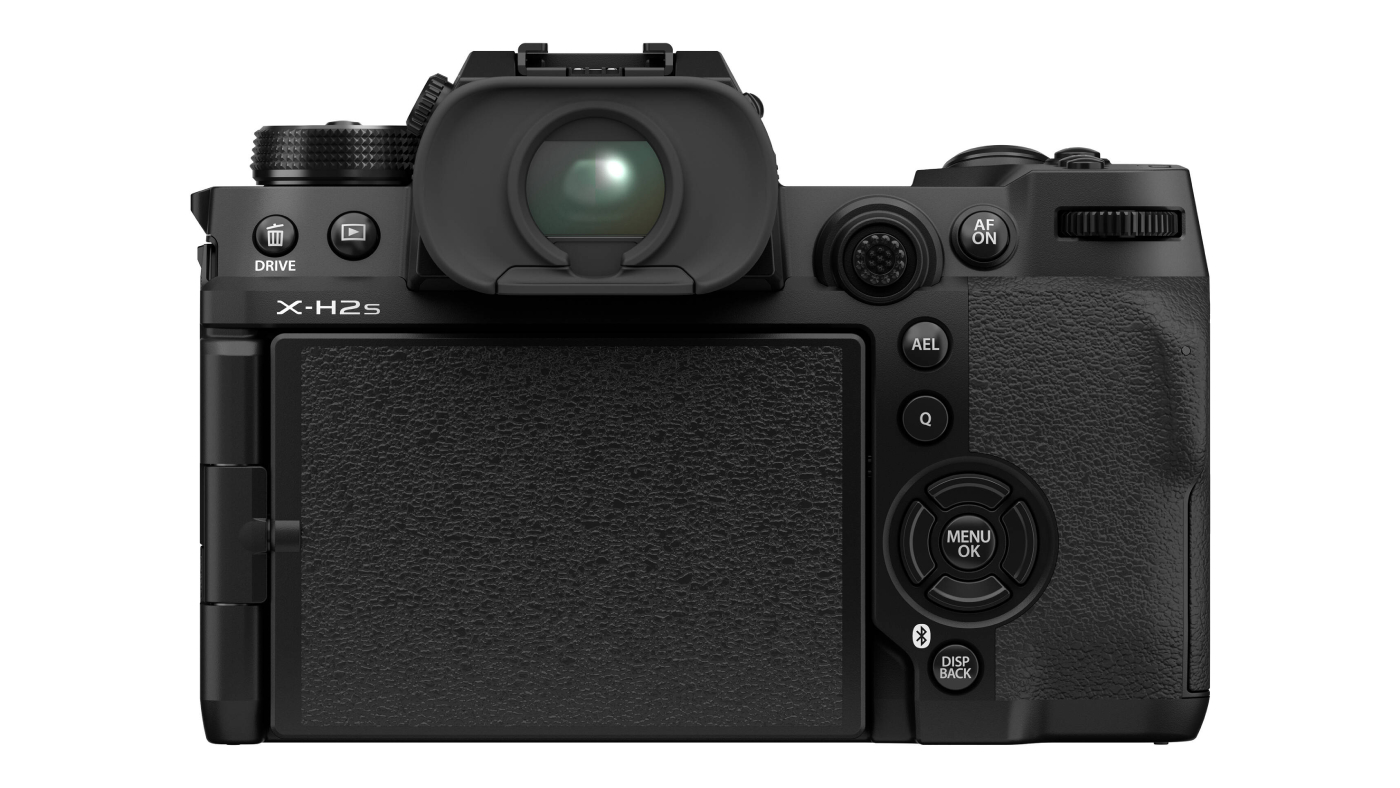 Connectivity
The X-H2S has all the standard connections you would expect a hybrid stills/video camera to have these days. However, it does have a few surprises.
The biggest surprise was the camera's full-size HDMI port. While HDMI is still not a preferred connection method, having a full-size HDMI port is a massive edge over the competition. Working with small HDMI micro or mini connectors can be frustrating. The cables can constantly slip out. Plus, the connectors wear out quickly. Having a full-size HDMI port on such a small camera is a great surprise.
Additionally, the camera has a 3.5 mm headphone jack, a 2.5 mm mic input and a USB 3.2 Gen 2 Type C port for file transferring, tethering and battery charging. This is a welcome surprise. Many cameras at the same price point don't offer a quick way to charge without a charger. So, if your charger breaks or you forget it, you can still quickly charge the X-H2S.
There is a downside, though: It doesn't come with a stand-alone battery charger. This means you either have to charge each battery individually while not using the camera or buy a charger. Thankfully, Fujifilm's dual charger isn't too expensive. Still, we'd prefer the camera to come with a stand-alone battery charger and save the cash.
Connecting via Bluetooth and Wifi
Fujifilm boasts that you can connect to the X-H2S with your smartphone via Bluetooth or Wifi for wireless control or image transfer. Unfortunately, the app is finicky and rarely connects to the camera. It feels more like a novelty than a feature for professional use. It could offer some use for sending vacation photos or videos to your smartphone to post on social media.
Batteries
In terms of battery, we were delighted by the Fujifilm X-H2S's battery life. We used the camera in a few sessions, lasting a few hours, and the camera's NP-W235 battery always made it through the sessions without dying. If you're shooting ProRes 422 video, the battery should be good for over an hour. If you're shooting at 24 fps over 60 fps, then the battery should last even longer than that. For stills, Fujifilm says the battery should last up to 550 EVF shots or 580 LCD shots per charge.
Again, we only take issue with the camera not coming with its own independent charger. We hate having to plug the camera into the wall or a computer to charge a battery. Thankfully, the batteries last a while.
Is the Fujifilm X-H2S the right camera for you?
If you're looking for a feature-packed camera with ProRes internal capture for less than $2,500, look no further than the Fujifilm X-H2S. It is a super flexible camera that's a terrific option for aspiring filmmakers looking for their first prosumer camera. The camera's image quality is superb. And its ability to record in a professional format with plenty of dynamic range makes it an easy contender as one of the best filmmaking cameras at its price point.
It's also a fantastic camera for vloggers and content creators looking to up the production quality of their content. Even though most vloggers aren't going to shoot in ProRes or Log, features like its vari-angle LCD touchscreen back display, focusing tracking and image quality make it a great tool for creators. Plus, its ability to operate as a high-quality USB webcam makes it a great option for creators recording at their desks.
Whether the Fujifilm X-H2S is the right camera for you comes down to preference. However, when it comes down to it, you'll be hard-pressed to find a camera that does what the Fujifilm X-H2S does at its price point. So, if you're considering the X-H2S, you won't be disappointed if you do end up getting it.
Summary
Overall, the camera is very balanced and easy to handle. It's a bit of a goldilocks for these hybrid still/video cameras. For under $2,500, you get a beast of a camera. You can record ProRes internally and capture beautiful 6.2K footage at 29.97 frames per second open-gate. It also has several features — like a vari-angle LCD touchscreen back display and focusing tracking — that make it a good option for vloggers and content creators. Fujifilm X-H2S is an absolute joy to shoot with, especially handheld.
Strengths
10-bit 4:2:2 ProRes internal capture
6.2K video resolution
Price
Weaknesses
No stand-alone battery charger
Placement of its custom function buttons
Recommended users
Documentary Filmmaking and Journalism
Corporate and Event Videography
Marketing Video Production
Tech specs
Lens mount
Fujifilm X
Sensor resolution
Effective: 26.16 megapixels (6240 x 4160)
Sensor type
23.5 x 15.6 mm (APS-C) CMOS
Crop factor
1.5x
Image stabilization
Sensor-shift, 5-axis
Built-in ND filter
None
Capture type
Stills and video
Shutter type
Electronic shutter, mechanical focal plane shutter
Shutter speed
Mechanical shutter
1/8000 to 900 seconds
1/8000 to 4 seconds in Program Mode
1/8000 to 30 seconds in Aperture Priority Mode
Up to 60 minutes in Bulb Mode
Electronic front curtain shutter
1/8000 to 900 seconds
1/8000 to 4 seconds in Program Mode
1/8000 to 30 seconds in Aperture Priority Mode
Up to 60 minutes in Bulb Mode
Electronic shutter
1/32000 to 900 seconds
1/32000 to 4 seconds in Program Mode
1/32000 to 30 seconds in Aperture Priority Mode
Fixed 1 second in Bulb Mode
1/8000 to 1/4 second in Movie Mode
Bulb/Time mode
Bulb Mode
ISO sensitivity
Photo
160 to 12,800 in Manual, Auto Mode (Extended: 80 to 51,200)
Video
160 to 12,800 in Manual, Auto Mode (Extended: 160 to 25,600)
Metering method
Average, Center-Weighted Average, Multi-Zone, Multiple, Spot
Exposure modes
Aperture Priority, Manual, Program, Shutter Priority
Exposure compensation
-5 to +5 EV (1/3 EV steps)
White balance
2500 to 10,000K
Presets: Auto, Daylight, Fluorescent, Incandescent, Shade, Underwater
Continuous shooting
Mechanical shutter
Up to 15 fps at 26.1 MP for Unlimited Frames (JPEG) / 1000 Frames (RAW)
Up to 10 fps at 26.1 MP for Unlimited Frames (JPEG) / Unlimited Frames (RAW)
Up to 8 fps at 26.1 MP for Unlimited Frames (JPEG) / Unlimited Frames (RAW)
Electronic shutter
Up to 40 fps at 26.1 MP for up to 184 frames (JPEG) / 140 frames (RAW)
Up to 30 fps at 26.1 MP for unlimited frames (JPEG) / 180 frames (RAW)
Up to 20 fps at 26.1 MP for unlimited frames (JPEG) / 800 frames (RAW)
Up to 15 fps at 26.1 MP for unlimited frames (JPEG) / 1000 frames (RAW)
Interval recording
Yes
Self-timer
2/10-second delay
Image sizes
3:2 JPEG / RAW / TIFF
6240 x 4160
4416 x 2944
3120 x 2080
16:9 JPEG / RAW/ TIFF
6240 x 3512
4416 x 2488
3120 x 1760
1:1 JPEG / RAW / TIFF
4160 x 4160
2944 x 2944
2080 x 2080
Aspect ratio
1:1, 3:2, 16:9
Image file format
HEIF, JPEG, RAW, TIFF
Internal recording modes
H.265/MOV 4:2:2 10-bit
6240 x 4160 at 23.98/24.00/25/29.97 fps [360 to 720 Mb/s]
DCI 4K (4096 x 2160) at 23.98/24.00/25/29.97/50/59.94/100/ fps [360 to 720 Mb/s]
UHD 4K (3840 x 2160) at 23.98/24.00/25/29.97/50/59.94/100/ fps [360 to 720 Mb/s]
DCI 2K (2048 x 1080) at 23.98/24.00/25/29.97/50/59.94/100//200/240 fps [360 to 720 Mb/s]
1920 x 1080 at 23.98/24.00/25/29.97/50/59.94/100//200/240 fps [360 to 720 Mb/s]
H.265/MOV 4:2:0 10-bit
6240 x 4160 at 23.98/24.00/25/29.97 fps [360 to 720 Mb/s]
DCI 4K (4096 x 2160) at 23.98/24.00/25/29.97/50/59.94 fps [360 to 720 Mb/s]
UHD 4K (3840 x 2160) at 23.98/24.00/25/29.97/50/59.94 fps [360 to 720 Mb/s]
DCI 2K (2048 x 1080) at 23.98/24.00/25/29.97/50/59.94 fps [360 to 720 Mb/s]
1920 x 1080 at 23.98/24.00/25/29.97/50/59.94 fps [360 to 720 Mb/s]
H.265 Long GOP/MOV 4:2:2 10-bit
6240 x 4160 at 23.98/24.00/25/29.97 fps [50 to 720 Mb/s]
DCI 4K (4096 x 2160) at 23.98/24.00/25/29.97/50/59.94 fps [50 to 720 Mb/s]
UHD 4K (3840 x 2160) at 23.98/24.00/25/29.97/50/59.94 fps [50 to 720 Mb/s]
DCI 2K (2840 x 1080) at 23.98/24.00/25/29.97/50/59.94 fps [50 to 720 Mb/s]
1920 x 1080 at 23.98/24.00/25/29.97/50/59.94 fps [50 to 720 Mb/s]
H.265 Long GOP/MOV 4:2:0 10-bit
6240 x 4160 at 23.98/24.00/25/29.97 fps [50 to 720 Mb/s]
4096 x 2160 at 23.98/24.00/25/29.97/50/59.94 fps [50 to 720 Mb/s]
3840 x 2160 at 23.98/24.00/25/29.97/50/59.94 fps [50 to 720 Mb/s]
2048 x 1080 at 23.98/24.00/25/29.97/50/59.94 fps [50 to 720 Mb/s]
1920 x 1080 at 23.98/24.00/25/29.97/50/59.94 fps [50 to 720 Mb/s]
MOV/ProRes 422/ProRes 422 HQ/ProRes 422LT 4:2:2 10-bit
6240 x 4160 at 23.98/24.00/25/29.97 fps [1277 to 2754 Mb/s]
DCI 4K (4096 x 2160) at 23.98/24.00/25/29.97/50/59.94 fps [870 to 1877 Mb/s]
UHD 4K (3840 x 2160) at 23.98/24.00/25/29.97/50/59.94 fps [870 to 1877 Mb/s]
DCI 2K (2048 x 1080) at 23.98/24.00/25/29.97/50/59.94 fps [204 to 440 Mb/s]
1920 x 1080 at 23.98/24.00/25/29.97/50/59.94 fps [204 to 440 Mb/s]
External recording modes
4:2:2 10-bit via HDMI
6240 x 4160 at 23.98/24.00/25/29.97 fps
DCI 4K (4096 x 2160) at 23.98/24.00/25/29.97/50/59.94/100/ fps
UHD 4K (3840 x 2160) at 23.98/24.00/25/29.97/50/59.94/100/ fps
2048 x 1080 at 23.98/24.00/25/29.97/50/59.94 fps
1920 x 1080 at 23.98/24.00/25/29.97/50/59.94/100/ fps
RAW via HDMI
6240 x 4160 at 23.98/24.00/25/29.97 fps
4848 x 2728 at 23.98/24.00/25/29.97/50/59.94 fps
Fast-/slow-motion support
Yes
Gamma curve
Fujifilm F-Log, FUJIFILM F-Log 2
Recording limit
None
Broadcast output
NTSC/PAL
IP streaming
Yes
Built-in microphone type
Stereo
Audio recording
MOV: Two-channel 24-Bit 48 kHz LPCM audio
MP4: Two-channel AAC audio
Media/memory card slot
Slot 1: CFexpress Type B
Slot 2: SD/SDHC/SDXC (UHS-II)
Video I/O
1 x HDMI output
Audio I/O
1 x 1/8-inch / 3.5 mm TRRS headphone/mic microphone input on camera body
1 x 1/8-inch / 3.5 mm TRRS headphone/mic headphone output on camera body
Power I/O
1 x USB-C input/output
Other I/O
1 x USB-C (USB 3.2 / 3.1 Gen 2) control/data/tether input/output (shared with Power Input)
1 x 2.5 mm sub-mini control input
1 x PC sync socket (sync) FlashSync output
Wireless
2.4 / 5 GHz Wi-Fi 5 (802.11ac)
Bluetooth
Global positioning (GPS, GLONASS, etc.)
None
Monitor size
3.0 inches
Monitor resolution
1,620,000 dots
Display type
Free-angle tilting touchscreen LCD
Secondary display
Top: 1.28-inch LCD status display
Viewfinder type
Built-In electronic (OLED)
Viewfinder size
0.5 inches
Viewfinder resolution
5,760,000 dots
Eye point
24 mm
Coverage
100 percent
Magnification
Approx. 0.8x
Diopter adjustment
-5 to +3
Focus type
Auto and manual focus
Focus mode
Continuous-servo AF, manual focus, single-servo AF
Autofocus points
Photo, video
Phase detection: 425
Built-In flash
No
Flash modes
Auto, Commander, First-Curtain Sync, Manual, Off, Second-Curtain Sync, TTL Auto
Maximum sync speed
1/250 second
Dedicated flash system
TTL
External flash connection
Hot shoe, PC terminal