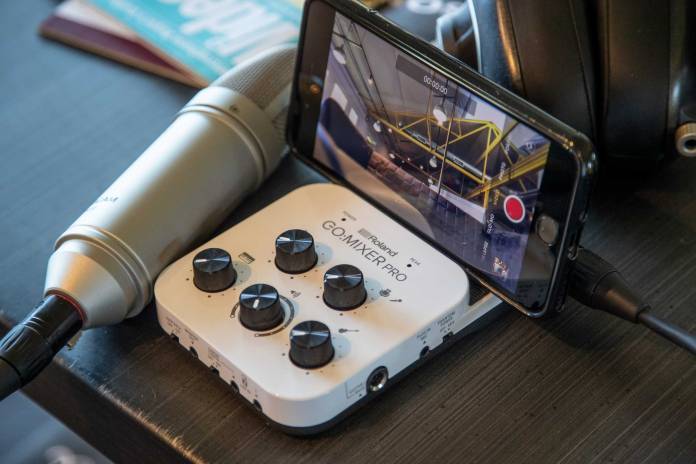 With the Go:Mixer Pro, Roland made great improvements on the previous version to create a complete solution for mobile content creators. If you need to have multiple audio inputs for your mobile device, the Go:Mixer Pro is your solution. A full band could stream directly to Facebook or Youtube with just the Go:Mixer Pro and a phone. It even has a built-in stand for your device. But it's not limited to just live video; anyone using a phone to capture video can harness improved audio with Go:Mixer Pro.
The Go:Mixer gives all of the most popular inputs and a way to mix and monitor them, all while capturing video from a smartphone. It has a plethora of inputs for just about every need. The XLR input also doubles as a ¼ inch tip sleeve (TS) input. It has two instrument inputs that pair together for a stereo input. There is also a ⅛ inch headphone out.
The Go:Mixer gives all of the most popular inputs and a way to mix and monitor them, all while capturing video from a smartphone.

Advertisement



Lastly, it has a few switches like center cancel, loop back and phantom power on and off. Even when phantom power isn't needed, having it on won't harm most mics. However, if you ever use a ribbon mic, leaving phantom power on will ruin it.
The Go:Mixer Pro in use
At $170, the Go:Mixer Pro isn't cheap, but the build quality is. The fully plastic build has cheap feeling knobs, and although it includes power, it does so via AAA batteries. A nice option would have been for it to be powered via a built-in rechargeable battery. With a rechargeable option, the Go:Mixer could potentially even charge the phone its connected to while it's being used. When using a phone as a video camera, power consumption needs to be monitored. Nothing is worse than having a dead battery on your phone when you need to use it.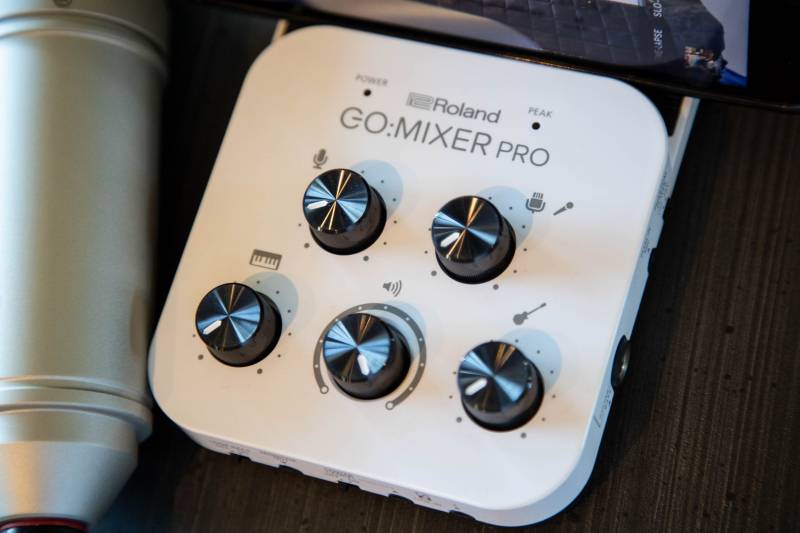 There are two big features that we really like about the Go:Mixer Pro. The first is the built-in stand for a phone or tablet. If you shoot any video with a phone and want to get a good image from it, you have to start with your support. Although this isn't an imaging product, it does improve your ability to capture a good image. The second feature is an XLR input. It seems small, but along with the XLR input comes phantom power. Without phantom power, you can't use any condenser mics. Phantom power is supplied via the AAA batteries.
In use, we found the pre-amp for the mic input to have a good amount of gain, though it's a bit noisy. In fact, we found the Go:Mixer Pro to be noisy as a whole. Without anything plugged into its inputs, both mic channels have a high noise floor. If you are looking for pristine, noiseless channels, you will need to spend more money on a higher end product.
Marketplace
The Roland Go:Mixer Pro is a unique product that's not easy to compare with other devices on the market. With that said, there are a few other tools that offer similar functions.
We are going to look at three options. The first is the PreSonus AudioBox iOne, which costs $100. The second is the IK Multimedia iRig Pro DUO for $200. And last is the Steinberg UR242 for $200. Each of these devices can be used with an iOS device, offer at least one XLR input and cost about as much as the Roland Go:Mixer Pro.
The most affordable is the AudioBox iOne. It offers two inputs: a ¼ instrument input and an XLR. Its form factor is just a box, and it won't hold your phone, but through its simplicity, it might get the job done more easily and for less money. That's if you don't need all of the features offered in the Go:Mixer Pro.
Next up is the iRig Pro for $200. The iRig has two XLR or TS Inputs and also includes midi, but it also lacks the ability to function as a stand.
Last up is the Steinberg UR242. It's the best apples to apples comparison to the Roland. It offers stereo line in and two XLR inputs. What you get with the Steinberg is midi control, unlike with the Roland.
Final thoughts
Roland made some great improvements in the Go:Mixer Pro. The phone stand functionality is very handy and will add stability with a good camera angle to your shot. We wish that it had a lower noise floor as white noise was part of the signal, even when nothing was plugged in. Its price of $170 is high for a phone accessory, but its cheaper than other products in the same category. If you need a hub for all of your inputs and a way to mix them for use with a phone, you should check out the Roland Go:Mixer Pro.
SUMMARY
STRENGTHS:
WEAKNESSES:
Built of plastic

White noise
RECOMMENDED USES:
Online Video Production

Casual Video Production
TECH SPECS:
System Requirements

iOS 11:

Lightning port

Android 7 or 8:

Micro-USB Type-B or USB Type-C port

USB OTG (On-The-Go) functionality support

Inputs:

1 x XLR-1/4″ combo mic input

1 x 1/8″ / 3.5 mm mic input

3 x 1/4″ instrument inputs

2 x 1/8″ / 3.5 mm stereo line inputs

Outputs:

1 x 1/8″ / 3.5 mm TRS

USB

1 x Micro-USB Type-B

Phantom Power:

48 VDC, 6 mA (maximum)

Plug-In Power:

2.5 V

Power Supply:

USB bus power

4 x AAA LR03 alkaline batteries

4 x AAA HR03 NiMH batteries

Current Draw:

170 mA

Battery Life:

(approx.) Up to 4.5 hours (via alkaline batteries)

Dimensions (W x D x H):

4.1 x 6.1 x 1.6″ / 104 x 155 x 41 mm

Weight:

7.8 oz / 220 g (excluding batteries and cables)