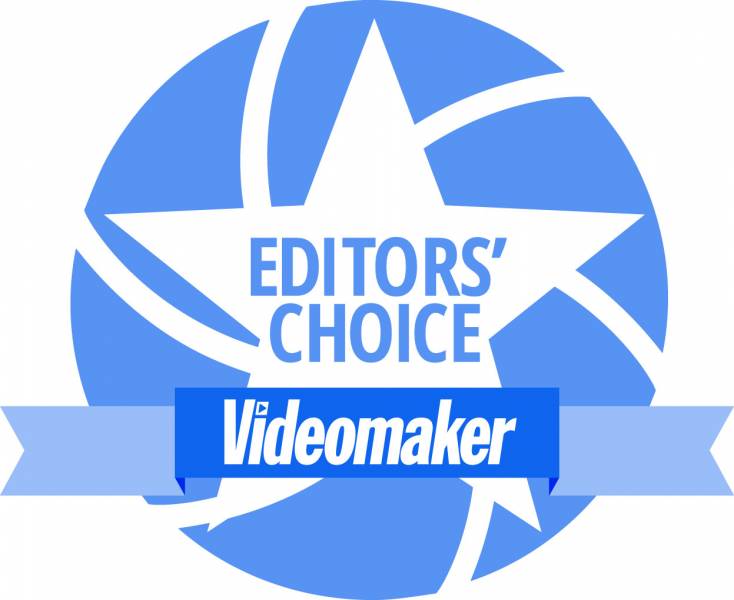 As the leader in drones, it's not typical for DJI to be late to the marketplace. However, since they were late to join the single-handed gimbal category, they were able to include all of the best features from their industry rivals and give it a competitive price tag to boot. When DJI announced the Ronin-S at CES 2018, our first question was how much it would cost. At that time, they didn't have a price outside of saying it would be cheaper than their competition. Since then, we've been able to test the DJI Ronin-S and have found it to be smartly designed and reasonably priced.
In Use
This three-axis motorized gimbal stabilizer can hold up to 8 pounds for use with a DSLR or mirrorless camera. The rear roll motor is smartly positioned so the user can see the rear screen of their camera. When used with certain mirrorless cameras, users gain control of focus via the built-in focus wheel. Additionally, you can trigger recording through the handle.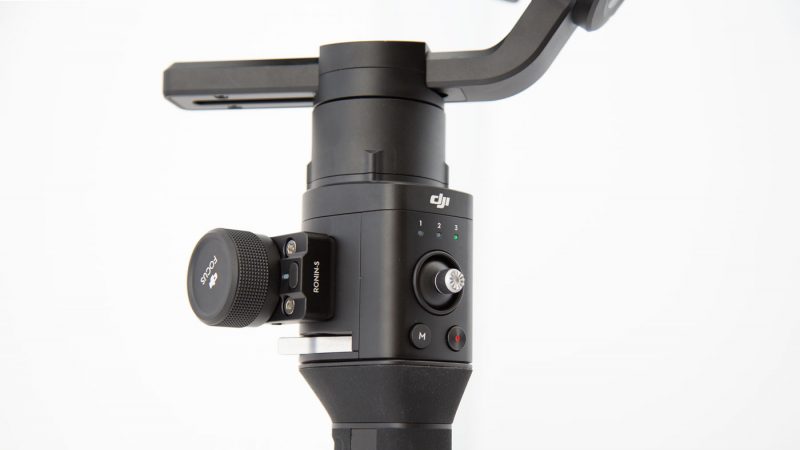 Balancing is not terribly difficult — some gimbals are time consuming to balance, but the Ronin-S wasn't. Within 10 minutes of having never used it before, we had the Ronin-S balanced with a Nikon D850 with a 35mm Nikkor prime lens attached. The gimbal handled the weight fine, but I did not. Shooting for a long time with one hand would be difficult without getting physically prepared to do so. Because of the weight, we thought a mirrorless camera would be a better size for us. Balancing the Ronin-S for the GH5 was just as easy as balancing for the D850.
This is when we discovered that the tripod used to balance the gimbal could also give us more to hold on to, effectively extending our reach. On top of the 1/4-inch 20 thread input we used with the balancing tripod, the Ronin-S also has a 3/4-inch input that connects nicely with a monopod. In this configuration, bigger shots that would typically call for a jib can be done with the Ronin-S and a monopod. Any gimbal that has threads on the bottom would work for this purpose.
The design of the Ronin-S also allows for better view of the rear monitor of your camera than is offered by many similar gimbals. For cameras with a semi-articulating or non-articulating monitor, this is a necessity. We found the fully-articulating monitor on the GH5 to be even easier to see and use than the tilt-only monitor on the Nikon D850 or non-articulating monitor of the Canon 5D Mark IV.
Testing the Focus Control
Next, we tested the gimbal's remote control functions. DJI offers a list of supported cameras and what functionality you can expect from that camera and lens. Mirrorless cameras that have focus-by-wire lenses give the most function, while DSLRs only allow for a remote record button function. Make sure to check which functions your camera will have with the Ronin-S, because not all cameras and lenses are supported. However, DJI plans to expand the list of compatible camera and optimize control with future firmware updates.
We connected the GH5 for use with the follow focus. DJI includes a few different cables to go from one of three ports near the mounting plate to the camera. We plugged in the cable to the USB port on the side of the GH5 and the camera prompted us to choose what kind of control was being used. With options like PC (storage), PC (tether) and Pictbridge (PTP) we didn't know what to choose. We got lucky with our first choice of PC (tether) and immediately had manual control of the focus of the lens.
The speed at which the lens responds to the focus commands is dependent on the lens and is not a reflection of the focus control. Some focus-by-wire lenses are just slow to respond. The Panasonic Leica DG Vario-Elmarit 12-60mm f/2.8-4 ASPH. POWER O.I.S. lens used for testing was quite responsive, giving a great feel on the focus wheel.
App Function
DJI's companion app — compatible with Android and iOS devices, further expands the function of the Ronin-S. Pairing the gimbal with your mobile device is painless. Once you open the app, you have the choice of five different modes. Capture mode offers remote and capture control from the app. Panorama mode takes a set of pictures to cover a predesigned panoramic frame. Timelapse mode gives you intervalometer controls over your camera, if its compatible. Motionlapse mode is in essence timelapse control with motion. Finally, there is track mode where you can set up to 10 keyframes to create a predesigned move.
Pairing the gimbal with your mobile device is painless
Marketplace
The one-hand controlled 3-axis gimbal market is flourishing with a plethora of options. Depending on what camera you use, there are both cheap and costly options for every set of needs. We are going to stick to gimbals that support a similar weight and have a one handed control. The first is the Zhiyun-Tech Crane 2 for $750. The Zhiyun is on the top of the list of best one-handed gimbals. Outside of the rear roll motor being more in the way of a monitor and a capacity of about 7 pounds rather than 8, it's essentially the same as the Ronin-S. The ikan PIVOT Angled costs $700 and has the same 8 pound capacity; however it lacks follow focus control. Last up, is the EVO Gimbals RAGE3 for $750. It and the Zhiyun offer the same features for the same cost.
Final Thoughts
DJI built an easy-to setup and easy-to-use gimbal priced right in the marketplace. A motorized gimbal of any kind will increase the production value of any video. The Ronin-S gives you that and a bunch of other fun-to-use and quality functions.
If you are in the market for a one handed gimbal with a 8-pound capacity, don't look past the Ronin-S.
DJI
Strengths
Gimbal doesn't block rear camera 

monitor
Weaknesses
Short list of fully compatible cameras
Summary
The DJI Ronin S is a one handed gimbal with a payload capacity of 8 pounds. Some gimbals are hard to balance; this one isn't.
Recommended Users
Narrative Filmmaking

Documentary Filmmaking and 

Journalism

Corporate and Event Videography

Marketing Video Production

Online Video Production
TECH SPECS:
Number of Axes: 3-Axis (Pitch, Roll, Yaw)
Rotation Range
Yaw (Pan): 360°

Pitch (Tilt): 280° (-95 to 185°)
Roll: 360°
Follow Speed Pan: 360°/s
Tilt: 360°/s
Roll: 360°/s
Load Capacity: 7.94 lb / 3.6 kg
Connectivity: Ports 1 x USB Type-C
Wireless Frequency Remote: 2.4 GHz (2.4 – 2.48)
Wireless Protocol: Bluetooth 4.0
Battery Type: 1 x Built-In
Capacity (mAh): 2400 mAh
Capacity (Wh): 34.56 Wh
Battery Runtime: 12 Hours
Battery Chemistry: Lithium-Ion
Operating Current: 0.16 A
Operating Temperature: -4 to 113°F / -20 to 45°C
Mounting:
1 x 1/4″-20 Female Thread

1 x 3/8″-16 Female Thread
Dimensions: 23.23 x 11.54 x 10.08″ / 590 x 293 x 256 mm
Weight: 4.1 lb / 1.86 kg
Chris Monlux is a morning person. He is also Videomaker's Multimedia Editor.