The release of the Nikon Z7 marks the brand's debut into the full-frame mirrorless camera scene. The Z7's staggering 45.7 megapixel sensor uses its full width for capturing 4K video and allows recording at up to 120 frames per second in HD. The camera also features in-body image stabilization and introduces Nikon's new Z lens mount.
The Z7 was announced along with the lower-cost Z6, available a few months later than the Z7. The Z7 is $3,400 and the Z6 is just $2,000. Although they have the same appearance, these cameras target different users.
Expectations vs. Reality
With one announcement, Nikon went from offering zero full-frame mirrorless cameras to offering two of them, and with amazing specs. Additionally, they announced three new Nikkor S-line lenses and an adapter for the new lens mount. At the same time, they gave a roadmap for releasing six more lenses in 2019 and even more in 2020. The most notable of the lenses announced is the pinnacle of the new S-line, the Nikkor Z 58mm f/0.95 S Noct. Nikon says it can manufacture low f-stop lenses like the Noct because the new Z mount has a 55mm mount width and 16mm flange distance.
The Z7 is packed full of rich video features like clean 10-Bit 4:2:2 4K out the HDMI, 5-axis in-body image stabilization and fast recording media, showing thatNikon is getting serious about video. The Z7 is also the very first Nikon to offer N-Log and the first mirrorless camera to offer full-frame 4K outside of the Sony Alpha line.
However, not all of these features are as great as they seem. Yes, the camera captures to fast XQD media, but there is only one card slot. Most will be able to live with this by getting larger media, but that does come with a cost. Plus, some professional workflows require dual slots. Another issue is that N-Log is only offered when capturing out the HDMI, not internally. Last, the monitor is a touch screen 3.2 inch 2.1m-dot screen, but it only tilts without flipping out for selfies or vlogging. The top screen is bright and easy to read and isn't cluttered with lots to look at.
Photo Features
The Z7's high-resolution sensor offers 4.3 more megapixels than the Sony a7R III. With each RAW file around 87 megabytes and JPGs around 20 megabytes, you'll want a large card to be able to keep shooting without running out of space.
If you can handle the storage-hungry file sizes, this camera is wonderful for photographers. It has all the buttons, knobs and dials a professional camera should — including a joystick. If you're moving from a DSLR to a mirrorless camera, the feel of this camera will make for an easy transition. Its deep grip is nice to handle and offers two assignable buttons next to the lens on the side of the grip. Those two buttons can be hard to reach for those with small hands, so beware. Although the screen can be touch controlled, there are still all of the physical buttons where you would expect them.
The Z7 has phase and contrast autofocus, with 493 AF points in FX mode (full-frame) and 209 points in DX mode (cropped). When shooting bursts, the Z7 can shoot up to nine frames per second. However, you can shoot at this rate for no longer than three seconds. After that buffering slows to 4 fps for 43 seconds or 200 frames.
Video Features
We already established this camera as a solid video camera, but let's dig into those features. You can capture 4K from the full width of the sensor, but if you need a tighter shot, the camera can be switched into DX mode for a 1.5 times punch in. This gives you both the native focal length and a 1.5x crop, if desired. When shooting with F mount lenses and the FTZ adapter, the Z7 retains three axes of stabilization in body. Additionally, we found that F mount lenses with the adapter offered AF as fast as when attached to a camera with their native mount. Because the sensor is a 3:2 aspect ratio, the top and bottom of it are not used for video. For this reason, autofocus in video mode uses fewer AF points than when shooting stills. When shooting video, the Z7 uses 435 points in FX mode and 171 points in DX mode.
For high frame rate capture, the Z7 can record up to 120 fps in HD. At that frame rate, the camera crops the sensor to DX. It also offers 100, 60, 50 fps shooting modes for a less dramatic slowdown. UHD 4K recording is available at 30, 35 and 24 fps. Internally, the Z7 records 8-bit video to MOV or MP4.
The internal video capture of the Z7 is just 8-bit, but the picture still looks good. We tested external 10-bit capture and N-Log using the Atomos Ninja V. With the Ninja V, we were able to record in ProRes 10-Bit 4:2:2. The Nikon is the only full-frame mirrorless camera to offer full-frame 4K 10-Bit 4:2:2 video. With N-Log you are able to get more dynamic range, and with 10-bit, you get a billion colors vs millions from 8-bit. However, if you want to capture 10-bit with the Z7, you will need to spend more on a capable external recorder. We hope that Nikon can find a way to offer N-Log, even in 8-bit, for internal capture in a future firmware update.
New and Notable
The Nikon Z7's innovative design includes two customizable function buttons, Fn1 and Fn2, found near the lens mount. If you can reach them, they are great to have. It's a way of putting buttons for lens-associated functions at the front lens area of the camera. For video, we assigned one to zoom in, so we can check critical focus. The other we used to toggle between AF types. However, that is just one of many ways to customize the controls.
Nikon was forward leaning with the choice of XQD media. It's a small and fast media that could support much heavier video capture. The touchscreen looks great and is easy to use. We just wish it was fully articulating.
The camera also has an internal time-lapse intervalometer that will capture a series of stills to be made into 8K time-lapse video, or it can combine the stills in camera for a 4K video. The intervalometer is not hard to control and will allow Z7 owners to shoot time-lapse with nothing but the camera and lens.
Native Lenses and Adapters
Currently, if you need something outside of the three S-line lenses released with the Z7, you are going to need an adapter. Nikon is already offering a kit that includes the adapter for those already heavily invested in F mount lenses. The ZTF adapter is $250 and gives AF control of F mount lenses.
For native lenses, Nikon is currently offering one zoom and two primes. The most affordable is the NIKKOR Z 50mm f/1.8 S for $600. Next is the NIKKOR Z 35mm f/1.8 S for $850, and the NIKKOR Z 24-70mm f/4 S is $1,000.
All three lenses are small and manageable. However, if you are used to the feel of the F mount lenses, these will feel much less substantial. They are all focus by wire and the zoom lens needs to be extended out before its ready for use. We would have preferred the lens to be ready to shoot without adjustment.
It's too bad that Nikon didn't release the Noct f/0.95 lens at the same time as the rest. It would do the best job of showing what this new camera system and mount can do. Instead, the limited list of lenses means most will only consider the adapter and non-native lenses.
[vimeo 294019437 w=640 h=360]
Tests
We tested moire, rolling shutter and the low light performance of the camera in our studio. To test the moire we pointed the camera at a DSC SineZone Chart. Capturing static, pan and tilt shots, the camera showed no moire issues. To test the rolling shutter, we paned left to right, starting slow and speeding up to a whip pan. The Z7 does have moderate a rolling shutter effect. It's not great, but it's not too bad either.
To test the low light performance we ramped up the ISO from 100 to 25,600, changing the shutter speed to keep proper exposure. We first started seeing noise at ISO 1600 and without issue. You could shoot at ISOs up to 3200, but after that, noise reduction would be necessary. Shooting with the internal noise reduction both on and off, we noticed that, outside of some smoothing of the noise, there wasn't any great benefit from having it on.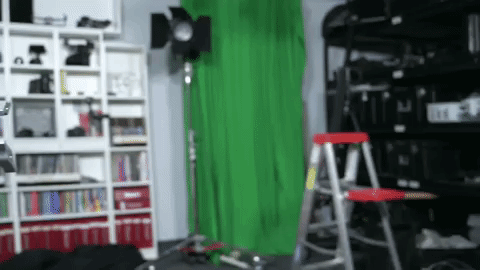 Marketplace
We welcome the competition in the mirrorless category. Sony stood too long as having the only full-frame 4K mirrorless on the market. At $3,000 the Sony a7R III is $400 cheaper. It offers dual media slots and has 40 native lenses to choose from. The Z7 offers 10-bit external recording over the 8-bit from the Sony, and the Z7 also has far better ergonomics than the a7R III.
Also new to the market is the Canon EOS R. At $2,300 it's significantly cheaper than the Nikon Z7. Like the Z7, the Canon EOS R is a mirrorless full-frame sensor camera, but it has a 1.7x crop factor when shooting 4K. For that reason, it's difficult to recommend versus the Nikon Z7 unless you don't need full-frame 4K, in which case, there are many other cameras to consider anyway.
The Z7 is a great offering from a solid brand. The image quality is as you would expect from Nikon. What the Z7 suffers from is being an immature camera with a far more mature camera to compete with. Nikon did a great job of crossing off the features a mirrorless camera needs, but we are excited to see what the next version of the camera offers. Sony has had much more time to fix their issues.
Final Thoughts and Recommendation
The Nikon Z7 is for users who need high resolution stills as well as market-leading video features. The feel and operation of the Z7 are superior for total professional control, and those used to a DSLR will find it an easy move to a Nikon mirrorless camera. We like how the video looks, and although we would have liked to see a fully articulating screen and internal N-Log, the camera is solid.
SUMMARY
COMPANY NAME: Nikon
WEBSITE: nikonusa.com
STRENGTHS:
Full Frame 4K
10-bit 4:2:2 4K via HDMI
N-log
WEAKNESSES:
Tilt-only monitor
Single card slot
N-log only available via HDMI output
RECOMMENDED USES:
Documentary Filmmaking and Journalism

Corporate and Event Videography

Marketing Video Production
TECH SPECS:
Lens Mount: Nikon Z
Camera Format: Full-Frame
Pixels Actual: 46.89 Megapixel
Effective: 45.7 Megapixel
Max Resolution: 45.7 MP: 8256 x 5504
Aspect Ratio: 1:1, 3:2, 4:5, 16:9
Sensor Type / Size: CMOS, 35.9 x 23.9 mm
File Formats: Still Images: JPEG, RAW
Movies: MOV, MP4,
Audio: AAC, Linear PCM (Stereo)
Still Bit Depth: 14-Bit
Memory Card Type: XQD
Image Stabilization: Sensor-Shift, 5-Way\
Video Format
3840 x 2160p at 23.98/25/29.97 fps (H.264)
1920 x 1080p at 23.98/25/29.97/50/59.94/100/120 fps (H.264)
Aspect Ratio: 16:9
Video Clip Length: Up to 29 Minutes 59 Seconds
Audio Recording
Built-In Mic: With Video (Stereo)
Optional External Mic: With Video
Focus Mode: Continuous-Servo AF (C), Full-time Servo (F), Manual Focus (M), Single-servo AF (S)
Autofocus Points: Phase Detection – 493
Viewfinder Type: Electronic
Viewfinder Size: 0.5″
Viewfinder Pixel Count: 3,690,000
Display Screen: 3.2″ Rear Touchscreen Tilting LCD (2,100,000)
Buffer/Continuous Shooting:
Up to 9 fps at 45.7 MP
Up to 5.5 fps at 45.7 MP
Built-in Flash: No
Interval Recording: Yes
Connectivity:
1/8″ Headphone
1/8″ Microphone
HDMI C (Mini)
USB Type-C
Nikon DC2
Wi-Fi Capable: Yes
Battery: EN-EL15b Rechargeable Lithium-Ion Battery Pack
AC Power Adapter: EH-5c/EH-5b with EP-5B (Optional)
Dimensions (W x H x D): 5.3 x 4.0 x 2.7″ / 134.0 x 100.5 x 67.5 mm
Weight: 1.29 lb / 585 g camera body only