Today at CES 2020, Samsung announced its new external SSD drive: the Portable Solid State Drive T7 Touch. We're so impressed with this drive that it's taking home our Best SSD of CES 2020 award. Congratulations Samsung!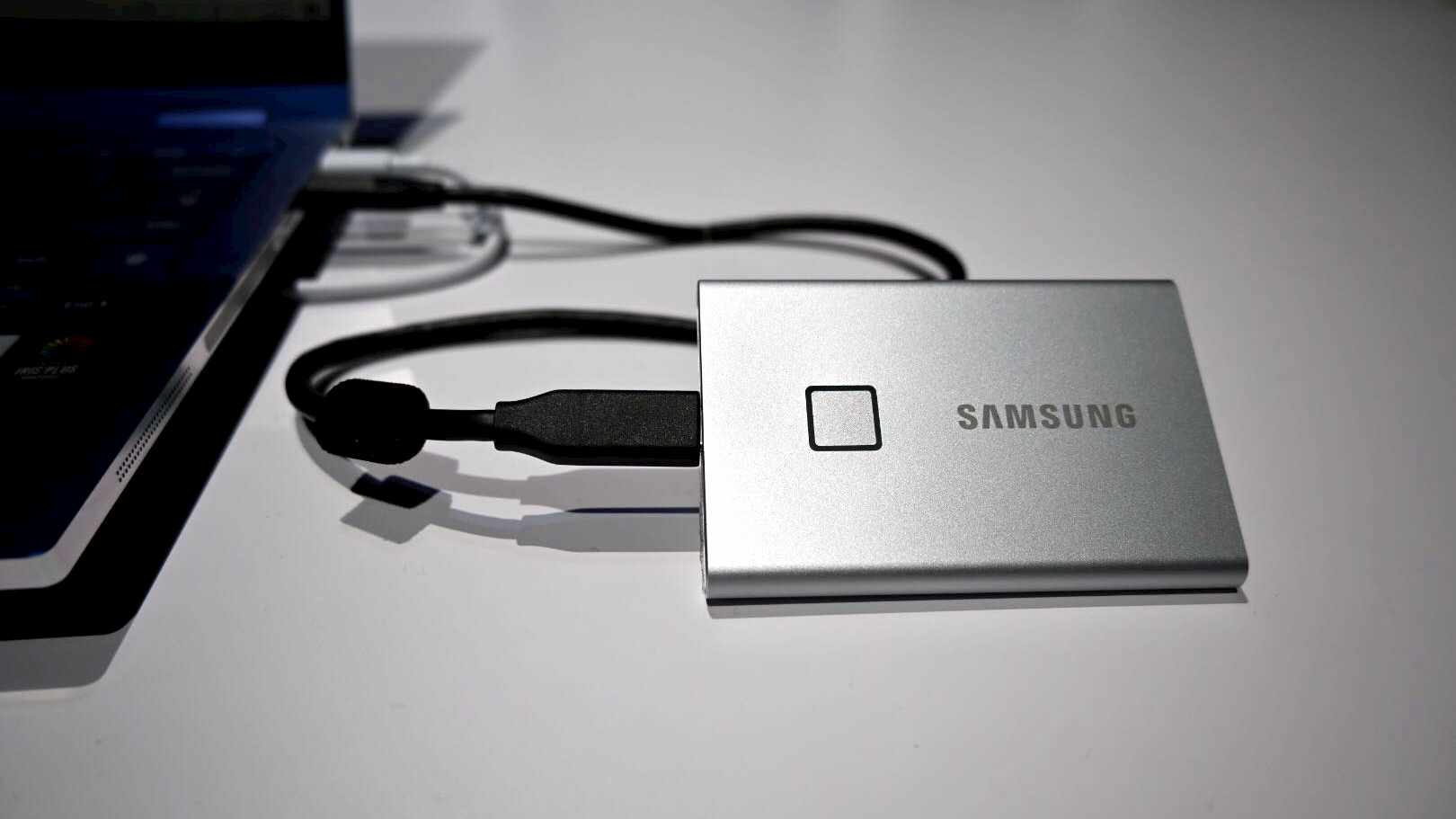 According to Samsung, the device "combines sleek, compact design with the fastest transfer speeds." For its speed, it's based on the USB 3.2 Gen 2 standard. The company goes on to say the device "elevates data protection to the next level" with a built-in fingerprint sensor.
"Consumers who are constantly on the go between work, play and passion projects want to be able to securely carry their content with them," said Dr. Mike Mang, vice president of Brand Product Biz Team, Memory Business at Samsung Electronics. "Now their data is secure thanks to the fingerprint recognition functionality incorporated into the product, which delivers industry-leading transfer speeds in a compact form factor."
Made for professionals and casual users
Samsung's T7 Touch can work for both professional and casual users. It offers enough capacity to store large numbers of pictures, games or 4K/8K videos. It's also durable enough to ensure your content will be safe when traveling.
Speed
According to Samsung, the T7 offers a significant speed upgrade over previous storage solutions. It features a read speed of 1,050MB/s and a write speed of 1,000MB/s. It is twice as fast as its predecessor. Also, it's 9.5 times faster than external HDDs.
Built-in fingerprint scanner
The T7 Touch features the first built-in fingerprint scanner in an SSD. It also features a 'Motion LED'. This allows users to determine the status of the device with a single look.
Weight
While the SSD is much faster than it was before, it still weighs 58 grams.
Pricing and availability
The T7 Touch is offered in 500GB, 1TB and 2TB capacity. Here's a breakdown for each versions' prices:
500GB — $129
1TB — $299
2TB — 2TB.
The Portable SSD T7 should be released in the second quarter of this year. You can learn more at samsung.com/ssd.