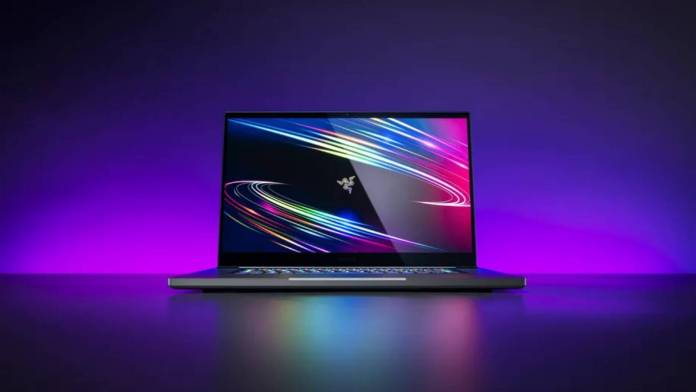 The 2020 version of the Razer Blade Pro 17 has been revealed. The gaming-focused laptop has received a few updates since last year's model.
First, let's talk about the new Blade Pro 17's display. Razer has upgraded the 2020 model's display with 300Hz 1080p and color-accurate 4K panel options. That more than doubles the refresh rate of the previous iteration, which offered a 120Hz refresh rate. Laptops that have displays with a higher refresh rate typically respond faster and make motion much smoother. So, it should be easier to keep track of what's going on during a game because there's less time between each frame. Actions will appear faster on the screen. More about the display, Razer says the laptop's 4K screen will cover 100 percent of the Adobe RGB space. As for the model with the 1080p display, it comes with a glare-reducing matte finish.
What else is new?
Overall, the 2020 model of the Blade Pro 17 is the same as the previous model. There are a few differences though besides the monitor. For instance, the laptop's processor power has been upgraded with the newest generation of mobile processors from Intel and GPUs from Nvidia. This change should make the overall system faster than the previous model both gaming and content creation.
You can get the 300Hz screen with Nvidia's RTX 2070 Max-Q or an RTX 2080 Super Max-Q. The gaming rig comes with a 512GB SSD upgradeable to 2TB. As for the creator-focused 4K model, it comes with 1 TB of storage and is upgradable to 2 TB. For the 4K model, that only comes with an RTX 2080 Super Max-Q.
All the laptop's configurations come with 8-core, 2.3GHz Intel Core i7-10875H processor with turbo boost up to 5.1GHz. Additionally, they all include 16GB of dual-channel RAM.
Cooling
The Blade Pro 17 includes the Razer vapor-chamber cooling system. This system is typically found in higher-end Blade models. According to the company, the cooling system should work better than last year's model. This new cooling system does however increase the overall weight of the laptop, ultimately making the load about 6 pounds.
Keyboard
Razer has made some keyboard adjustments as well. There are now half-height directional keys. The right shift key is extended above them. It's similar to the keyboards on the Razer Blade 15 and Blade Stealth.
Pricing and availability
The new models will be out later this month. The model with the 300Hz screen with Nvidia's RTX 2070 Max-Q or an RTX 2080 Super Max-Q will cost $2,600 and $3,200, respectively. As for the 4K model with an RTX 2080 Super Max-Q, it is priced at $3,800.
Image courtesy: Razer