It may be small, but it has a load of internal space. The Plugable Thunderbolt 3 NVMe External SSD launches with 2 TB of extra storage for creators.
The Plugable Thunderbolt 3 NVMe comes in two options. There's a 2 TB version and a 1 TB version. Additionally, the SSD features speeds of up to 2800 MB/sec read and 1800 MB/sec write. Even better, there's no need for an external power connection.
Thunderbolt 3 NVMe External SSD claims to transfer 4K videos fast
According to Plugable, "The Plugable drive is perfect for creators like film producers and videographers who require fast scratch storage, regularly conduct large file transfers of formats like 4K, and need maximum data transfer speeds to keep their projects moving forward." Also, with 2 TB of storage, you will be able to store more, allowing you to shoot more footage.
In total, the Plugable 1TB can hold up to 155 minutes of ProRes 422 HQ 4K video or 175 minutes of DnXHR HQ 4K video.
Transfer speeds
With both Thunderbolt 3 and NVMe tech, Plugable says the "Plugable drive surpasses the limitations of traditional SATA III SSDs." Additionally, the company says the drive interfaces directly with CPUs via PCI Express. That should result in "rapid performance, lower latency and reduced CPU usage."
The press release claims the drive can offer up to 4x faster transfer speeds than SATA.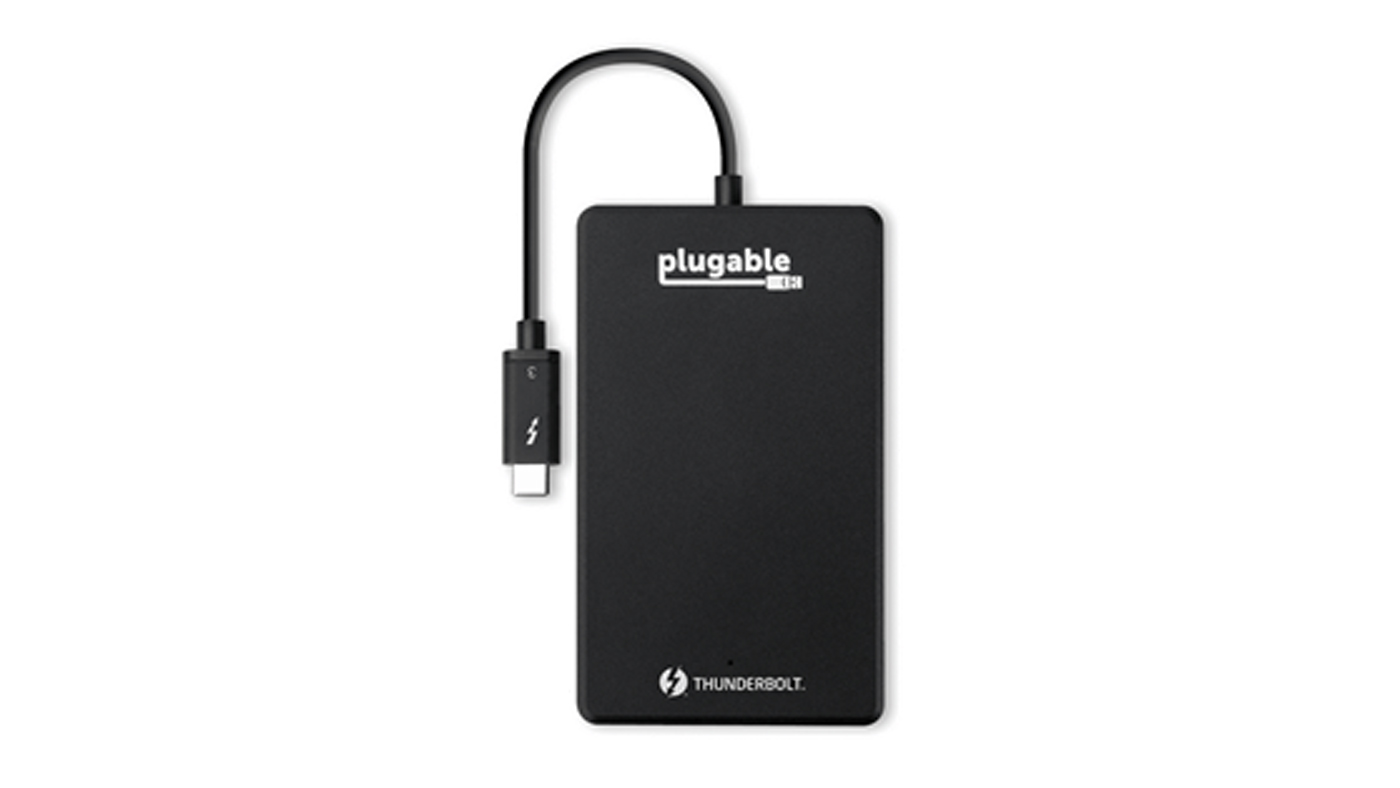 Import media directly into editing software
Pre-formatted with exFAT, the SSD is compatible and interchangeable with any Thunderbolt 3-enabled Mac or Windows system. Videographers can import media directly into Final Cut Pro, Adobe Premiere or any other editing app.
Portability of the Thunderbolt 3 NVMe External SSD
The Plugable drive weighs only 173g and is slightly larger than a smartphone, so you can literally carry 2 TBs of storage in your pocket. Built with anodized aluminum, its metal body is made to keep the SSD cool.
Pricing and availability
The Plugable Thunderbolt 3 NVMe External SSD is out now for $299 for the 1 TB version. The 2 TB version costs $499.