Lume Cube is releasing a new lighting kit that looks to offer videographers a lightweight, all-in-one setup.
They are calling the kit the Professional Lighting Kit and it features two Lume Cube lights along with the most up to date diffusers, gels and modifiers. All of the gear is carried in a tight, custom cut foam carrying case as well. The case has custom inserts for each piece of gear. In total, the kits include 20 pieces that allow creators to diffuse, color correct or shape the light.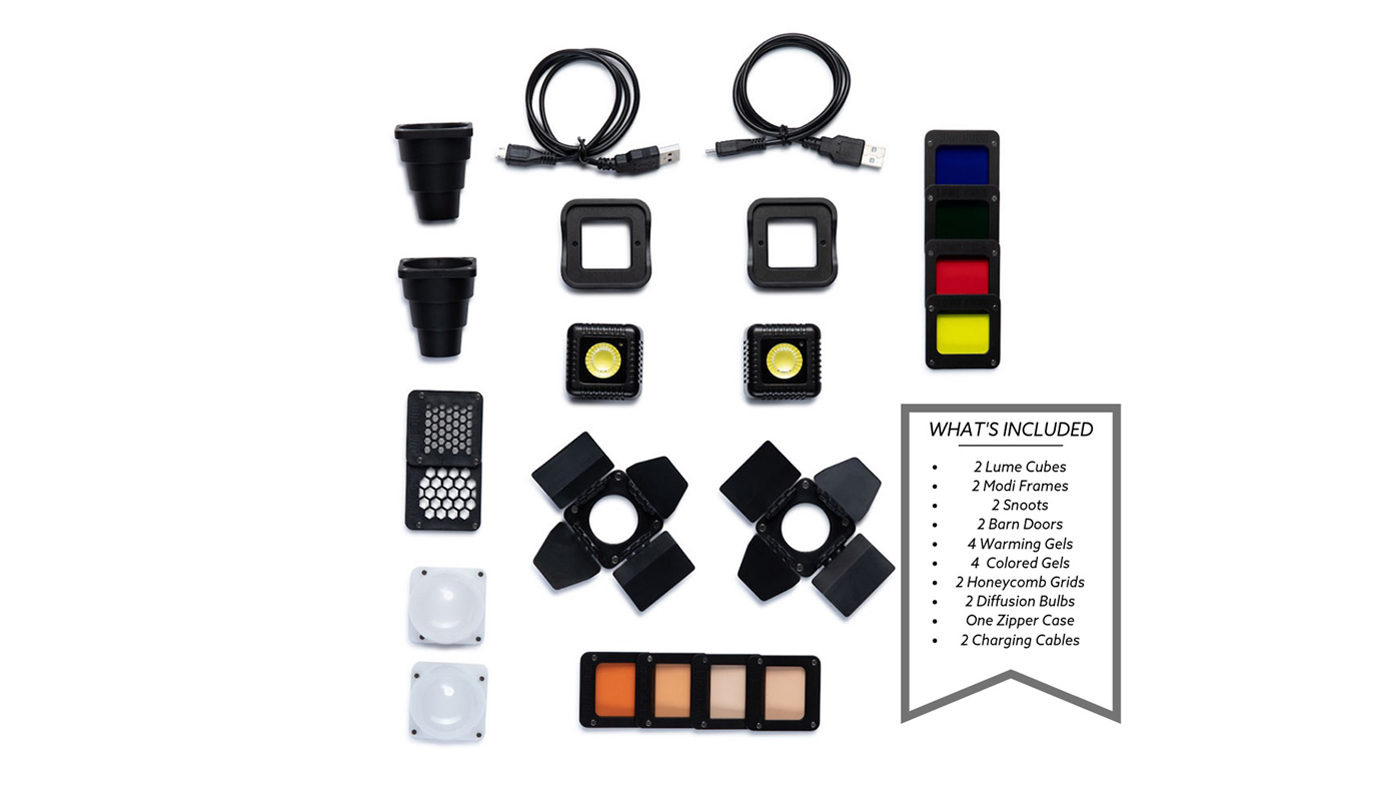 Additionally, the company says that this lighting kit is meant for both content creators and aspiring creators look for a full range of lighting gear that isn't bulky. "This kit consists of the most up-to-date lighting accessories and modifiers from Lume Cube and allows you to diffuse, gel, or shape your light within seconds," says Lube Cube. Also, all of the attachments are magnetically attached to the front of the Modification Fame and are stackable.
Lume Cube refresher
The Lume Cube is a very versatile light. It offers 3 ways to position it with its suction cup, magnet, and standard 1/4-20 mount. When positioned at the right distance, the Lume Cube will result in even light. Also, it weighs less than a GoPro so it's lightweight as well.
Here is a quick overview of the Lume Cube's specs:
Wireless Control with Bluetooth app
Adjustable light level 0% – 100%
Waterproof to 100 feet
Durable Aluminum Housing
Daylight Balanced Color Temp
60-degree Beam Angle
750 LUX 1m
Optical Slave Flash Functionality (down to 1.250th of a second)
Sync to Smartphone for off-camera flash
Rechargeable through Micro USB
10 adjustable light levels manually
1/4 20 screw built in for Tripod Mounting
Pricing and availability
The Professional Lighting Kit is priced at $299 and is available now at LumeCube.com.