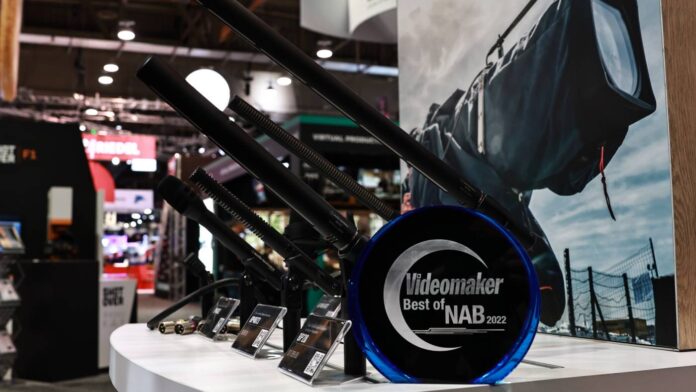 Congratulations to Audio-Technica; Audio-Technica takes Videomaker's Best Shotgun Mic with its BP28 at NAB 2022.
Explicitly designed for broadcasting, film and TV production and theater sound reinforcement applications, the Audio-Technica BP28 captures professional-level audio in a variety of situations, making it deserving of our Best Shotgun mic.
Audio-Technica BP28 overview
The microphone leverages a high sensitivity of -28 dBV, a wide dynamic range of 135 dB and a high-SPL capability of 143 dB. Additionally, it comes with a switchable 80 HZ high-pass filter and 10 dB pad. The microphone's overall length comes out to be 14-inch with a highly directional pickup pattern.
Additionally, the microphone leverages a transformer-coupled output, which, the company claims, "provides smooth sonic character." Plus, the microphone has a flat frequency response, which aims to achieve accurate sound reproduction.
BP28's design
Audio-Technica's BP28 features a rugged housing design, which the company says it's made of lightweight, structural-grade aluminum alloy. Audi-Technica built the microphone with its patented acoustic port design to maintain directionality across the entire frequency range.
Breakdown
Element: fixed-charge back plat, permanently polarized condenser
Polar pattern: live + gradient
Frequency response: 20-19,000 Hz
Low frequency roll-off: 80 HZ, 18 dB/octave
Open circuit sensitivity: -28 dB (39.8 mV) (0 dB=1 V/Pa, 1 kHz)
Pricing and availability
If you want to get the Audio-Technica BP28 for yourself, you can right now. It's out now with a price tag of $1099. It is on the pricier side of the market, but it is a high-quality shotgun microphone.