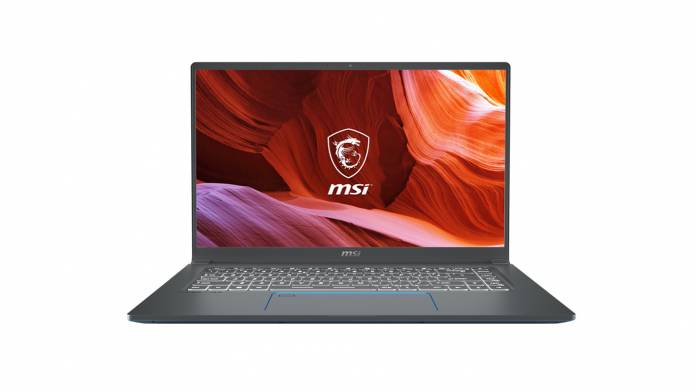 MSI has unveiled a new line of laptops for content creators. The MSI Modern 14 and Prestige 15 are the first laptops ever powered by Intel's 10th Gen 6-Core processors.
According to MSI, the Prestige 14 and 15 are both designed for on-the-go professionals and casual creators. Also, as said above, MSI claims they are the first laptops powered by Intel's 10th Gen 6-Core processors. But what does that mean exactly? Well, MSI says the Prestige laptops will "showcase a new level of performance" with up to 40 percent faster photo editing and rendering speeds.
Better performance
Along with the 10th Gen Intel 6-core processor, the Prestige 14 and 15 sport the latest GeForce GTX 16 Series Graphics. In addition to improving editing software performance by 40 percent, the paring should also deliver at least 50 percent faster performance, according to MSI.
These laptops seem to target photographers, animators, composers, and YouTubers who are constantly on the move. It can handle multiple programs simultaneously and can handle both 2D and 3D software "without lag," according to MSI.
Build
Both the Prestige 14 and 15 come with a 90% screen-to-body ratio MSI True Pixel display. Additionally, they sport a 4K UHD resolution panel with True Color calibration, 100% AdobeRGB wide color gamut, and Delta-E<2 color accuracy.
For their build, they both feature a sandblasted aluminum chassis. They weigh 2.64 lbs. and 3.5 lbs respectively.
Battery
When we talk about portability, we need to talk about battery life, especially for content creators working on their projects. The Prestige 15 and 14 have 16 and 14-hours of battery life respectively.
MSI also announced the Modern 14
MSI also announce the new Modern 14. Selling for $749, the 14-inch Modern 14 comes with an Intel Core i5 CPU, Intel's UMA graphics, 8GB of RAM and 512GB of storage. For $899, you can get it with NVIDIA's MX250 GPU. As for the Modern's battery life, it lasts up to 10 hours on a single charge. In total it weighs just 2.6 lbs.
Pricing and availability
You can preorder both the Prestige 14 and 15 and the Modern 14 right now. The Prestige 14 and 15 will start shipping at the end of August. The Modern will be available next month.