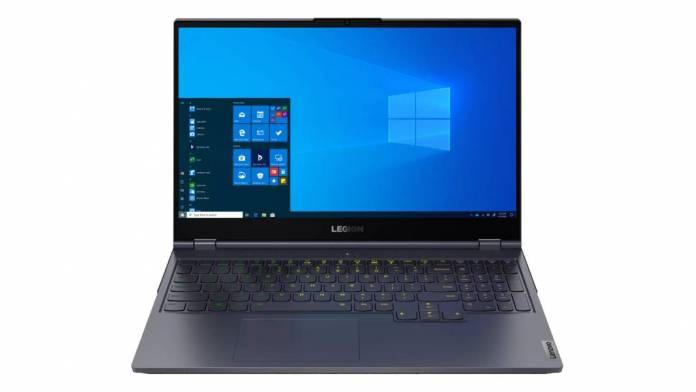 Lenovo has announced a number of new laptops coming into the Legion gaming laptop line, and they're coming with a few powerful features as well.
With a simpler naming convention, the new Legion 7 laptop features support for Nvidia's GeForce RTX 2080 Super Max-Q graphics chips. They also support the new Intel 10th Gen i9 H-series processors. The Legion 7 has a 1080p display and offers an upgrade from the default 144Hz refresh rate to 240Hz. However, it will cost you extra. Additionally, the laptop features the Lenovo TrueStrike keyboard with 1.3mm travel per key.
Design
The Lenovo Legion 7 is made to look clean. The bezels on the display are minimal. Also, the laptop's camera is placed up in the top bezel. Additionally, Lenovo says the thermals have been improved. This means that the laptop shouldn't overheat as much when using it. The I/O panel is on the back. As for battery life, Lenovo says the laptop's battery can last up to eight hours.
Legion 5i
The Lenovo Legion 5i comes in 15-inch and 17-inch versions. It sports an Nvidia RTX 2060 GPU. Lenovo is offering this laptop in two models. One will include the Intel 10th Gen H-series CPU and the other will feature the AMD Ryzen 4000 H-series CPU. The AMD model will be called the Legion 5, since the 'i' references the Intel chip.
Similar to the Legion 7, the Legion 5/5i has a minimalist design. It also places the webcam in the top bezel with a privacy shutter, and you can customize the refresh rate for the IPS display. You can choose from 60Hz up to 240Hz.
IdeaPad Gaming 3
Moving on from the Lenovo Legion 5i, the IdeaPad Gaming 3 is the lineup's entry-model. It's a 15.6 laptop and, like the others, it features the Intel 10th Gen H-series processor. It also has the GeForce GTX 1650 Ti and is configurable with 60Hz or 120Hz refresh rate displays. While it is a gaming laptop, it isn't meant for hardcore gaming.
Pricing and availability
Lenovo hasn't revealed pricing for any of the Lenovo Legion models or the Ideapad Gaming 3 yet. As for release dates, Lenovo is looking to release to laptops in May.
Image courtesy: Lenovo