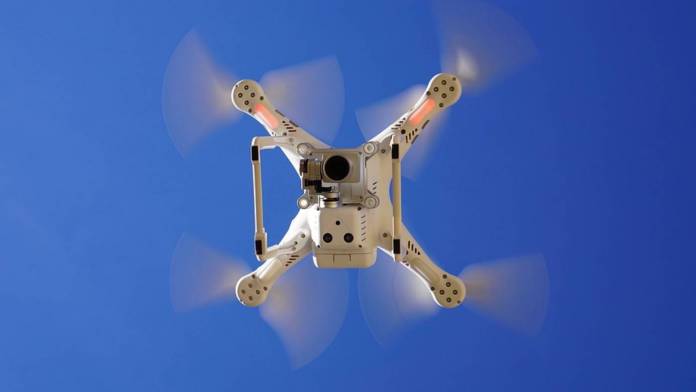 According to a report from the New York Times, cybersecurity has determined there is a vulnerability in an app that controls most DJI drones.
Researchers released two reports claiming an app on Google's Android operating system made by China-based DJI collects large amounts of personal information that could be exploited by the Beijing government. This news is huge, considering hundreds of thousands of people across the work use DJI's app to pilot their drones.
Should you be worried?
US government officials have been warning us about the Chinese government potentially exploiting weaknesses in tech products to force companies there to give up information about American users. Chinese companies must comply with any government request to turn over data, according to American officials. DJI is a China-based company. So, this means the company would have to hand over whatever information they have to the Chinese government.
The drone vulnerability, said American officials, is the kind of security hole that worries Washington.
The app does more than collect data
It turns out, the app not only collects information from phones, but DJI also updates it without Google reviewing the changes. This could violate Google's Android developer terms of service. The changes made to the phone are hard for users to review, according to researchers. Even when the app seems to be closed, it waits for instructions from afar.
DJI says its app forces updates on users to stop hobbyists who try to hack the app to circumvent government-imposed restrictions on where and how high drone can fly.
A pattern of problems in DJI's code
For years, DJI responded to multiple reports of vulnerabilities with patches and has worked closely with the U. S. government to lower fears. However, security researchers said DJI's quick code fixes could mean it knew about the problems already but did not fix them.
Synacktiv did not identify any malicious uploads. The claims are here to simply raise the idea that the drone app could be used that way.
In response to our article, DJI reached out to us with their comment, see below.
DJI Statement On Recent Reports From Security Researchers
DJI takes the security of its apps and the privacy of customer data seriously. While these researchers discovered two hypothetical vulnerabilities in one of our recreational apps, nothing in their work is relevant to, or contradicts, the reports from the U.S. Department of Homeland Security, Booz Allen Hamilton and others that have found no evidence of unexpected data transmission connections from DJI's apps designed for government and professional customers.
These researchers found typical software concerns, with no evidence they have ever been exploited. The app update function described in these reports serves the very important safety goal of mitigating the use of hacked apps that seek to override our geofencing or altitude limitation features. As the only major drone manufacturer with a Bug Bounty Program, we encourage all researchers to responsibly disclose security concerns about our products at security.dji.com.
We design our systems so DJI customers have full control over how or whether to share their photos, videos and flight logs, and we support the creation of industry standards for drone data security that will provide protection and confidence for all drone users.
We hope these details provide more context to understand these reports:
When our systems detect that a DJI app is not the official version – for example, if it has been modified to remove critical flight safety features like geofencing or altitude restrictions – we notify the user and require them to download the most recent official version of the app from our website. In future versions, users will also be able to download the official version from Google Play if it is available in their country. If users do not consent to doing so, their unauthorized (hacked) version of the app will be disabled for safety reasons.
Because our recreational customers often want to share their photos and videos with friends and family on social media, DJI integrates our consumer apps with the leading social media sites via their native SDKs. We must direct questions about the security of these SDKs to their respective social media services. However, please note that the SDK is only used when our users proactively turn it on.
DJI GO 4 is not able to restart itself without input from the user, and we are investigating why these researchers claim it did so. We have not been able to replicate this behavior in our tests so far.
The hypothetical vulnerabilities outlined in these reports are best characterized as potential bugs, which we have proactively tried to identify through our Bug Bounty Program, where security researchers responsibly disclose security issues they discover in exchange for payments of up to $30,000. Since all DJI flight control apps are designed to work in any country, we have been able to improve our software thanks to contributions from researchers all over the world, as seen on this list.
The MobTech and Bugly components identified in these reports were previously removed from DJI flight control apps after earlier researchers identified potential security flaws in them. Again, there is no evidence they were ever exploited, and they were not used in DJI's flight control systems for government and professional customers.
The DJI GO4 app is primarily used to control our recreational drone products. DJI's drone products designed for government agencies do not transmit data to DJI and are compatible only with a non-commercially available version of the DJI Pilot app. The software for these drones is only updated via an offline process, meaning this report is irrelevant to drones intended for sensitive government use. A recent security report from Booz Allen Hamilton audited these systems and found no evidence that the data or information collected by these drones is being transmitted to DJI, China, or any other unexpected party.
DJI has long called for the creation of industry standards for drone data security, a process which we hope will continue to provide appropriate protections for drone users with security concerns. If this type of feature, intended to assure safety, is a concern, it should be addressed in objective standards that can be specified by customers. DJI is committed to protecting drone user data, which is why we design our systems so drone users have control of whether they share any data with us. We also are committed to safety, trying to contribute technology solutions to keep the airspace safe.